EDIT MAIN
National Cybersafety Expert Offers Tips for Parents
---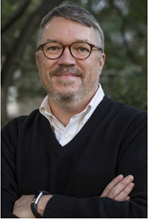 The internet, smartphones, and social media present a variety of new risks for children and teens, along with new challenges for parents.
Nationally renowned cybersafety expert Frederick Lane, the author of "Cybertraps for the Young," visited Grayson County Schools in November to share insights and tips with parents. We are pleased to be able to share that presentation.

An attorney, author, and lecturer, Lane is an expert on the impact of emerging technologies on society, with a particular emphasis on cybersafety and digital citizenship for K-12 students.
He is the author of nine books, has lectured extensively over the past two decades on the legal and cultural implications of emerging technology, and provided expert witness services in the field of computer forensics.
He has appeared on "The Daily Show with Jon Stewart" and a variety of other national television programs, including ABC's "Good Morning America Weekend," NBC's "Weekend Today," ABC's "Nightline," CBS's "60 Minutes," and assorted BBC documentaries. He has also been interviewed by numerous radio shows, magazines, and newspapers around the world.
Additional information including the Cybertraps Blog can be found on Lane's website.