EDIT MAIN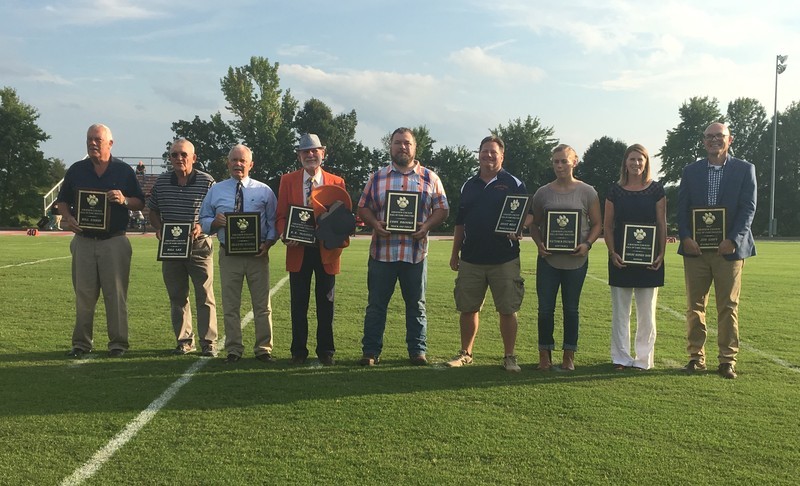 Cody Brooks is the son to Timothy and Fonda Brooks, the husband to Miranda Brooks and father to
Trystan and Talon Brooks
He graduated from Grayson County High in 2004
Attend Lindsey Wilson College- BA Social Science Secondary Education and BA in History while there he
set the :
Indoor and Outdoor Shot-put records, Discus Record, Hammer throw record and was a 2006 First Team
All-Conference (Shot-put and Discus)
He is currently Tool and Die Maker at Metalsa Structural Products
While at Grayson Co High he set the Discus Record in 2004
Sonny West is the husband to Debra West and Father to Ian, Gage, and Ava West
He graduated From Grayson County High in 1988
Attend the University of Louisville and University of Tennessee where he ran track
Graduated from the Western Kentucky University with a Bachelors and Master's degree
He is currently a teacher at Fike High School where he is the Head Track coach and assistant football coach.
While at Grayson Co.
Sonny participated in Football and Track! During his track career he was
Named the Rough River Athletic Conference Athlete of the Year for track in 1986
First team All-State in track and field. 1988
He set the record in the 4 x 100 meter relay
First pole vaulter to clear 13' and 14' for GCHS
Regional Champion in the pole vault in 87 and 88. In the 1988 track season he had the second highest vault recorded in the state, at 14'.
As a coach he has coached 21 individual state champions in track and field, one All American in track and field, two outdoor track team state championships and one cross-country team state championship
Victoria Decker is the daughter of Troy & Kim Decker
She graduated from Grayson County High in 2012 where she was made the All-district team and all-regional team
Attend Campbellsville University where she earned a bachelor of science
While playing for Campbellsville she was named a
4x All-MSC 1st teamer
3x 1ST TEAM All-academic
2x Pitcher of the year
MSC Freshman of the year
2x NCCAA all-tournament team
NFCA All-Region team
2x NAIA All-American
She also won the MSC Championship title
And made an appearance in the The College World Series
She is currently getting her masters at the University of Louisville
Caroline Behnken Bohm is the daughter of Randy and Bari Behnken she is also the wife of Jason Bohm and mother of Wyatt, Jackson, and Atticus Bohm
She graduated from Grayson County High in 1996 where she joined the Tennis Team in 5th grade. She lettered 8 years in Varsity Tennis.
She made it to the Reginal quarter finals her 6th and 7th grade years
Regional 3rd place as a freshman
Caroline and her partner Erin Crawford were Regional Doubles champions in 95 & 96
She was a team captain in 94, 95, and 96
Academic All-state 4 years of high school
Attend Taylor University and played Tennis there
She is currently a stay at home mother
Jim Goff
Jim Goff- Jim is the husband of Annette Bratcher Goff and father of Mackenzie and Alex Goff.
He graduated from Grayson Co High School in 1982 where he set the single season scoring and assist records. He was the first member of the 1000 point club and finished his career as the all-time leading scorer at the time.
3 time all Rough River Athletic Conference team
2 time Rough River Athletic Conference player of the year
2 time District tournament team
Jim earned a basketball scholarship to East Tennessee State University and received a Bachelors in Education and then earned his Master's in education at WKU
He is currently the Principal at Lost River Elementary in bowling green
E.E. McGhee, contributor award
Arland Benningfield
Arland is the son of Arland & Ruth Benningfield
The Husband to Kitty Benningfield
The father of Kristi Benningfield, Leigh Ann Benningfield Garofalo, Arland Benningfield, IV
Grandfather to Dylan, Angelina, and Dominick Garofalo
Arland is a Retired from Grayson County Board of Education as a middle school social studies/science teacher.
He coached track and field for 32 years from 1984 to 2016. Arland has coached multiple state and regional champions over that time.
Bill lee is the husband to Regina Lee and has 2 daughters Tyra Alexander and Tori Robinson. His son law is Superintendent Doug Robinson and Bill has 3 Grandchildren Will Alexander and Ella and Hayden Robinson.
Bill Graduated from Leitchfield High School in 1959 where he participated in baseball, basketball, and track.
After high school, Bill went to Campbellsville College and earned a Bachelor's of Science He also played both baseball and basketball for the tigers
Bill started coaching and teaching at Caneyville High School in 1963 He coached them to the 3rd region championship in 1968 and went to the state final 4 that year. After consolidation of high schools, Bill became the head coach of Grayson Co. High School for 10 years. GCHS won its first regional championship and advanced to the state tournament in 1993 under him
Currently he is a retired educator and a cattle farmer
Bill Embry- Bill is the husband of Denise and The father of Jared and Erin Embry. Bill has 3 grandchildren present tonight Ethan, Hudson, and Bennett Embry.
Bill coached football under Mick Caba, Vic Clark, and Don Rawlings before he became the Head Coach of GCHS IN 1981. He coached for 15 seasons.
Under Bill GCHS went to the Regional finals in 1981-82 season and went to the state final 4 in the 1982-83 seasons in Class 3A
Bill Embry was also named Hardin Co. Area Big 10 Coach of the year in 81-82
Rough River Athletic Conference Coach of the Year in 81 &82 seasons.
Associated Press & Kentucky High School Coach of the Year in 82-83