EDIT MAIN
A Message from Principal Parker
---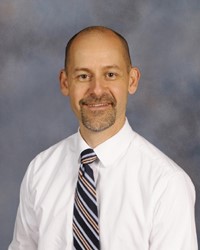 Hello, Parents, Students, Staff, and Community Partners!
Thank you for giving me the opportunity to lead Grayson County Middle School! This is my 25th year at GCMS, and I am very proud of the dedication of our staff and students in building the future of Grayson County through our pursuit of a common vision and mission. Each day, I continue to be impressed with the efforts of our wonderful staff for each and every GCMS student. And, students, your diligence in studies and caring for others truly makes GCMS a sensational place for learning and growing together.
I am a native of Logan County, and a graduate of Kentucky Wesleyan College, the University of Illinois, and Western Kentucky University. My wife, Tonya Parker, is a teacher at Wilkey Elementary, and we have 3 sons: Jackson, a sophomore at WKU; Mason, a junior at GCHS, and Davis, a 8th grader here at GCMS. Most of my education career has been in the band world, with 2 years at Metcalfe Co, and 22 years here in Grayson County. For all the band students who have come through our program here, thank you for your amazing efforts and for helping shape the person I am today.
At GCMS, we are continuing to focus on embracing our shared values, vision, and mission. Last year, we brought representatives from all stakeholder groups to develop these new plans. This year, our theme is "Dig Deeper," which correlates heavily to our core value of Determination. When we dig deeper, we strive for rigorous tasks and learning, better attitude, more potential, and greater impact.
Here are some other goals we have developed for 2019-20:
Overall goal - Emphasize staff truly knowing each individual student—not letting anyone slip through the cracks.
Instructional Focus – Rigor –Ensuring that our tasks are engaging and challenging, with deeper thinking for greater understanding and application.
Continue improving the culture at GCMS, helping our school become a place where learning is rich and exciting, and relationship building is the foundation.
Move our KPREP scores into the top 25% of all KY schools.
Ensure that our students are ready for the next level of learning.
Improve consistency in discipline.
Help our building be safer, cleaner, and better maintained.
Build important partnerships with parents and community members.
Emphasize our vision in all decision-making—make our dream the reality.
Please feel free to let us know what you think about our progress here! We are always ready and willing to listen to all of our stakeholders. Let's work together to make Grayson County Middle School a true model of excellence in our area, state, and nation!
Sincerely,
Gary Parker, Principal