EDIT MAIN
GCMS Non-Traditional Instruction
GCMS students with internet access will use their teacher's Google classrooms to complete assignments as they have throughout the year. These are accessible through each student's school-provided Google account and the classroom.google.com link. Teachers will be available from 8 am - 2:30 pm, M - F.
Students without internet access have received their assignments in paper format, and teachers will also be available by phone during the same hours.
For questions, or in the event of technical difficulties, please contact GCMS at 270-259-4175.
Other websites students may wish to access during this time include:
https://login.readingplus.com/
https://www.mobymax.com/signin


PRACTICE SAFE PACKET DROP OFF
Social distancing is imperative in reducing the risk of COVID-19. When dropping off NTI packets:
Please maintain at least a six-foot distance between other parents and/or students.
Use our provided hand sanitizer (indoor locations).
Wash your hands with soap and water as soon as possible.
Effective March 25, GCMS will not require packet drop offs until next Thursday and Friday (April 2 and 3). At that time packets for NTI Days 16 – 30 will be distributed, as well.
On these days, and if weather permits, we will move this process to the area under our front canopy. If not, please be assured that we will continue to disinfect and sanitize our lobby, doors, all drop off bins and materials, and associated surfaces.Below is our schedule by Team. If you need alternate arrangements made, please call us at 270-259-4175.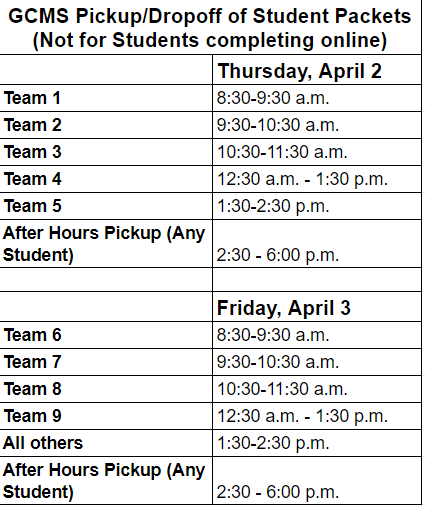 Visit these sites for additional state, local and CDC COVID-19 updates and news.
Centers for Disease Control (CDC)
District updates can be found through the link on our homepage or at graysoncountyschools.com.