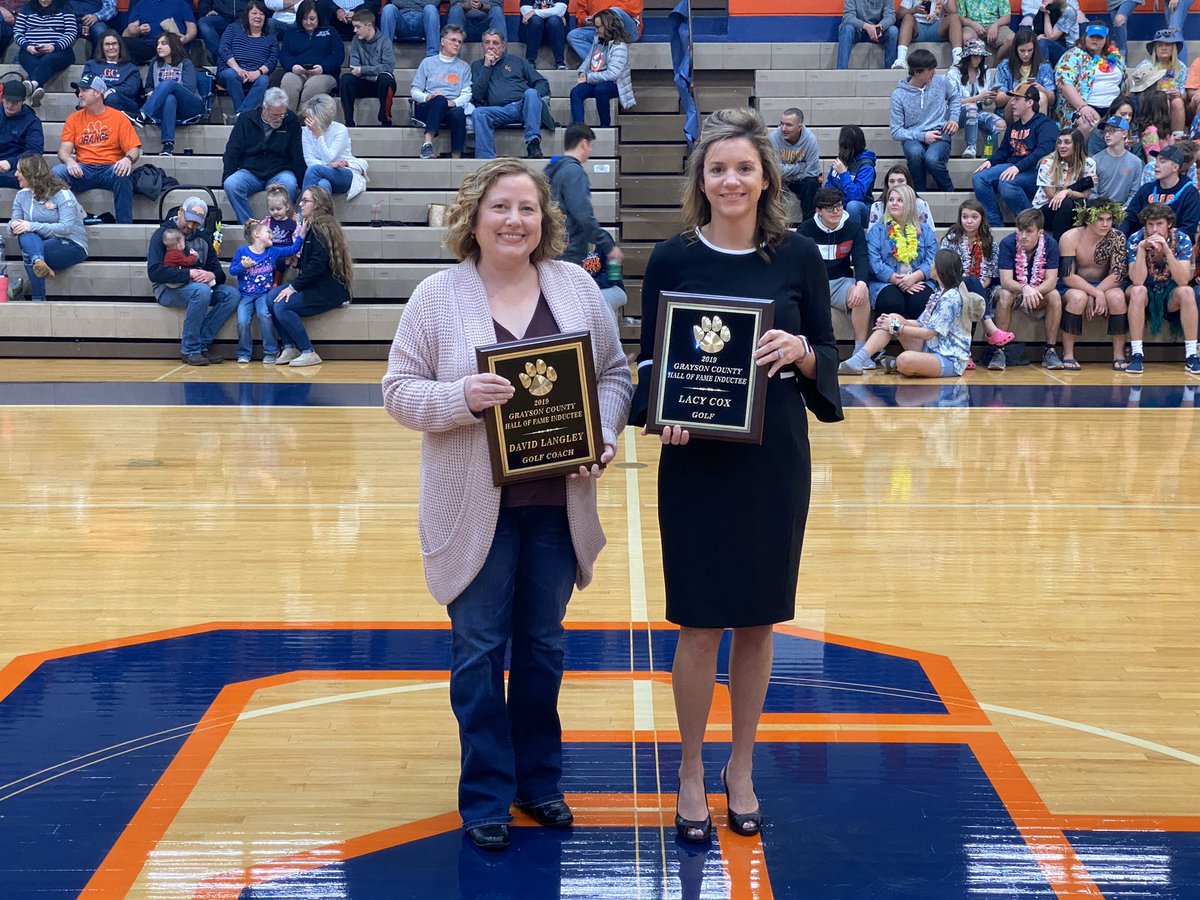 David Langley started coaching Grayson County High School's first girls' golf team in 1992. He received national coach of the year NFCA Mideast section in 2000 and 2001. The regular season record for girls golf from 1995 to 2001 was 93 and 2. Girls were regional runners up for three years and regional champs for four years. The boys team won one regional championship. They also placed second in the state in 2000. Langley helped every girl who wanted to play college golf receive a scholarship. He coached both boys and girls golf for 10 years. Langley earned a Bachelors, Masters, and Rank I in education at Western Kentucky University. He also played football at WKU. His daughter, Leslie Wood accepted the award on his behalf.
Lacy Cox was a six-time state qualifier in golf with teams that placed fourth in 1999, third in 2000; and KHSAA State Tournament runner-up in 2001; 2 Regional Team Runner-Ups and 4 Team Regional Winners; three-time Individual Regional Winner; one-time Individual Regional Runner-Up; two-time First Team All-State; and finished in the top 20 of the KHSAA state tournament all four years of high school with the best finish of ninth place in 2000. Cox participated in the invitation-only Tri-State Challenge Cup which features the best Jr. Golfers from Indiana, Kentucky, and Tennessee. She was fortunate enough to compete with and against the likes of J.B. Holmes and Brandt Snedeker. Along with her partner, they won the best ball competition. Cox placed fourth and second in the PGA Junior Maxfli Championship and second in the KGA-PGA Junior Amateur 3 day Championship. Cox shot a career low under par round of 71 at the Henry Clay Invitational in 2001.
Cox earned a BS in Advertising and Public Relations from Kentucky Wesleyan College. She earned a BA in Middle Grades Education and Masters in Library Media Education from Western Kentucky University and Masters in Principal Licensure from Asbury University.