Automatic Induction
State champion in an individual event

Both members of a doubles team

All members of a relay team

Mr. or Miss in statewide polling

National Player of the year

Induction into KHSAA Hall of Fame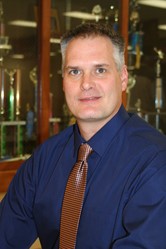 David Akridge - Class of 1992
David Akridge was inducted into the GCHS Sports Hall of Fame as a Track & Field athlete. He currently holds the GCHS Triple Jump and Long Jump records. He was a five-year letterman in Track and Field at GCHS. He was named first team All-State in 1991 and 1992 in the Triple Jump, as well as the All Kentucky Super Team Track and Field those same two years. He was also a three-year letterman in Basketball. He attended college at Elizabethtown Community and Technical College and Western Kentucky University. He is currently Senior Technologist Supervisor in Radiology at the Vanderbilt University Medical Center. He is married to Kim Akridge and they have three sons; Grant, Cole, and Gage. The Akridges live in Leitchfield.
Other Criteria
All-State Recognition - 1st Team

All American Recognition

Participation in that sport's "recognized" all-star game/team

College Scholarship recipient

Record breaking performer at high school or collegiate level

Outstanding college career/accomplishments

Selection in professional draft

Participation as a professional athlete (USA or abroad)

Outstanding accomplishments in coaching
Nominators
Coaches

Administrators

Athletic Directors
Nominees
Must participate in KHSAA

Must be out of high school 5 years

2/3 majority vote

Players/coaches/contributors - No teams
For more information about the GCHS Sports Hall of Fame, contact Athletic Director Jason Kinkade at 270-259-4078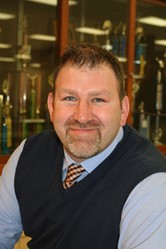 Shaun Logsdon - Class of 1997
Shaun Logsdon was inducted into the GCHS Sports Hall of Fame as a two-sport athlete; football and basketball. He won the 1994 Blue Chipper Award and was named Who's Who in Kentucky High School football and basketball in 1995 - 96. He was also selected as a Grid-Iron Great All-Star in 1996, which goes to the top 2 % of the high school college prospects. In 1996, he was GCHS' Outstanding Offensive Player. He was an All-District basketball player and a member of the Kentucky Junior and Senior All-Star team. He led the Cougars in scoring his senior year with an 18 point average. At Kentucky Wesleyan, he remains in the Top 15 All-Time in Career Pass Receptions and Yards and still holds the most receptions in school history at the Tight End position. In 2000, he was named Division II All American by the Football Gazette and played in the publications National Collegiate All-Star game. He also played basketball for Kentucky Wesleyan and was a member of their Division II National Championship team in 2001. He currently the owner and operator of The Logsdon Group, a company that offers real estate and transition solutions and is a full-time Auctioneer and Real Estate Broker. He is a past Kentucky State Champion Auctioneer. He has three children, Isabelle, 18, Reagan, 10, and Sayge, 8, and lives in Mt. Washington, KY.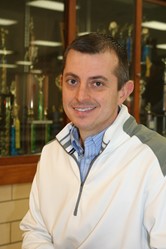 Heath Majors - Class of 1996
Heath Majors was inducted into the GCHS Sports Hall of Fame as a Tennis player. He is in the top 5 winning percentage of all tennis players at GCHS. He was rated in the Top 10 in singles play in Kentucky and a two-time regional singles runner-up, and in the Final 8 of the State Tennis Championship. He was a two-time member of a Regional championship team here and the SKY Conference Tennis Champion. He went on to become a Tennis player at Western Kentucky University, where he was named Honorable Mention Academic All American. He holds a Bachelor of Science in Finance degree from WKU and an Executive MBA from Bellarmine University. He is the Director of Business and Private Banking at King Southern Bank in Louisville. He and his wife, Shannon, have two children, Hunter, age 6 and 10-week-old Jocelyn.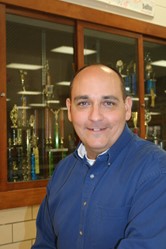 Davy Norris - Class of 1988
Davy Norris was inducted into the GCHS Sports Hall of Fame as a Track & Field athlete. He currently holds or plays a part of four GCHS Track & Field Records -- the 100-meter dash, 200-meter dash, 4X100 meter relay and the 4X400 meter relay. He finished 5th in the state in the 1988 Class 3A Championship. After graduation, he attended Berea College where he holds records for the 200-meter dash, the 1600 meter relay, and the 3200-meter relay. He is a 1992 graduate of Eastern Kentucky University. Norris is not a Kentucky State Police Sergeant. He's the son of David and Mary Sue Norris. He's married to Lorie Norris and they have three daughters, Megan Martin, Taylor Washum, and Sarah Norris. He lives in Leitchfield.
Murhl Searcy - Class of 1978
Murhl Searcy was inducted into the GCHS Sports Hall of Fame as a Tennis player. He was the first ever athlete at GCHS to be awarded a Tennis scholarship. He attended Campbellsville University where he was the Singles and Doubles NAIA District Champion from 1980 - 82. After college, he was ranked fifth by the Kentucky Tennis Association's Men's Open Division Doubles and was also ranked in Mixed Doubles. He frequently competed in USTA Team Tennis and Tournament play. He was a Tennis Teaching Pro at the Audubon Country Club in Louisville. In October 2015, he was named the USTA/KTA Teaching Pro of the Year. Searcy passed away in August 2015 after suffering a heart attack at his home in Louisville. He was the son of the late Mary and Dan Searcy and his survived by two brothers, Dan and Tom, and one sister, Jennifer, three nephews, and two nieces.