Along with the holidays, it's band audition season and GCHS will be well-represented in a variety of distinguished groups this year.
\r\n
All-District Symphonic Band will feature Mason Parker, 1st chair percussion, along with Bailey Day, Jeremiah Embry, Trevor Kincheloe, and Shaina Portman. They will perform with the full district band on Jan. 31 – Feb. 1 at Taylor County High School. The 9th and 10th grade musicians will audition in January.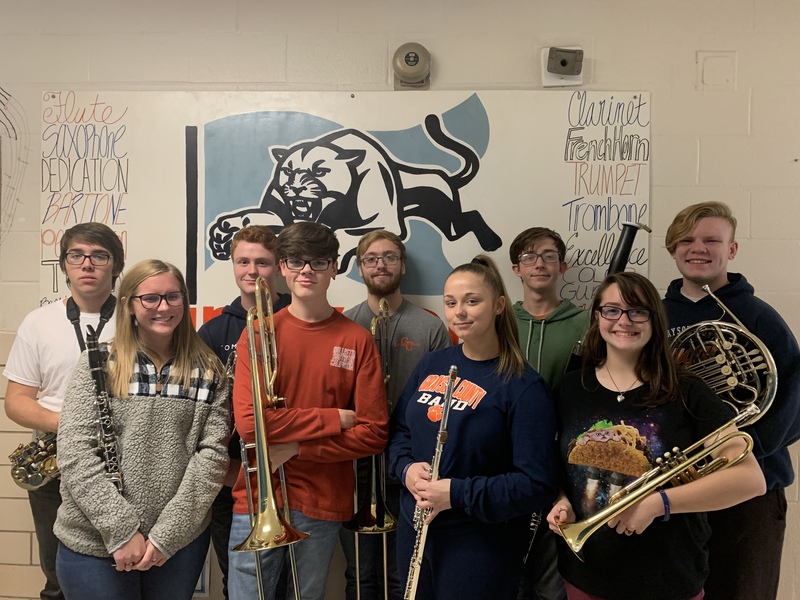 \r\n
These students now also advance to 2nd cut All-State auditions to be held Dec. 14, along with several others. Front, l – r: Natasha Ramsey, Trevor Kincheloe, Shaina Portman, Kristen Decker; back, l – r: Ethan Priddy, Jay Brackett, Jeremiah Embry, Jacob Green, and Bailey Day. Not pictured, Mason Parker.
\r\n
In addition, these students and more earned a spot in the WKU Honor Band and will perform Jan 23 – 25 at the university. They included: Riley Hayes, Natasha Ramsey, Lexi Darst, Shaina Portman, Liberty Reener, Ethan Priddy, Bailey Day, Jay Brackett, Trevor Kincheloe, Kristen Decker, Kylie Brown, AJ Napper, Jacob Green, Jeremiah Embry, Riley Penny, Abigail Geary, Alexis Harmon, and Mason Parker. (head photo)