Congratulations to GCHS FCCLA, Region 5 FCCLA S.T.A.R. event host, and to these students on earning their place at State Leadership Conference in March. A big thanks to all who volunteered and helped make it a great day for our students and for our guests.

The Kenny Whitworth Invitational at Breck County ATC was a great experience for several @gchs_cougars machining students. Congrats to Layton Hawkins (3rd, manual 1st year) and Jake Rogers (2nd, CNC)!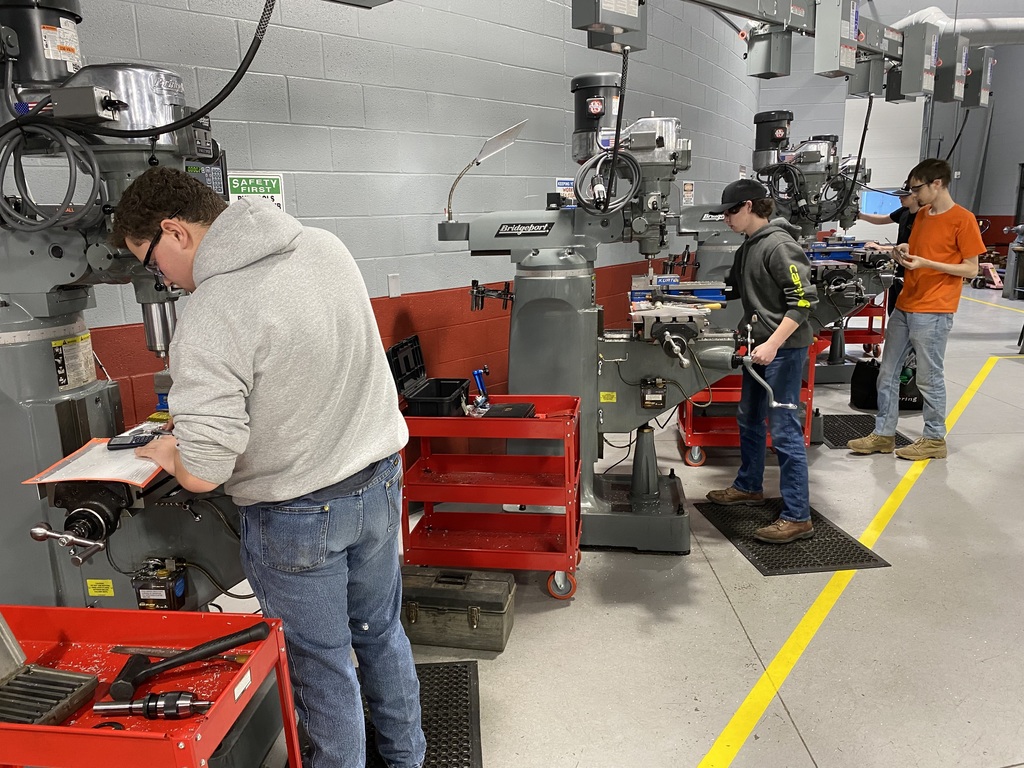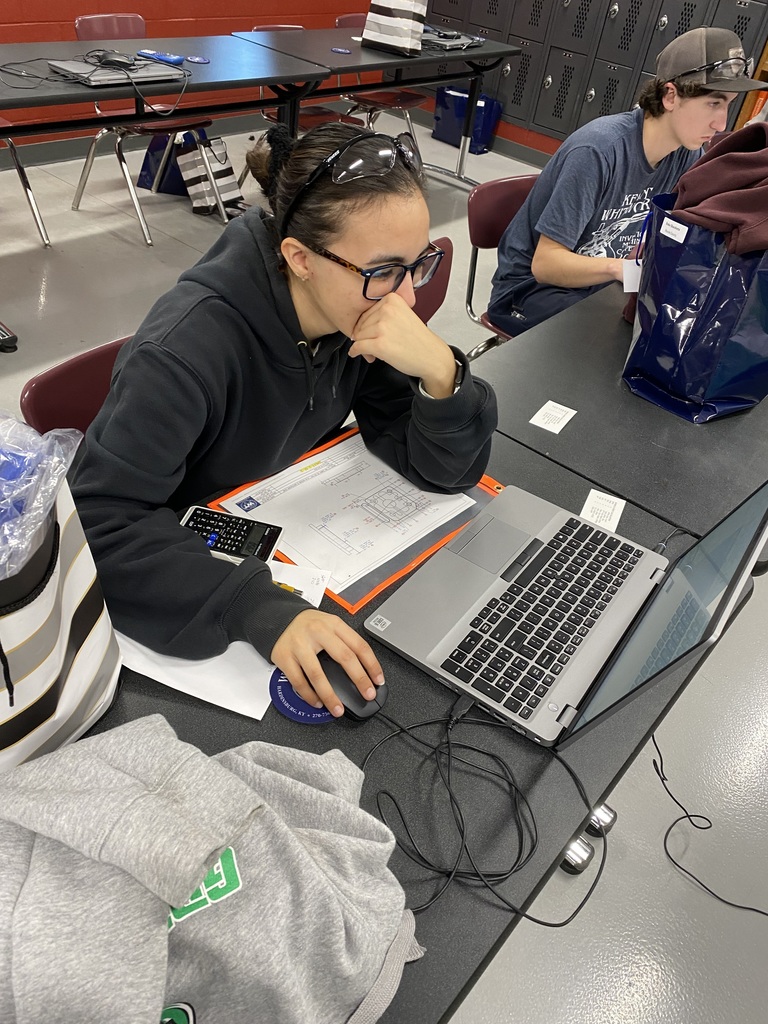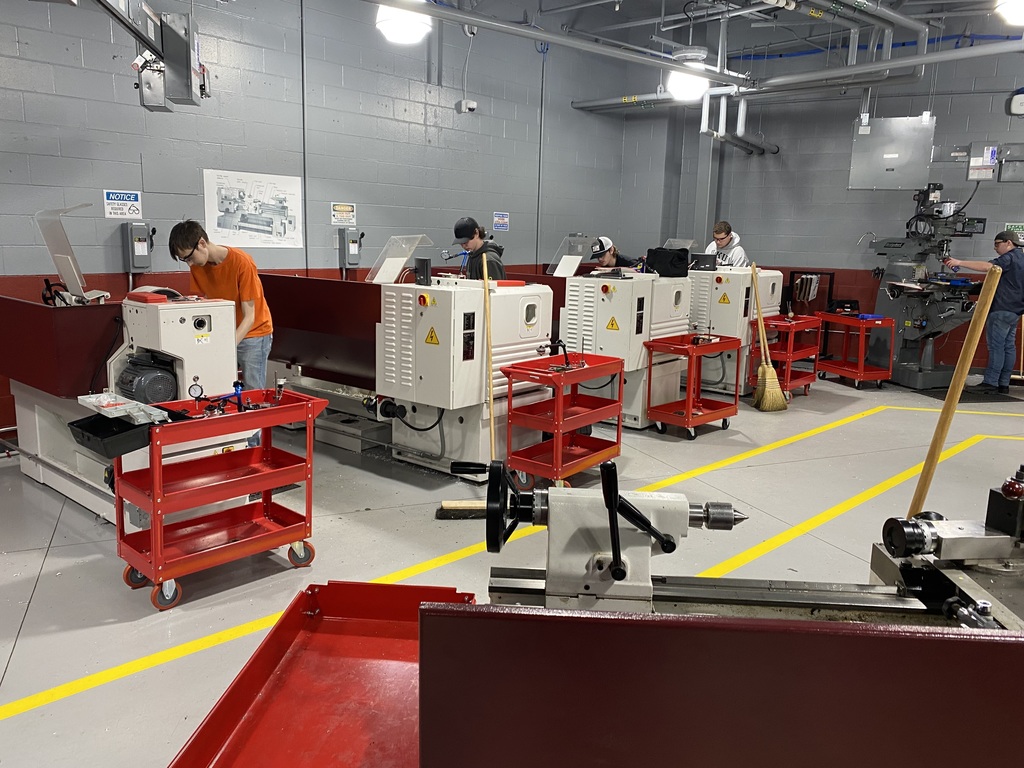 GCHS 9th, 10th and 11th graders, who are interested in Dual Credit Courses, are invited to an Informational Meeting @ GCHS Library. Make plans to attend Tuesday, Jan 31 @ 5 pm. ECTC Representatives and HS Counselors will be onsite. For more information, contact 270-259-5459.

GC students in Grades 7-9, who have a high interest in science, technology, engineering and math, are invited to an informational meeting at GCHS Library, on Tue, Jan. 31 @ 5:45 pm. Students and families, come learn about Gatton Academy @ WKU and the opportunities available.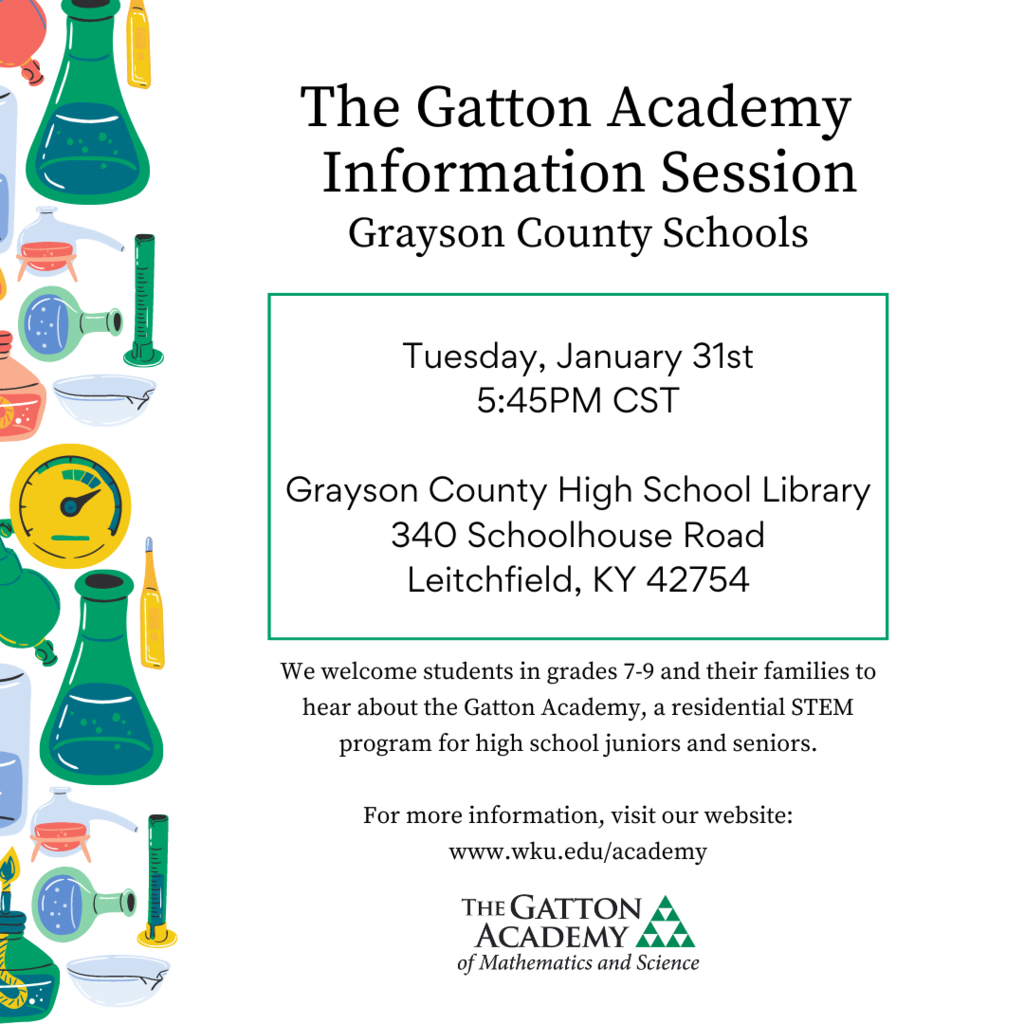 BIG district win for the GCHS Academic Team at KAAC District 12 Governor's Cup competition! Quick Recall, Future Problem Solving and multiple individual assessment winners advance to Region on Feb. 18. See details:
http://bit.ly/3J9OGi8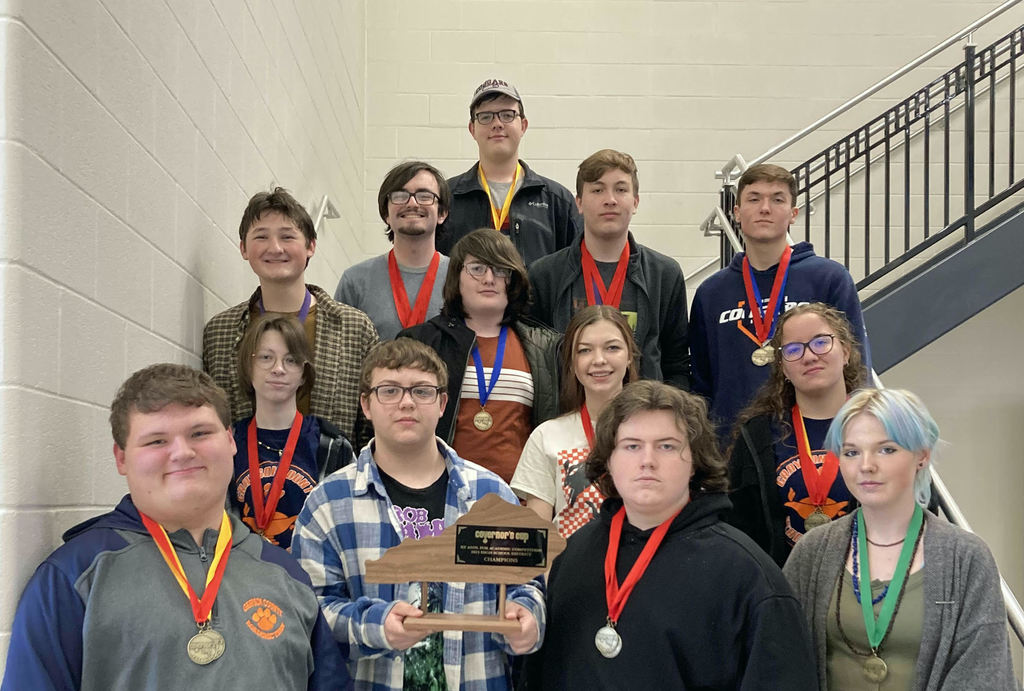 Attention GCHS students: Students currently on virtual or any student wanting to switch to virtual learning for the 3rd trimester should fill out this form:
https://forms.gle/NckGV1UhPPGdAzBv6

Update for All-District Band, including 9/10 and Symphonic Bands. Auditions were held over the weekend and the event is scheduled for Jan 27-28 at Campbellsville University. Working hard to become better musicians and it pays. Great effort!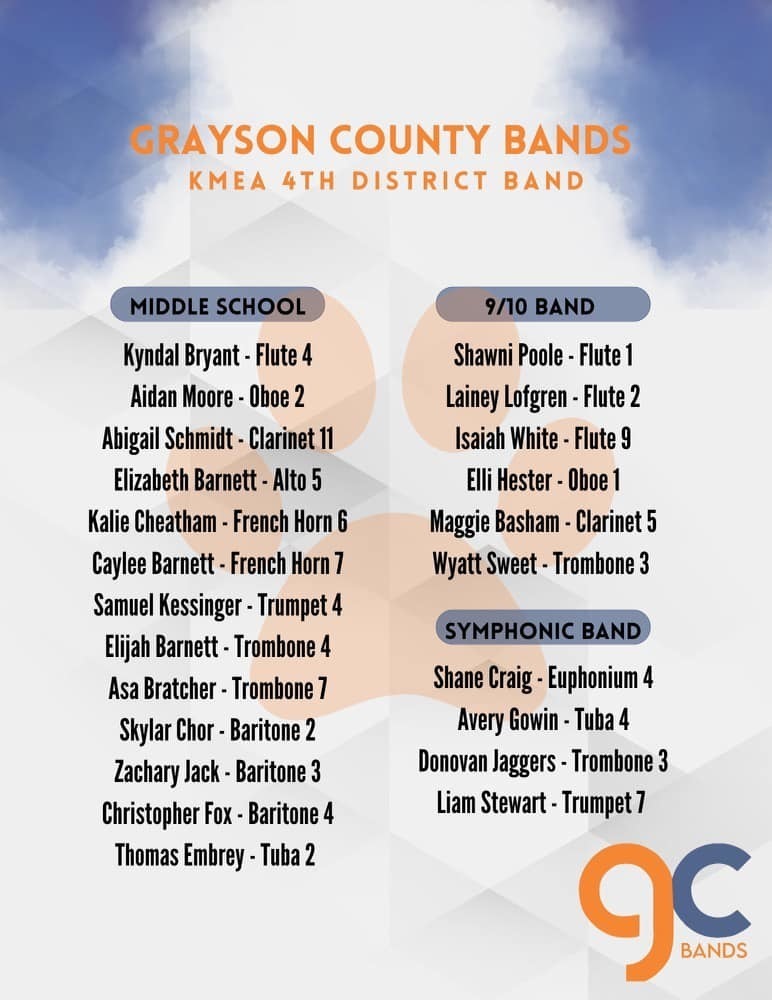 Just a reminder that it is GCHS Basketball Homecoming Spirt Week! Tuesday- Pajama Day (Must Follow Dress Code) Wednesday- Monochromatic Color Day (Same color head to toe) Thursday- BBQ dad vs. Soccer Mom (Reference Tiktok or google for ideas) Friday- Orange and Blue Day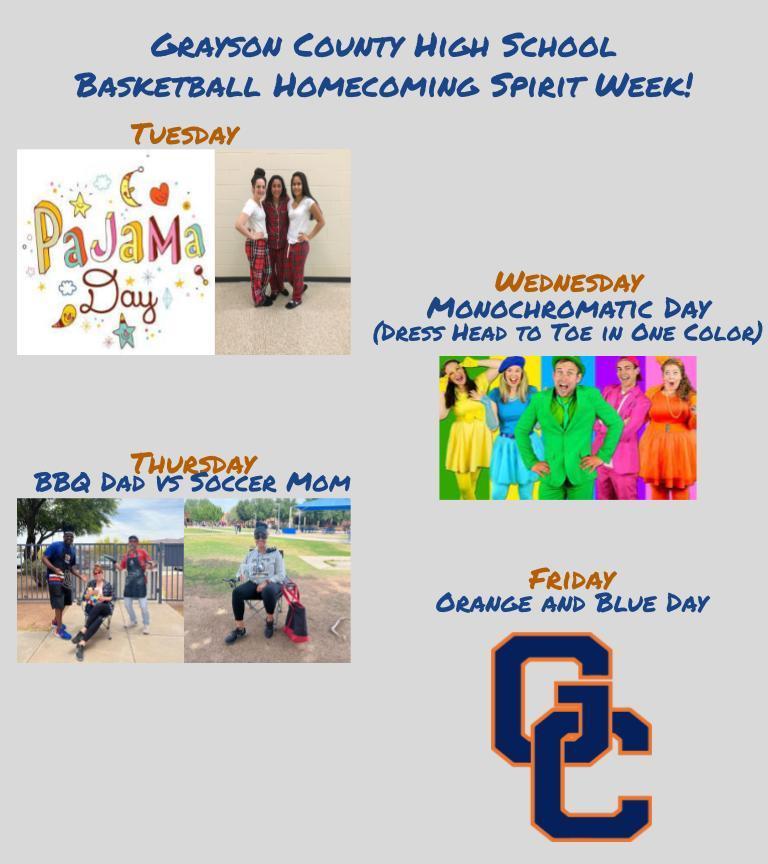 We would like to congratulate and announce our winter talent show winners as voted on by their peers! 1st Place - Briley Thorpe, 2nd Place - Wynsten Woosley, 3rd Place - Caleb Jenkins #ROAR #ALLINFORGCHS #WEGOTTALENT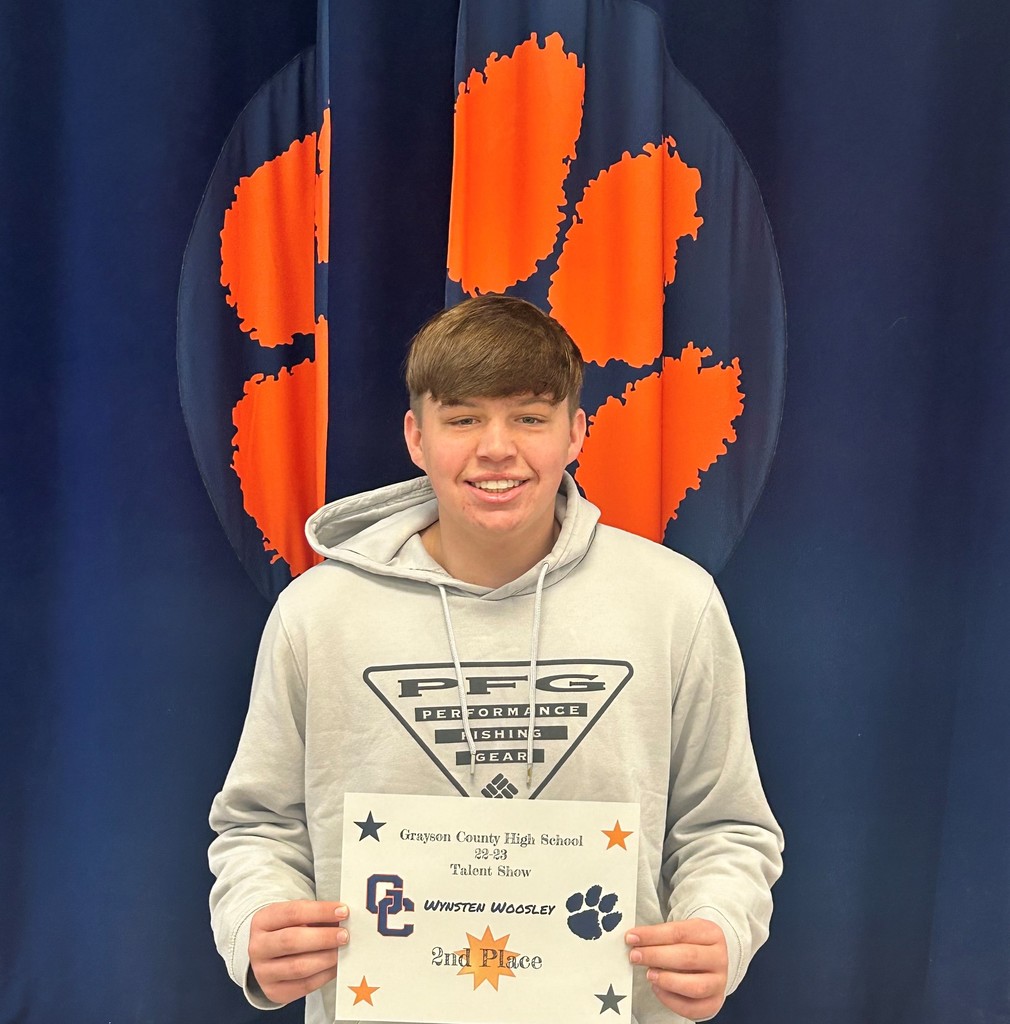 All-State Choir will be well-represented by GCHS. 12 students were selected by audition to perform during the upcoming KY Music Educators Conference (KMEA) in February. Congratulations and all the best for a stellar performance! More:
https://bit.ly/3X4PloZ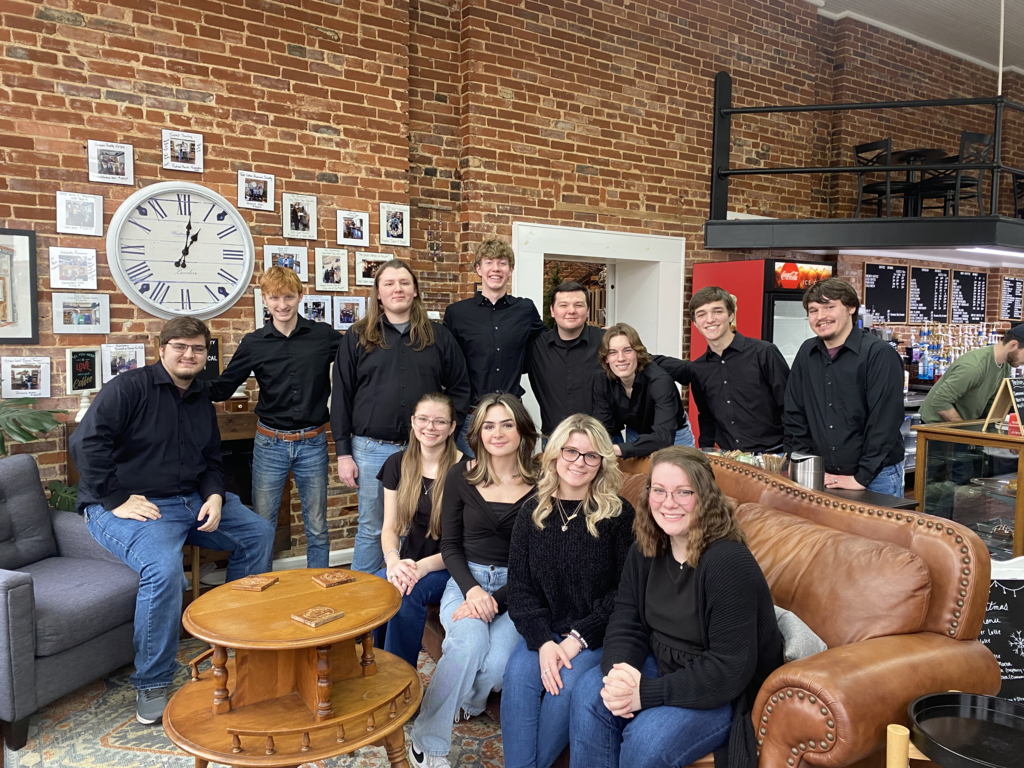 GCHS students received make-up photo proofs today. Orders should be turned in to the school by Jan. 13.

Attention GCHS: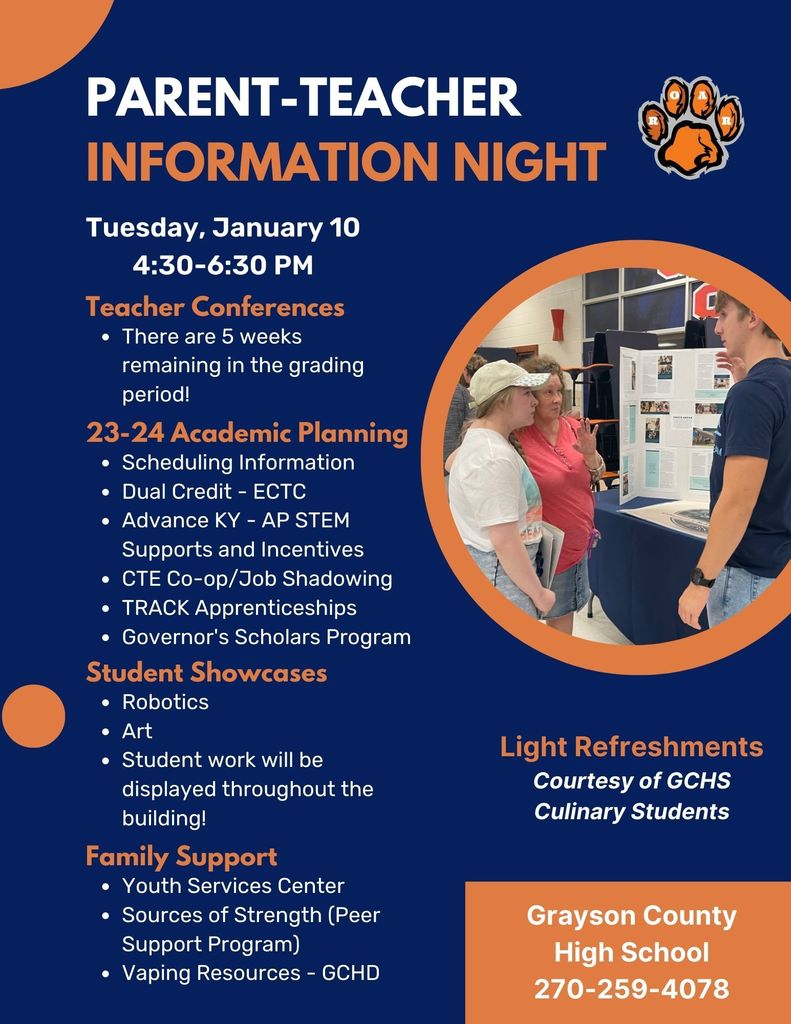 Great job going outs to our 22-23 1st Trimester A and B Honor Roll Students! #ROAR #ALLINFORGCHS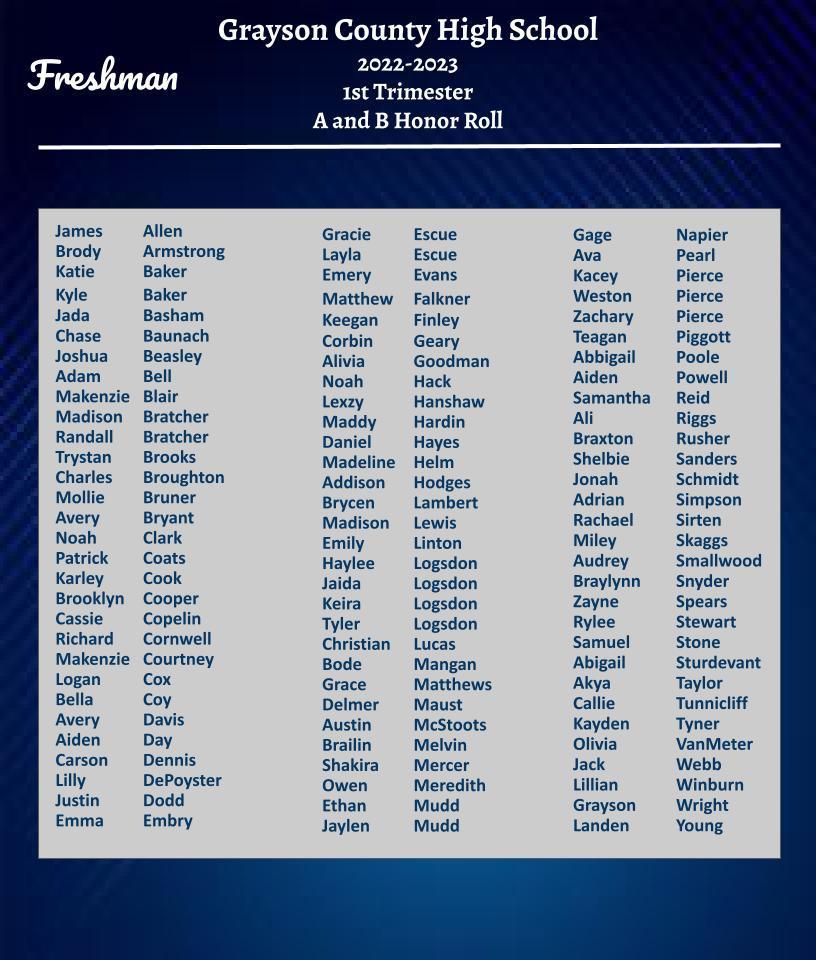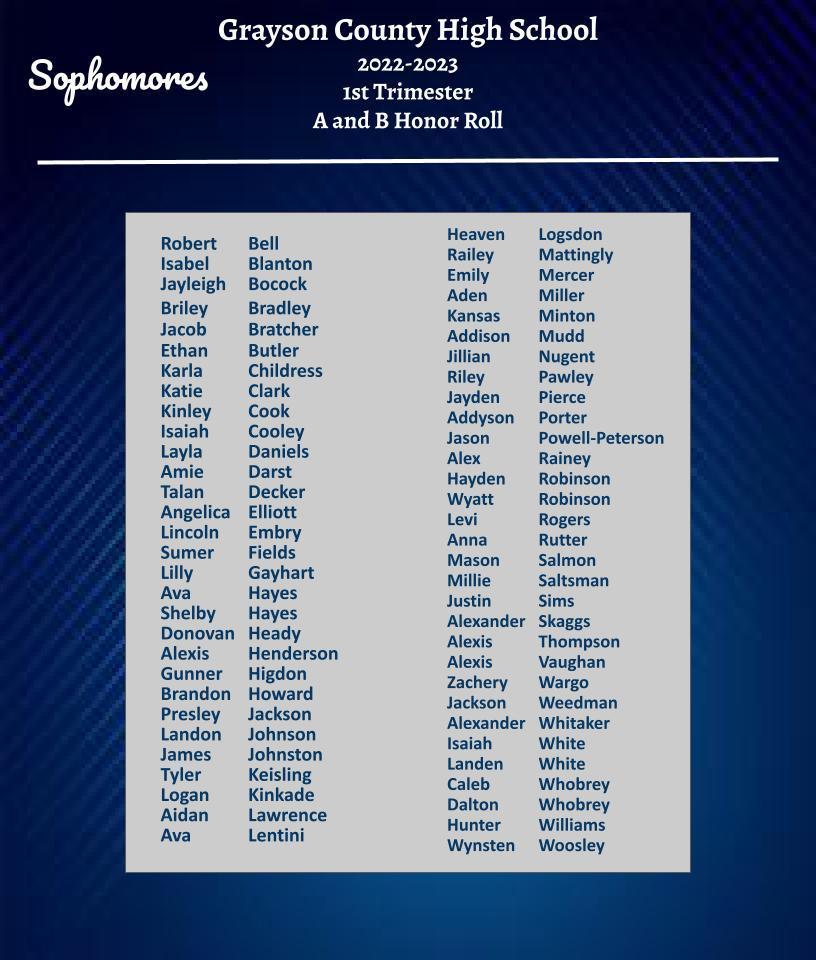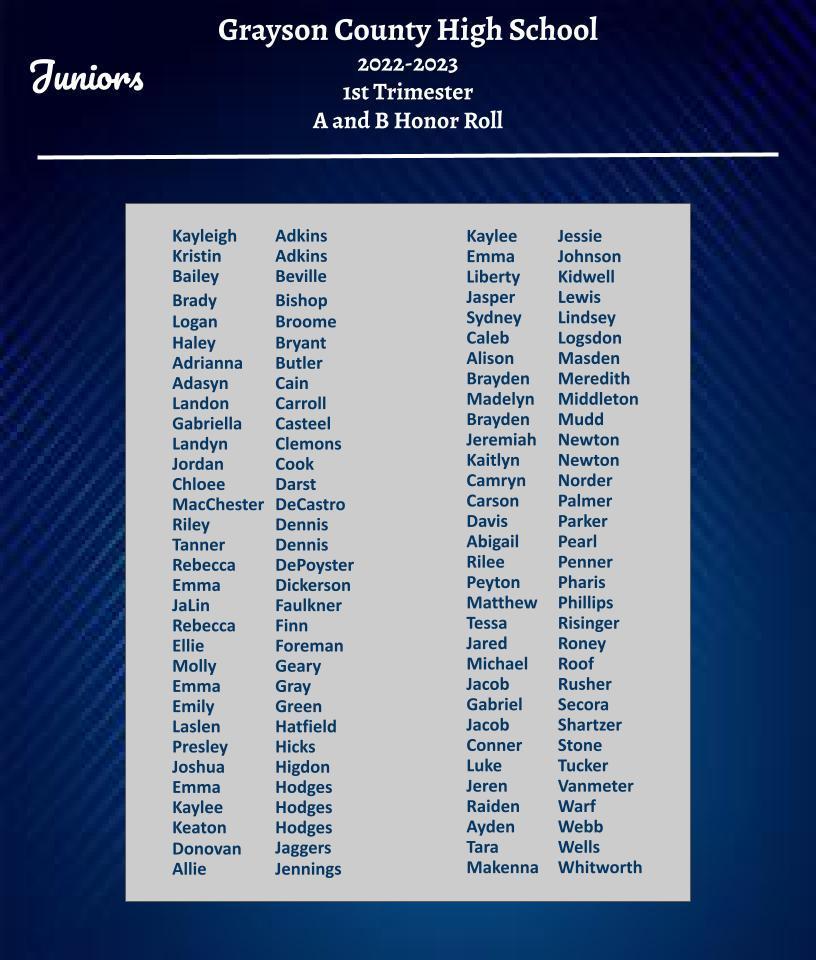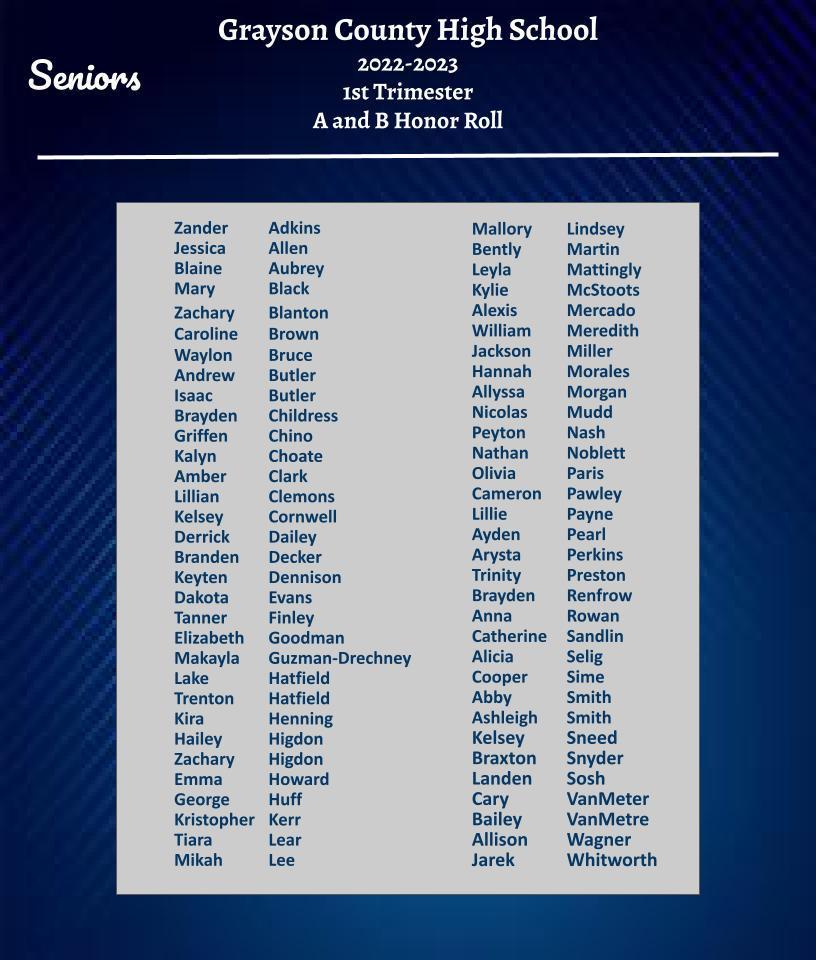 GCHS wants to congratulate our 22-23 1st Trimester All "A" Honor Roll Students! #ROAR #ALLINFORGCHS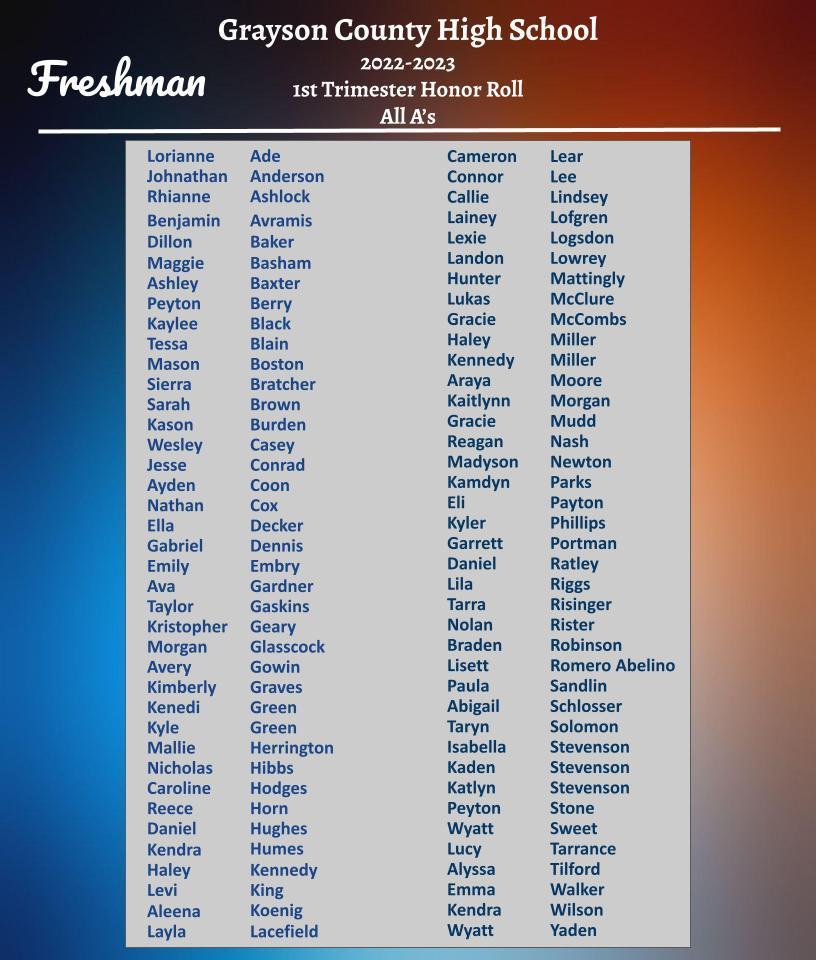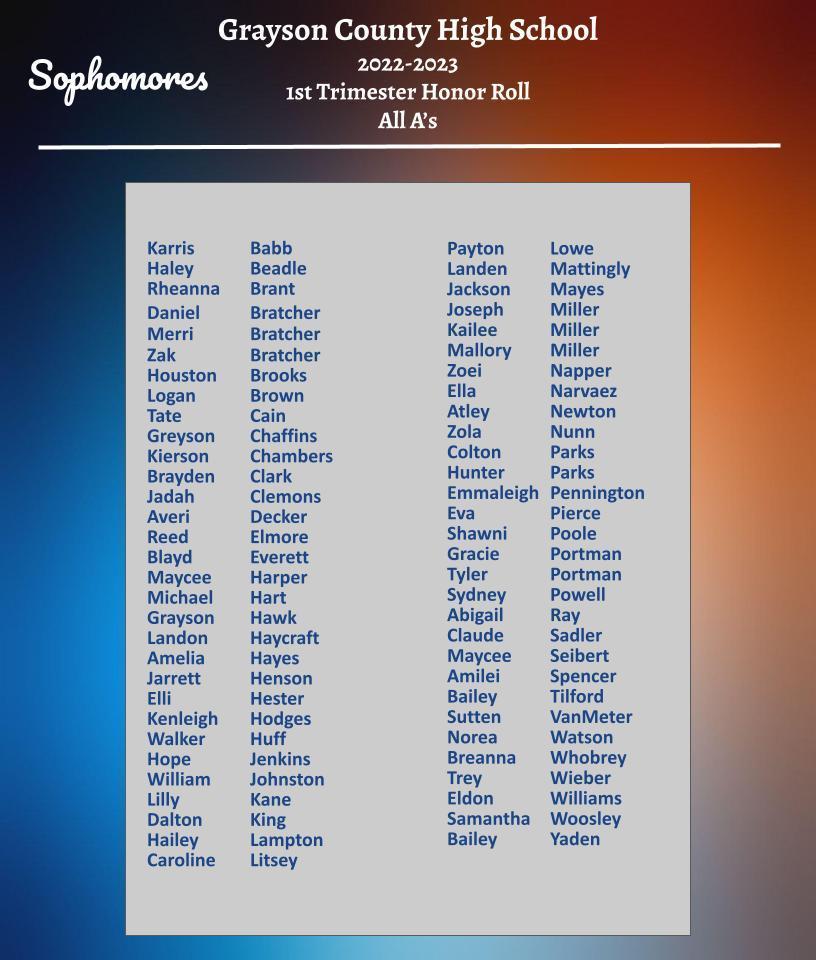 Attention GCHS: Parent/Teacher conference and information night is Tuesday, January 10th from 4:30-6:30 pm. Scheduling, dual credit, Governor's Scholar, and other information will be available. Hope to see you there!

GCHS Culinary team members put on quite the spread this morning for our GC Retired Teachers Assoc. Christmas meeting. Beautiful (and tasty) job!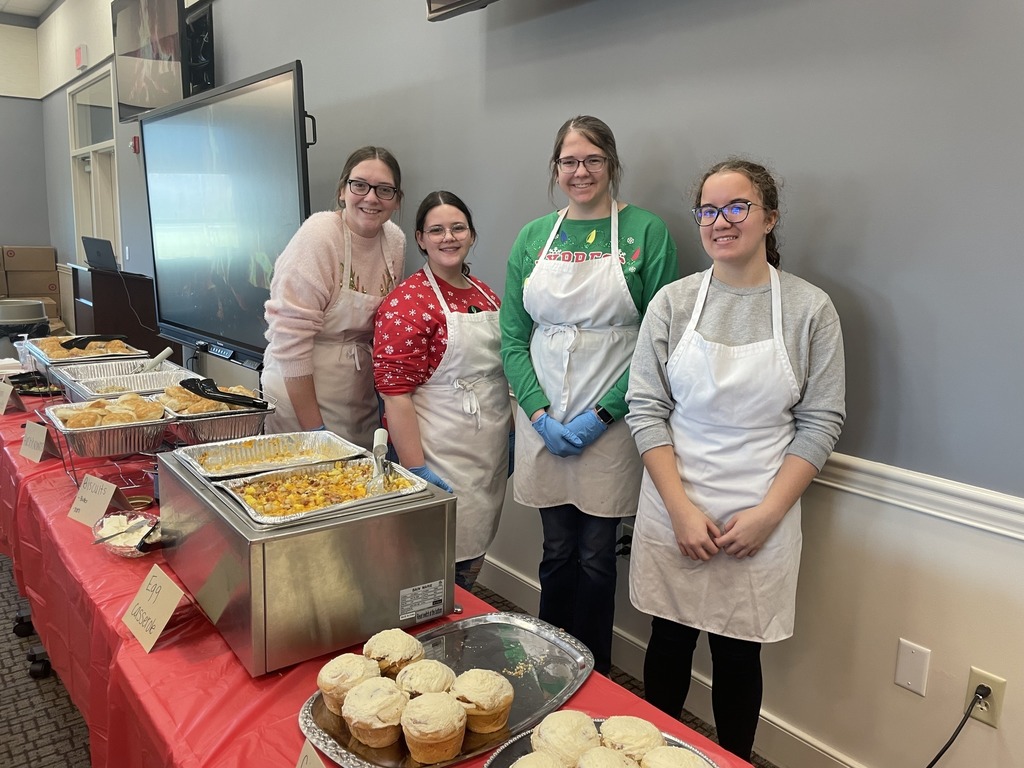 State bound! Congratulations to Donovan Jaggers who will perform with the KY All-State Concert Band on Feb. 11 at KMEA in Louisville. Donovan was selected from among hundreds of students statewide after a rigorous two-round audition process to earn this highest state band honor.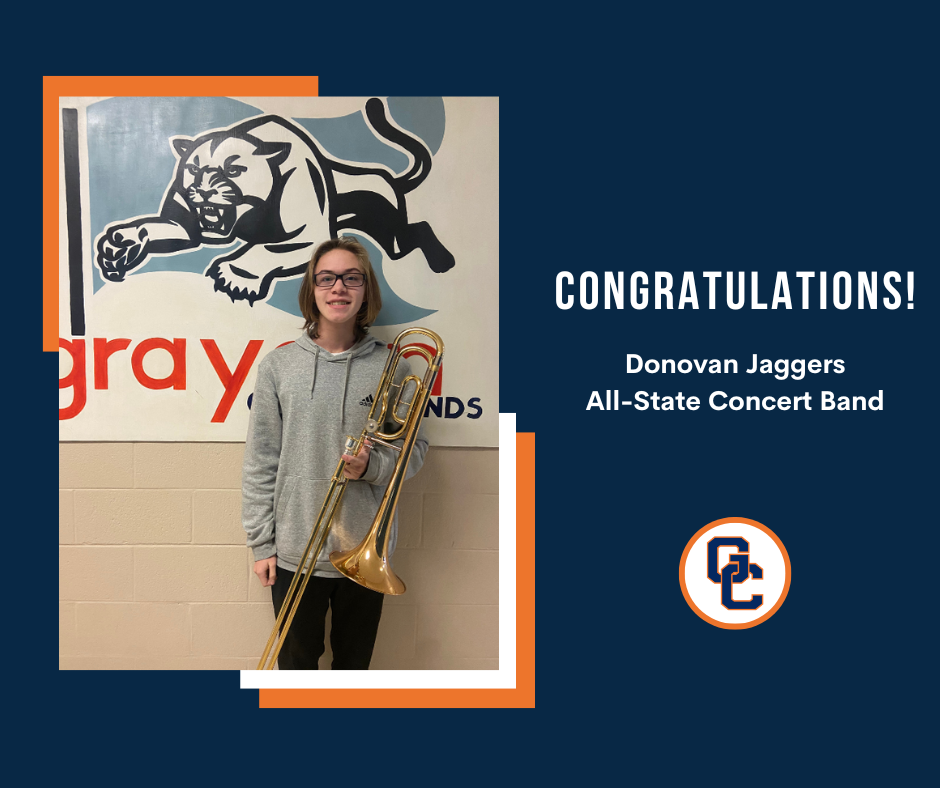 GCHS students: We are excited about our Christmas Spirit Week! See our flyer for each day's theme.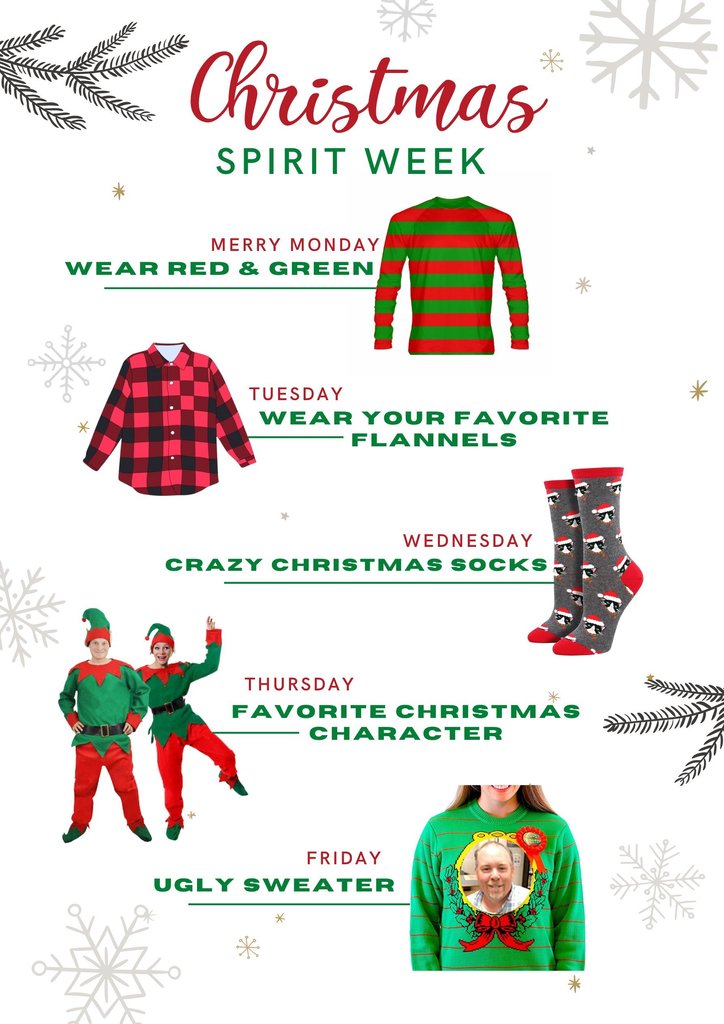 Tomorrow, Dec 9 will be the last day for GCHS Students to purchase a $10 ticket to attend the Winter Formal on Saturday, Dec. 10 from 7-10 pm, at the HS. Tickets will not be sold at the door. Student must present their ticket to enter the dance.

GCHS will be having our Annual Talent Show on Fri, Dec 16 during 4th & 5th Periods. Any student wishing to participate in the talent show, application forms can be picked up starting tomorrow in the Counselor's Office. All applications must be turned in by Wed, Dec14 @ 3 pm to participate. GCHS students can attend this event by purchasing a ticket for $2. Ticket sales will take place on Mon, Dec 12 during 3rd Period. All proceeds assist with senior activities.