Virtual grade reports will be ran Friday (5/26). Students on virtual that have Chromebooks and chargers, please return those between the hours of 9:30-12:00 on Friday 5/26 or 5/30-6/1 between the hours of 8:30 and 1:30.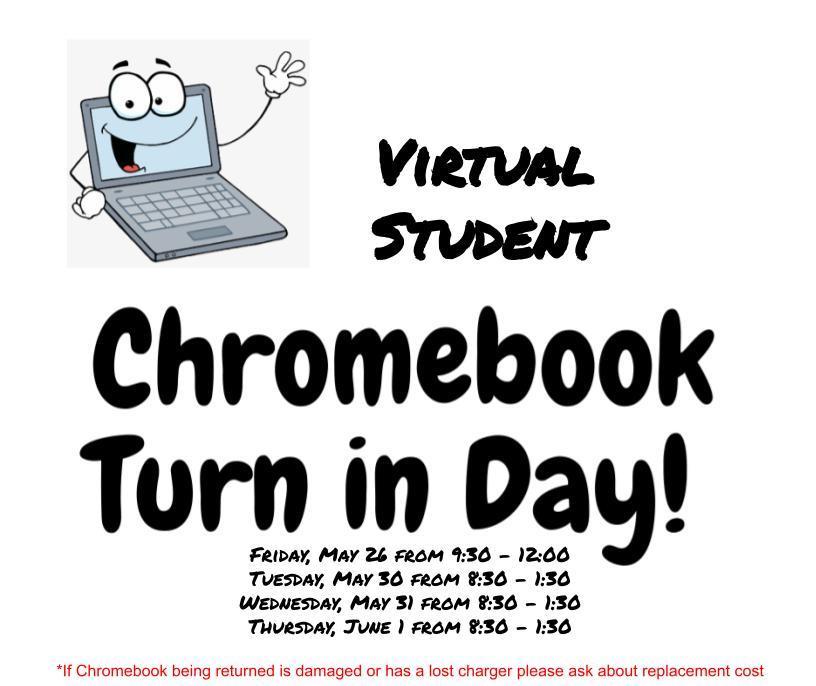 Graduation is Friday, May 26 @ 7pm. Gates will open at 5:45 and all graduates are to report to the commons @ 6:05. We will have a photographer, taking pictures. See flyer for more information.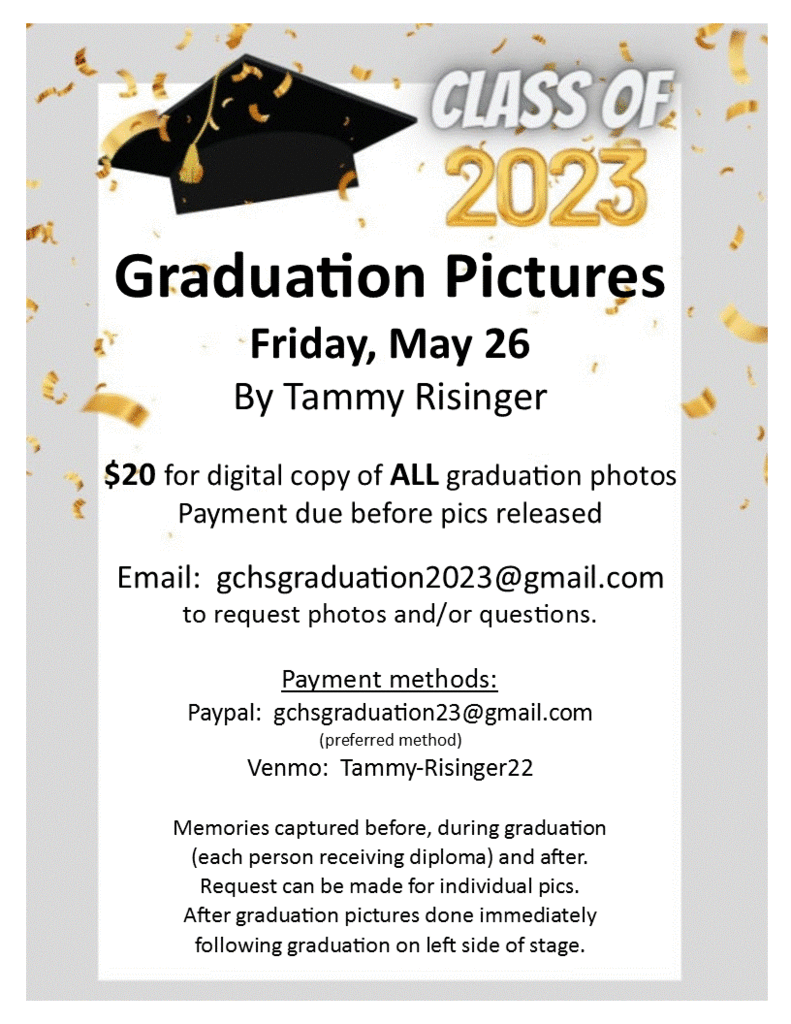 Seniors, this is your last week of High School. Tomorrow, is Elementary Walk. Wear your cap & gown & report to school by 8. We will visit all the public schools and eat in town. If you haven't picked up your graduation tickets, see Mrs. Harned by tomorrow or Tuesday.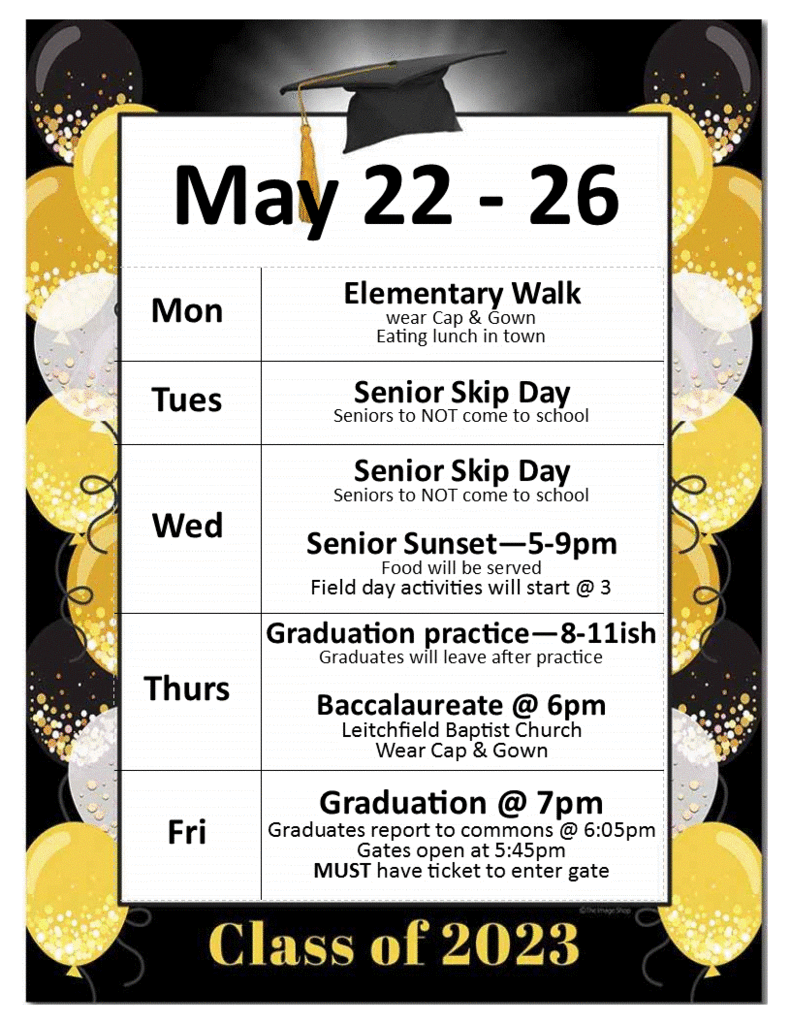 Finals for in-person seniors will be tom & Fri. Chromebooks to be returned Fri. Virtual seniors-classes archived Mon, May 22 @ 7am and relative grade posted to transcript. Chromebooks turned in Mon/Tues. Grad tickets are to be picked up during 3rd Period this week.

Seniors who graduated early, your graduation will be Sunday, May 28 @ 3pm. Cap & Gown optional for your graduation ONLY, but dress professional. There will be no grad practice required for early grads.

Meals on the Bus returns June 5 - July 14! This summertime program provides all kids and teens 18 and under the opportunity to receive meals free of charge, no registration needed. Choose the site that best fits your location and schedule at
https://bit.ly/453N1Dj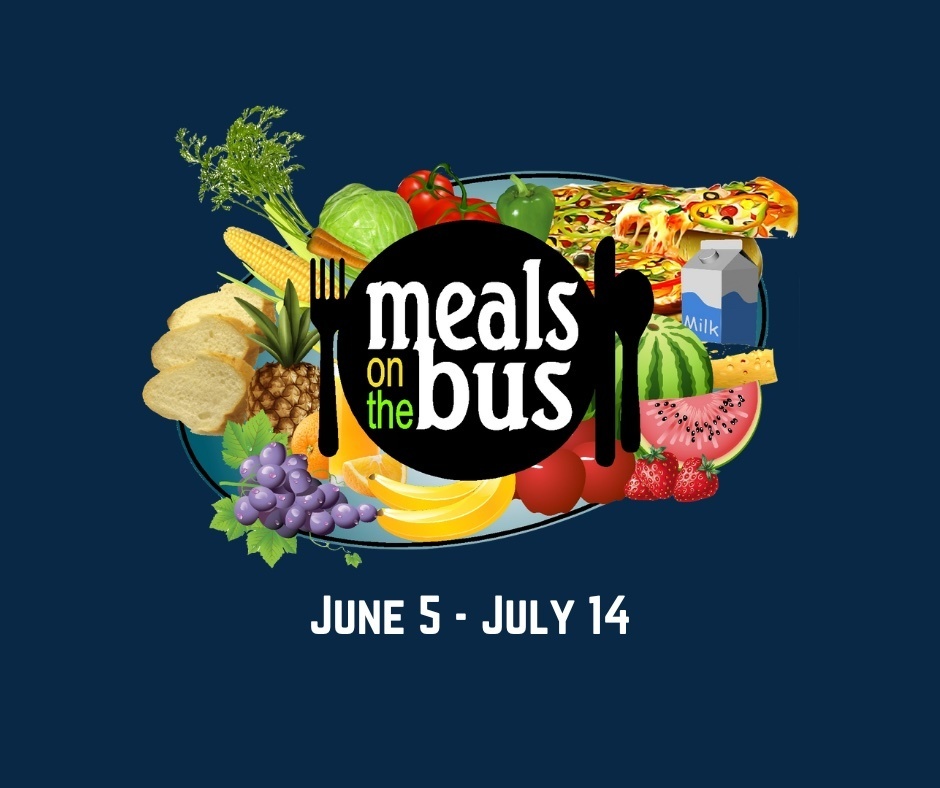 22-23 2nd Trimester All A Honor Roll! Congrats to these students and sorry for the delay! #ROAR #GCHS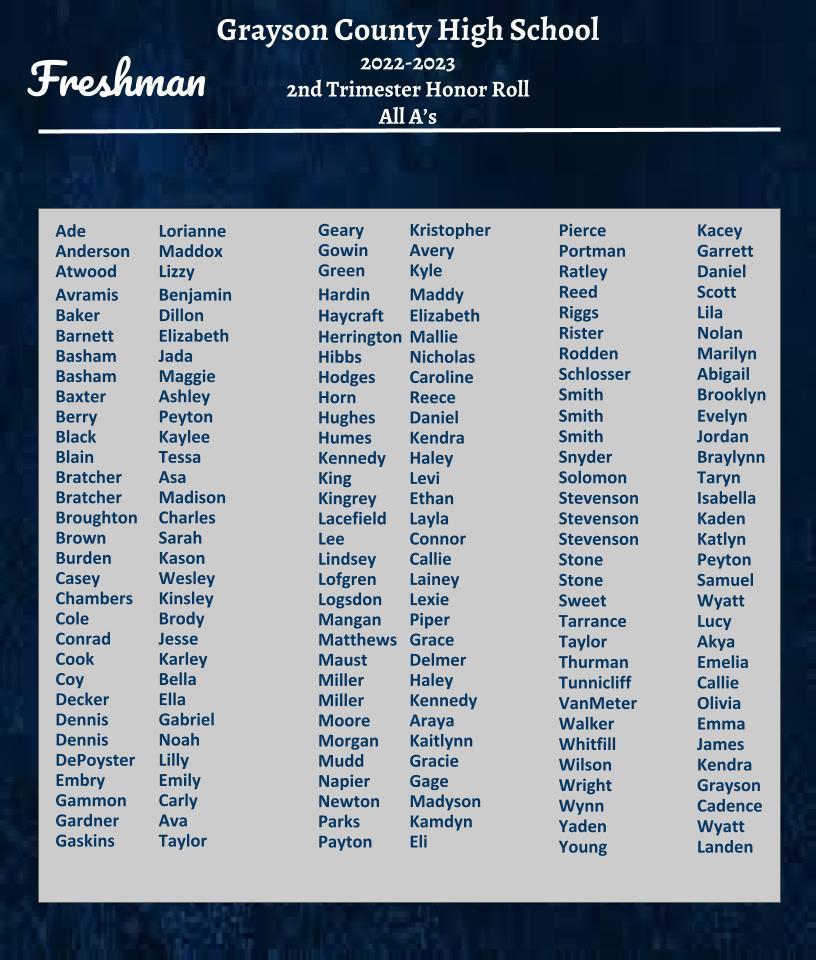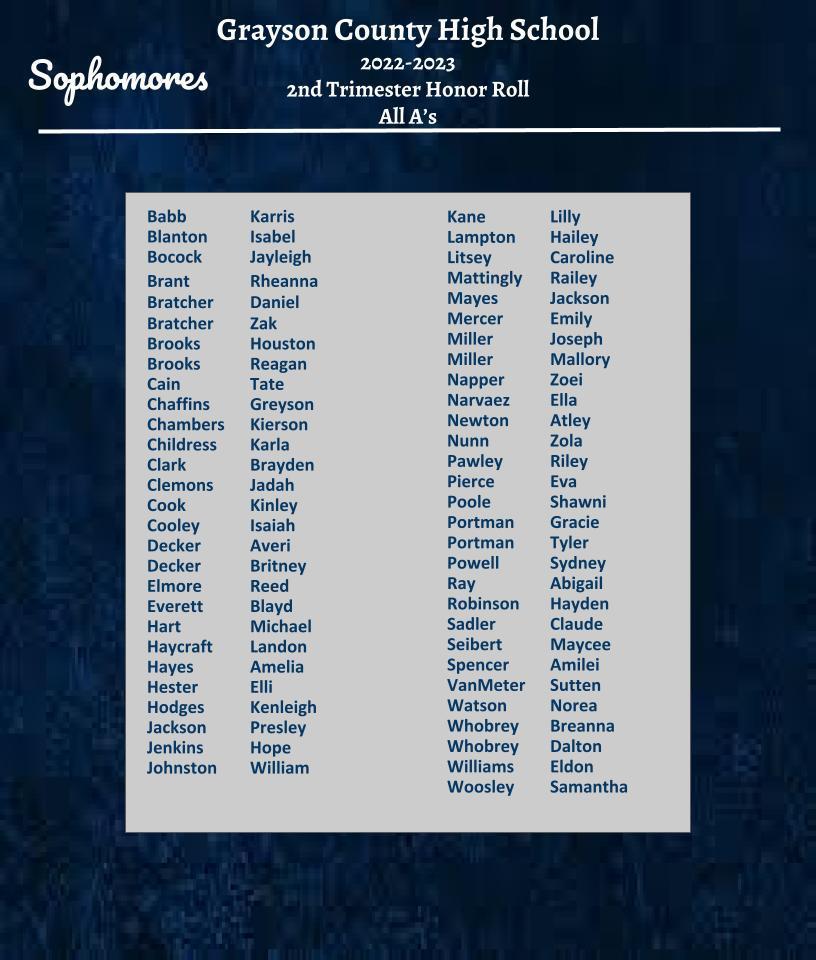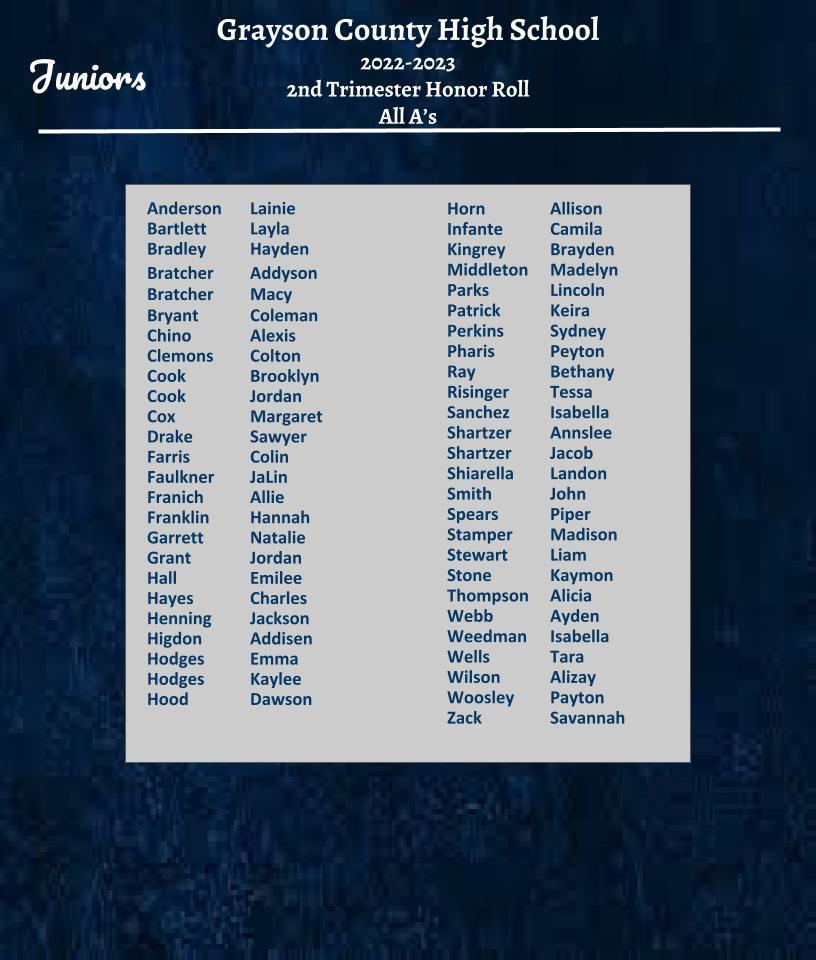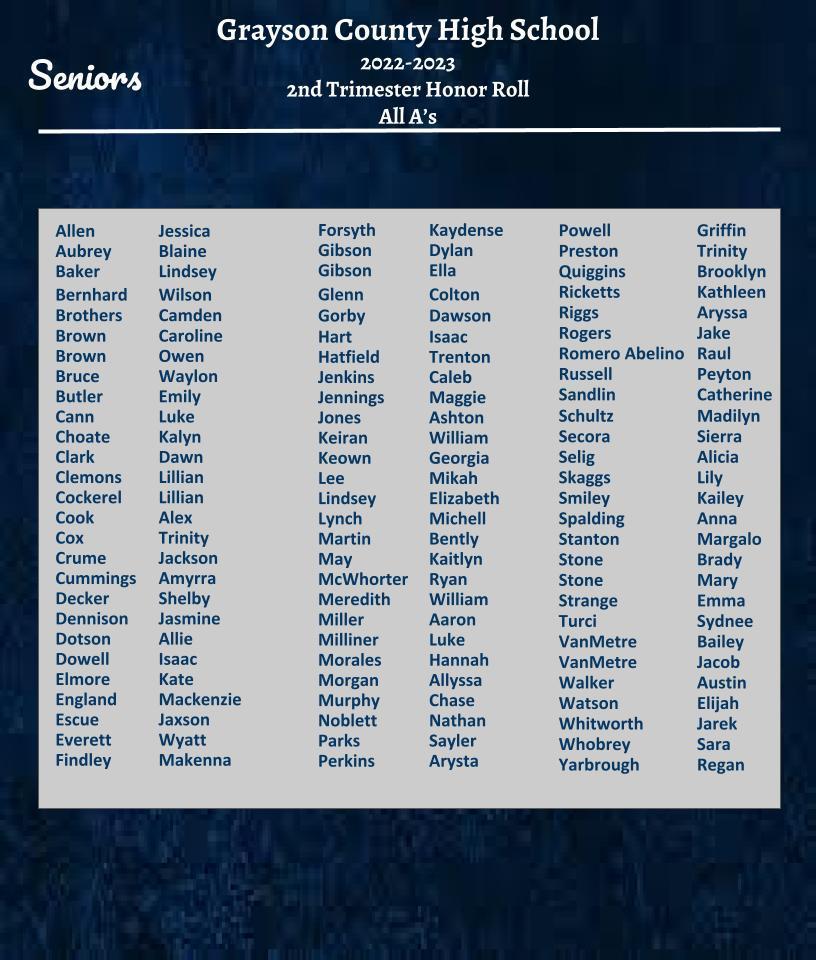 It's been a little bit delayed but we are finally releasing our A and B Honor Roll for the 2nd Trimester! Congrats to these Students! #ROAR #GCHS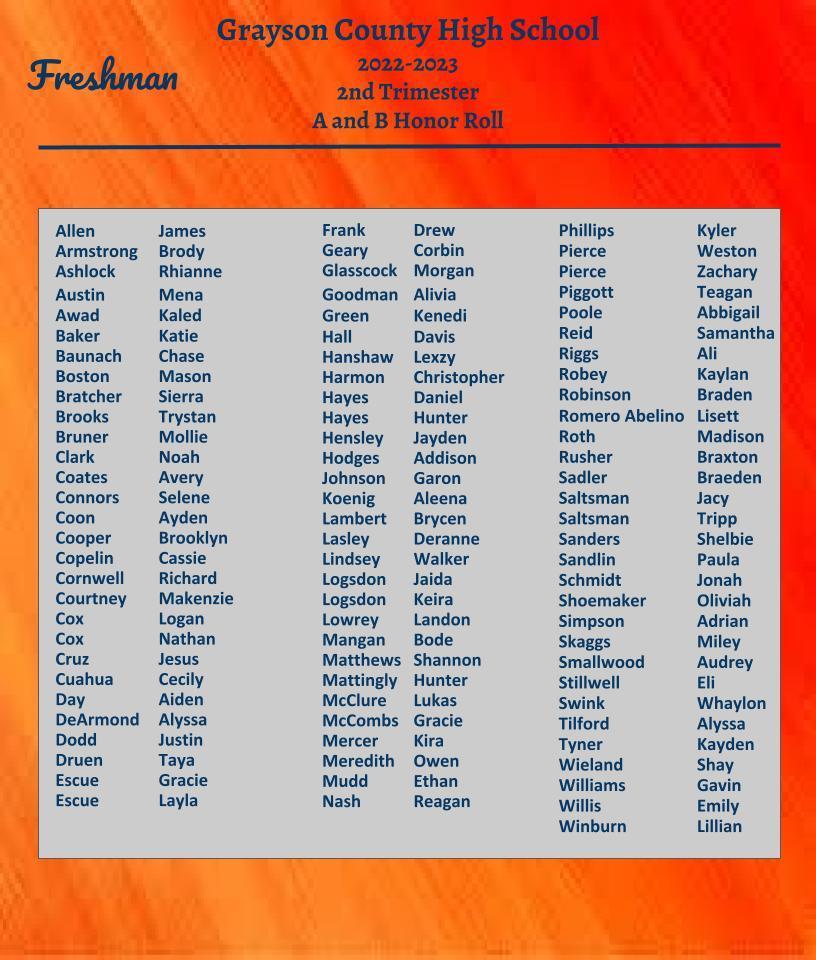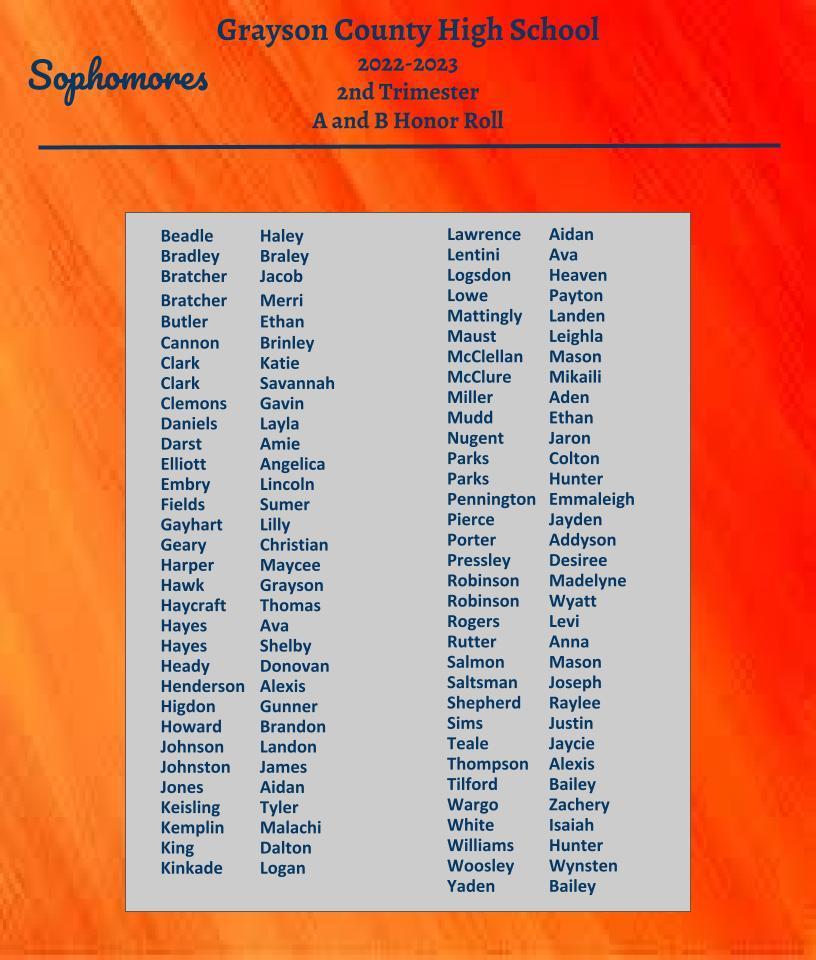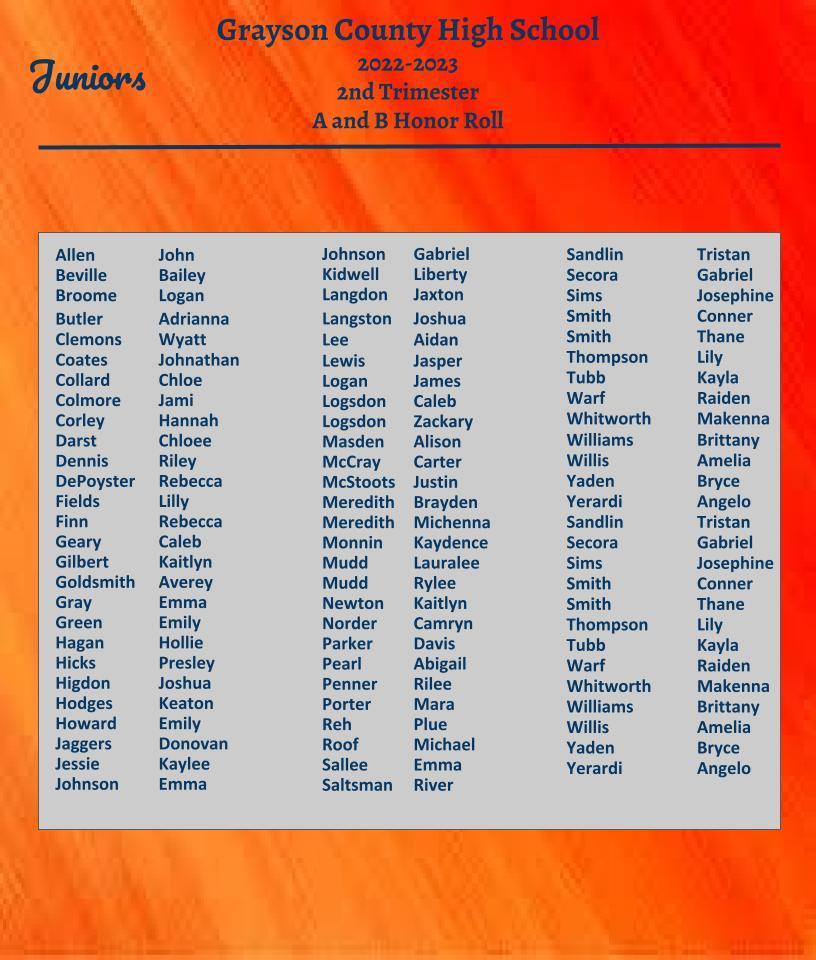 Seniors walking the line on Fri, May 26, complete the google link below, identifying names attending graduation. 10 tickets are the maximum given. Children 3 and under do not require a ticket. Tickets can be picked up starting Mon. May 15 through next Tue, May 23 during 3rd Period. No tickets will be given on the Thurs, May 25 @ Grad Practice.
https://forms.gle/3K7fZj7Jmchmv9Dx5

The Roaring '20s came through Grayson County High School on May 13. The junior/senior prom was well-attended with lots of dancing and fun.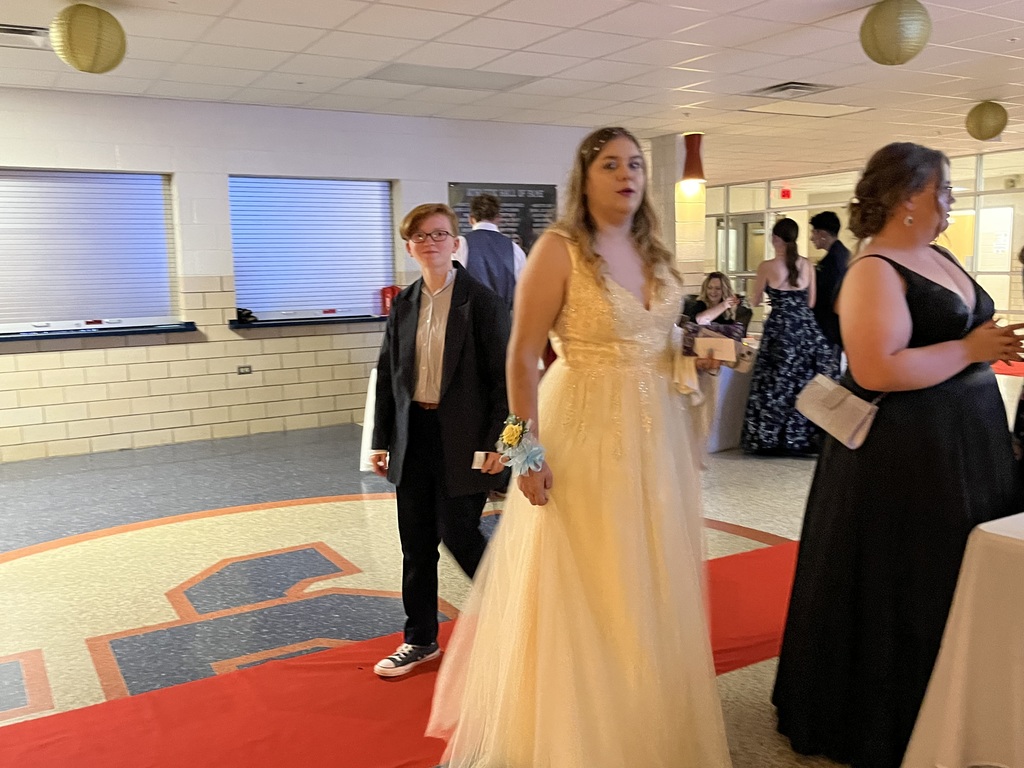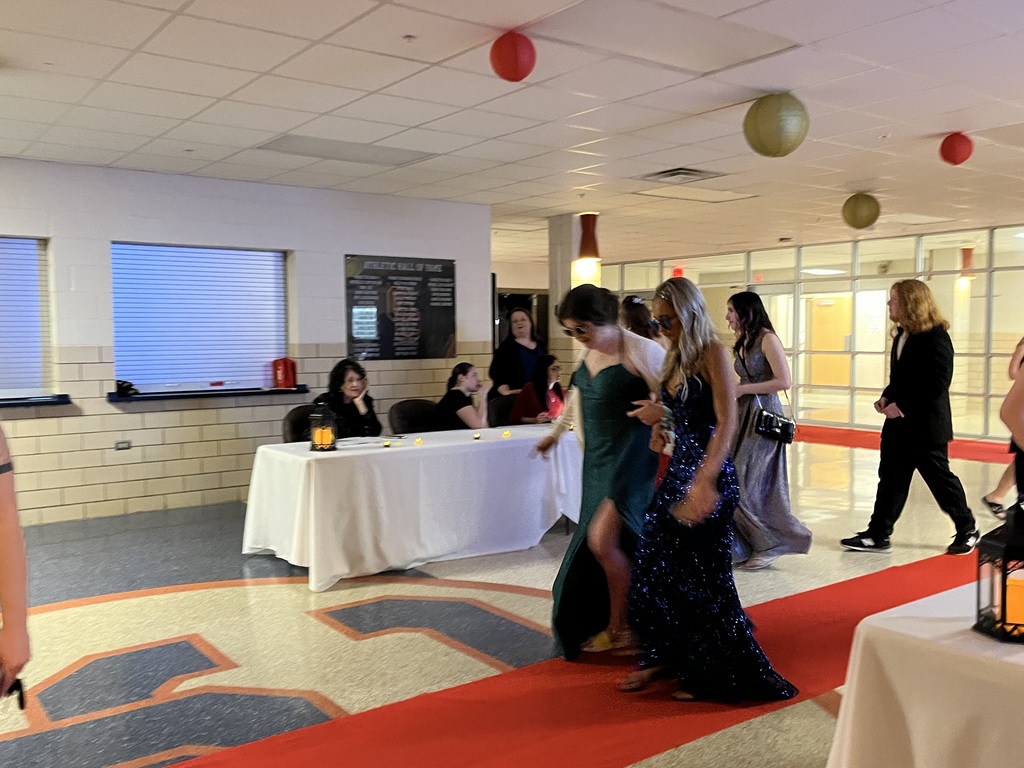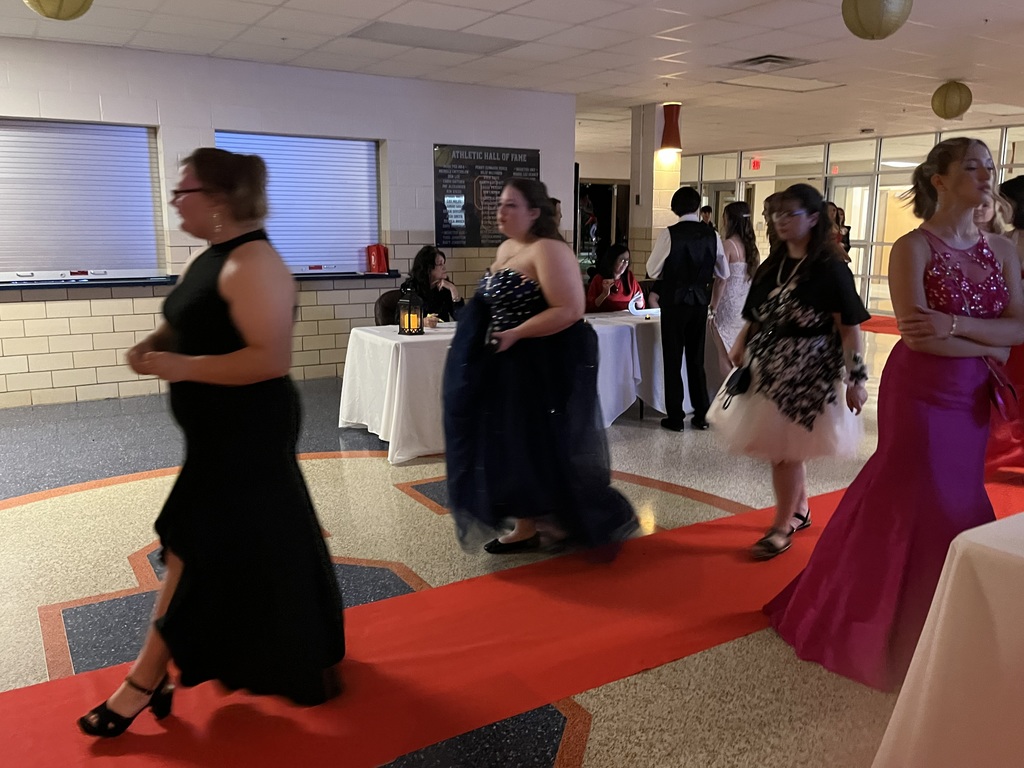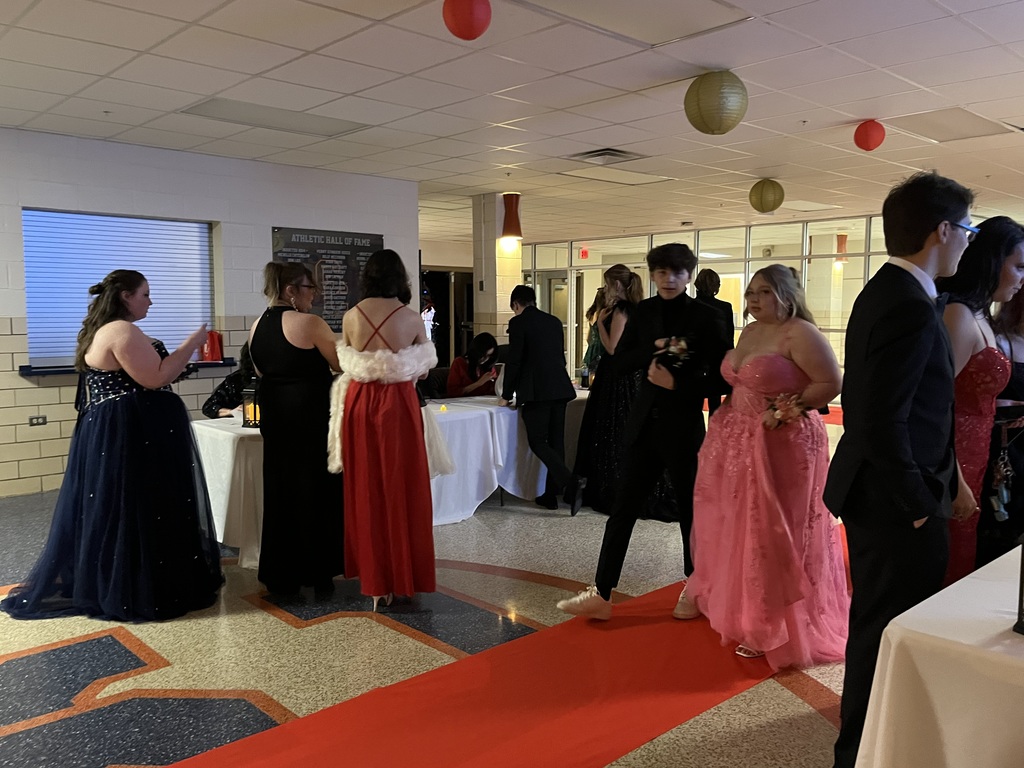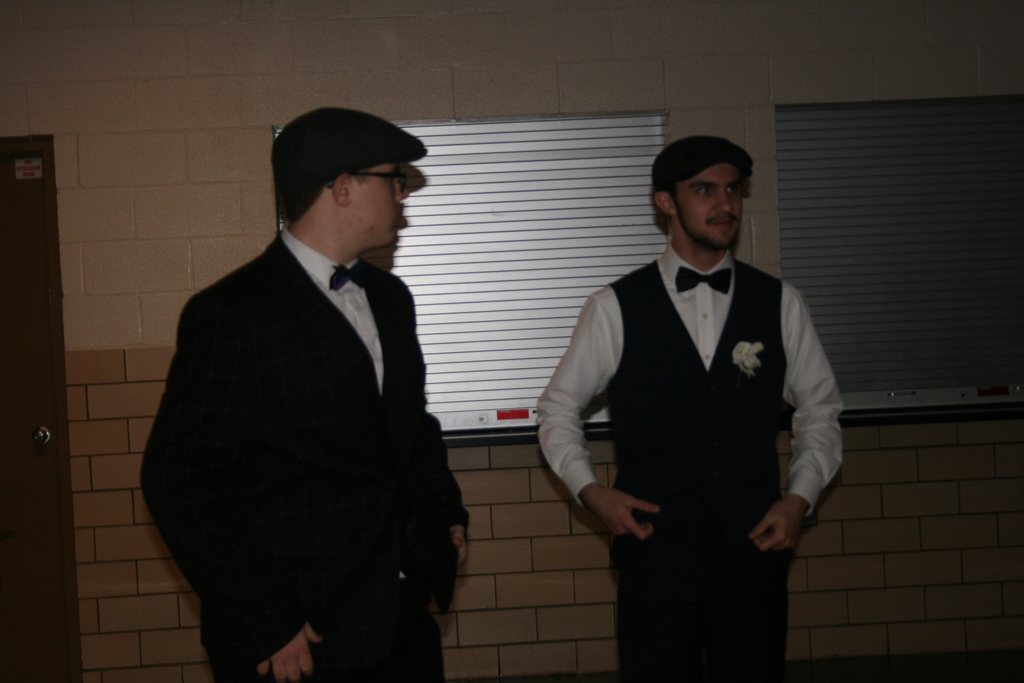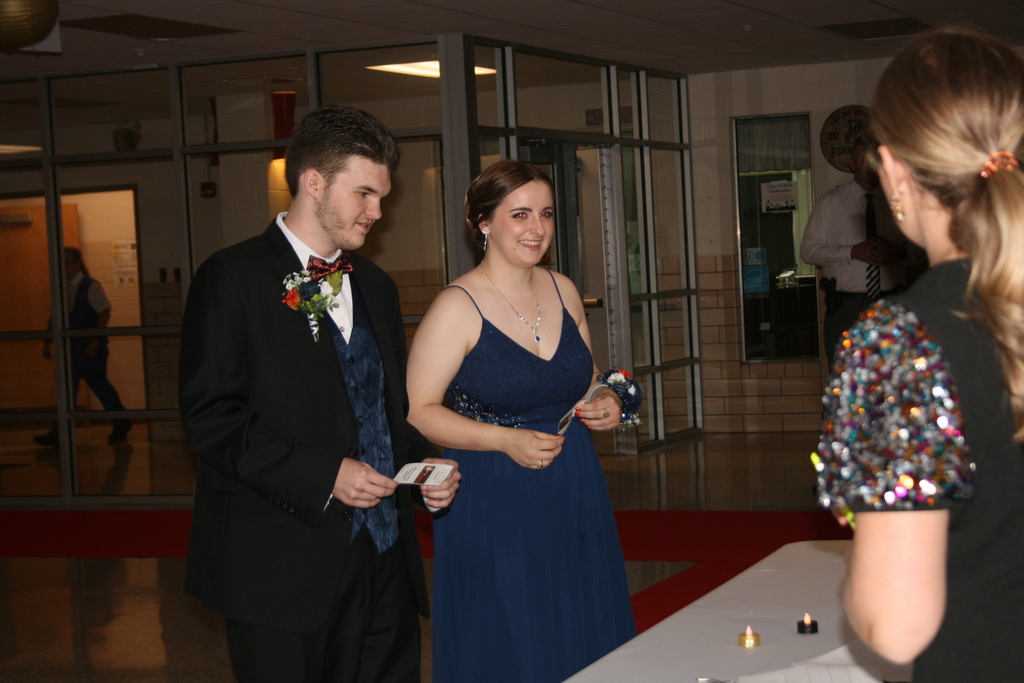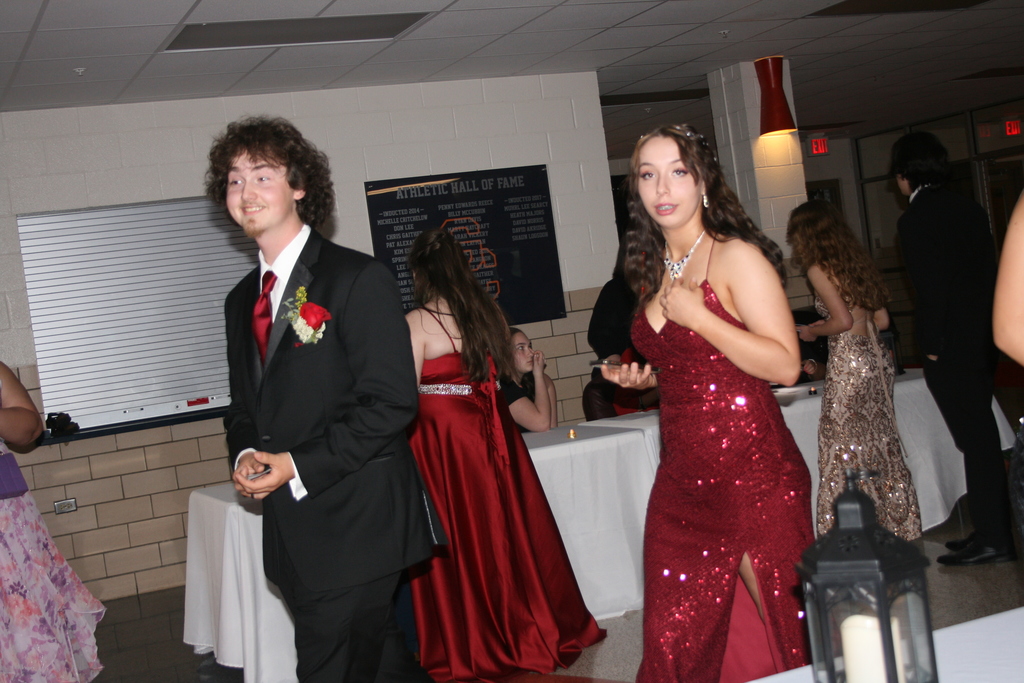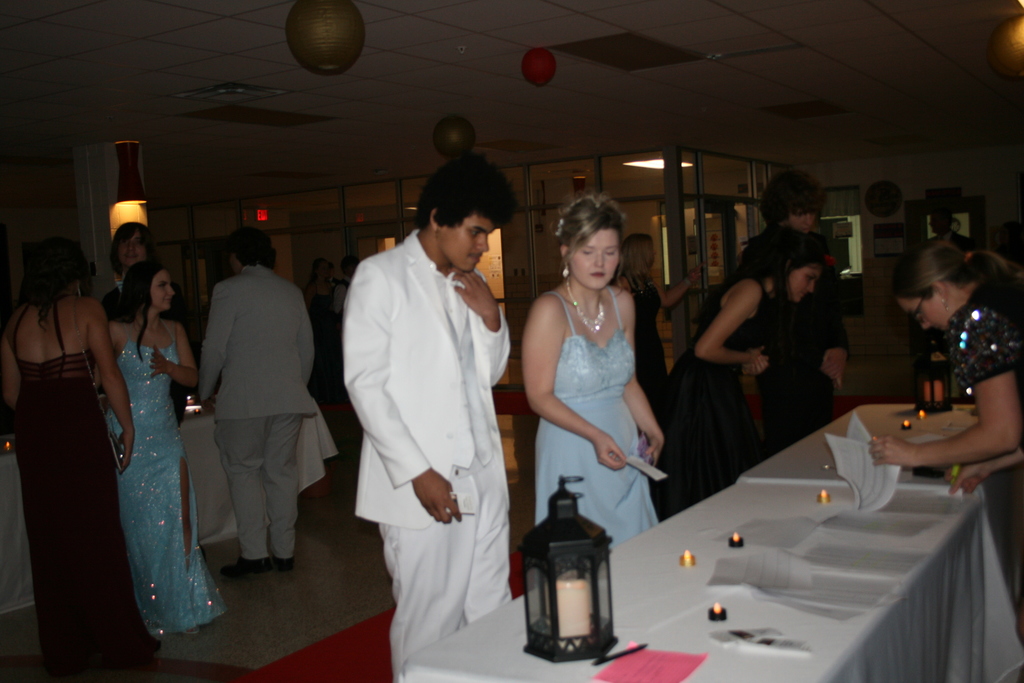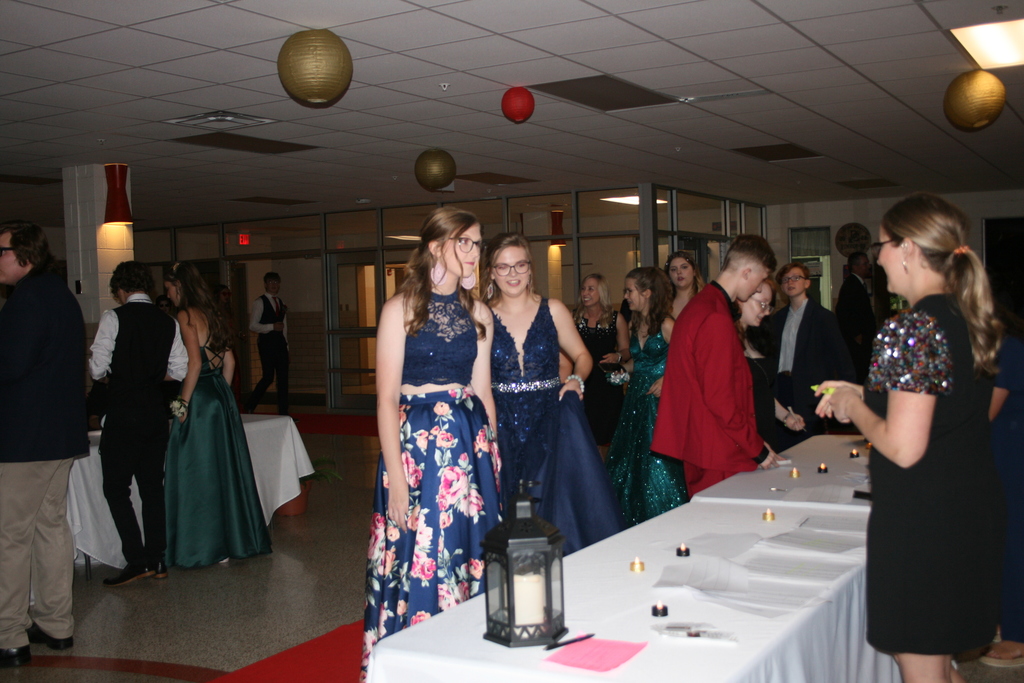 GCHS - Jr./Sr. Prom will be held at GCHS Gym from 8-11 pm, due to weather. K105 will be live-streaming again this year. Link will be shared tomorrow evening. Tune in!!

Prom tickets are on sale this week during 3rd Period ONLY for $25 each. If a student is NOT a GCHS student, form must be signed off by Admin before purchasing ticket. Qualifying Juniors and Seniors are allowed to purchase ONLY 1 additional ticket. Underclassmen MUST have 11 or less unexcused absences to be a guest. Virtual students must come in to purchase your ticket. Tickets will not be sold on Saturday at Prom.

A friendly reminder from your school nurse: "It has been a pleasure taking care of your child this school year! We ask that all medications in the nurse's office get picked up by an adult no later than May 25, 2023. For safety reasons, medication will not be sent home with students. Any medication not picked up by May 25 will be discarded so that we can prepare the office for the next school year. If you child has rescue medications in the nurse's office and plans on attending Summer School, please give me a call at school. We hope everyone has a happy and healthy Summer break!"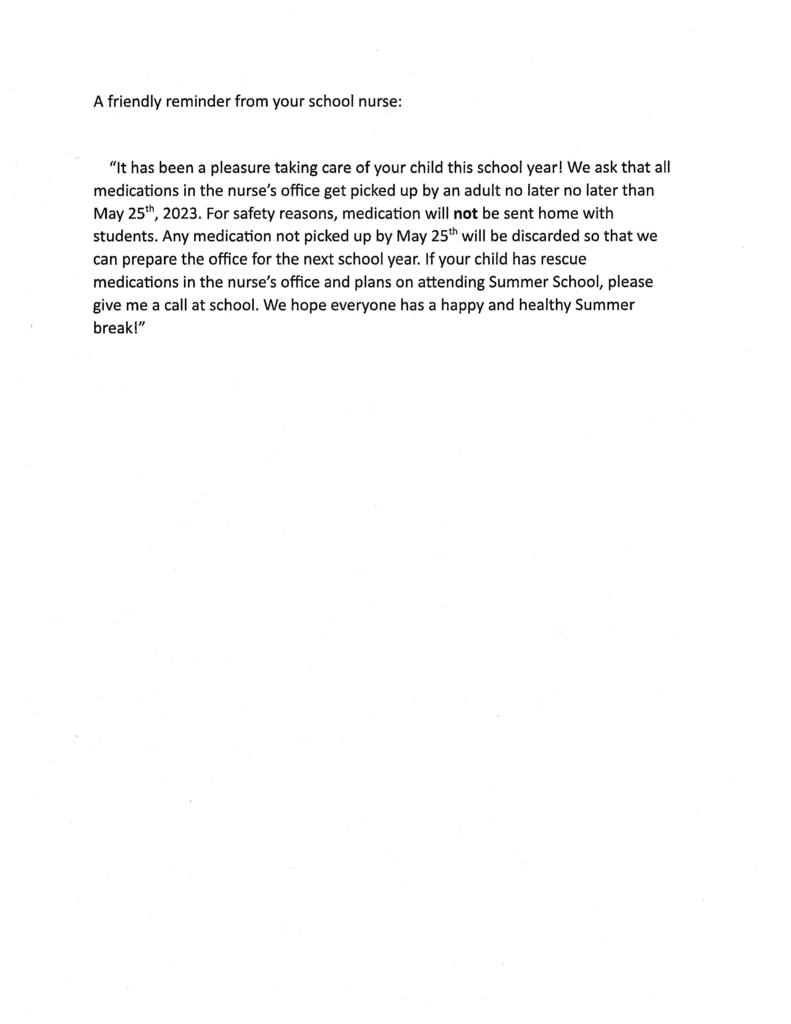 Incoming Freshman for the 23-24 school year will have the opportunity to take their Health and PE classes over the summer to open up room in their schedule if they meet eligibility requirements. If interested please register at the following link:
https://forms.gle/vYuSXXwvPH19oUyd6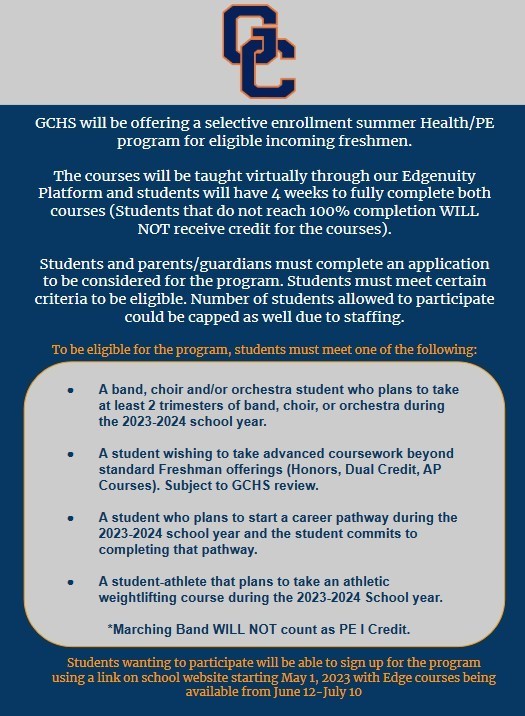 GCHS Seniors! We are in our last month of the school year. Attached are important dates! Graduation will be Friday, May 26 @ 7pm on the Cougar Football Field. Seniors who graduated early, your graduation will be Sunday, May 28 @ 3 pm in the Cougar Gym.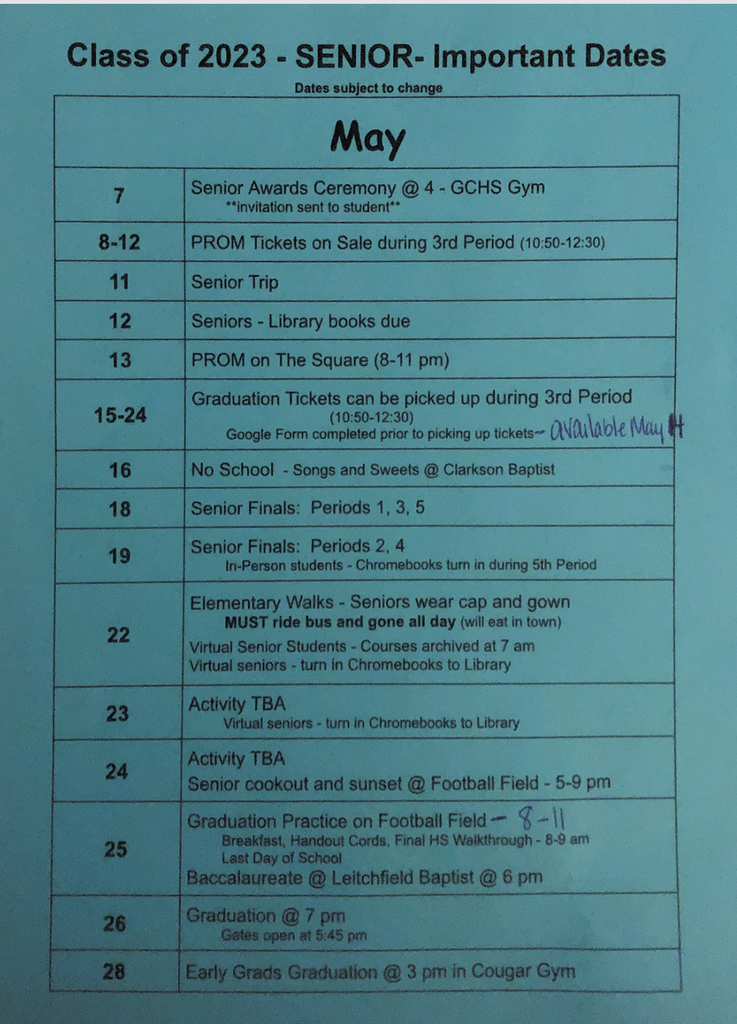 Thanks to Owensboro Health Twin Lakes for hosting Health Career Day, a wonderful experience, with insights into a variety of healthcare professions.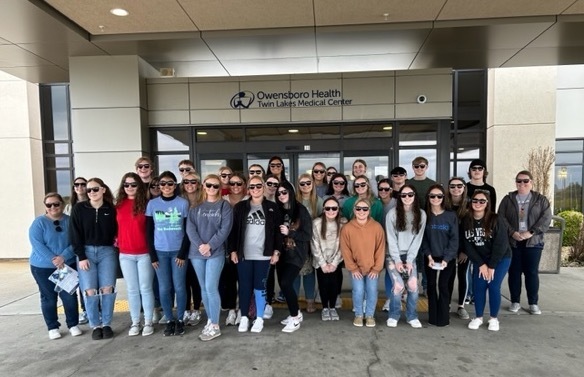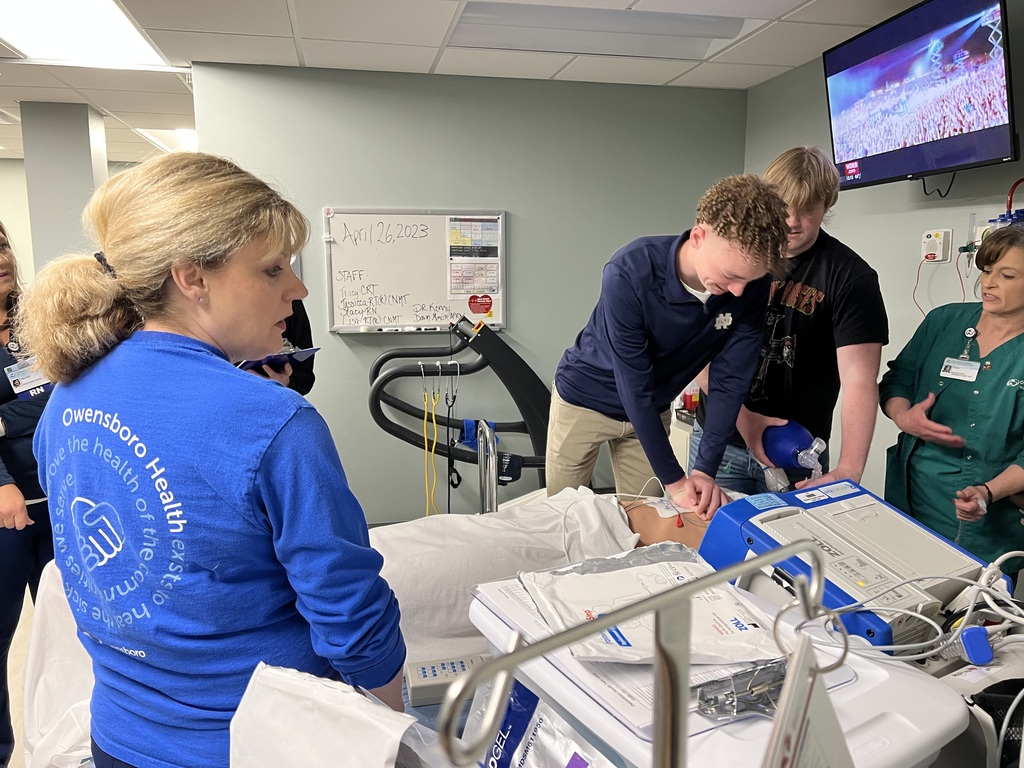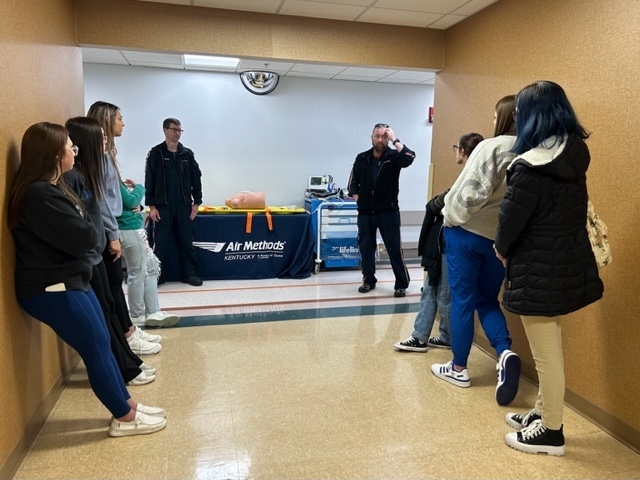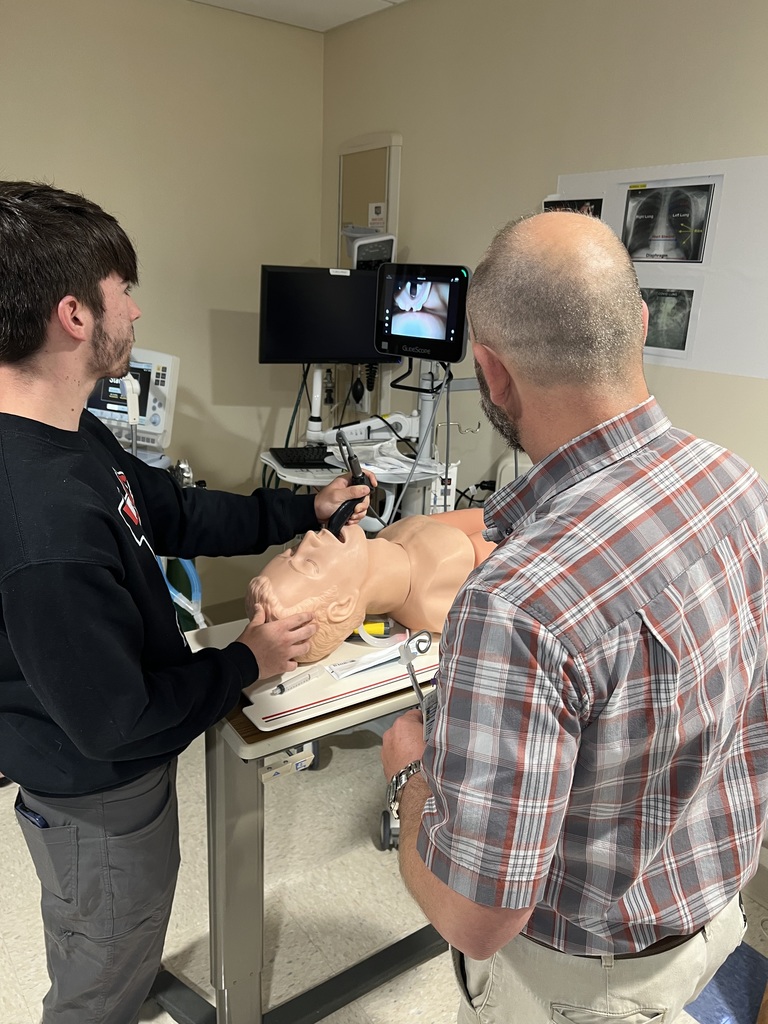 Top finishes at SkillsUSA State for GC Tech Center. Team events, 1st place Jake Rogers & Isaac Dowell, Urban Search & Rescue, Paul Overton & Gabriel Secora, Additive Mfg. Eldon Williams, 1st in Computer Programming, Thane Smith, 2nd and Lake Hatfield, 3rd, Carpentry.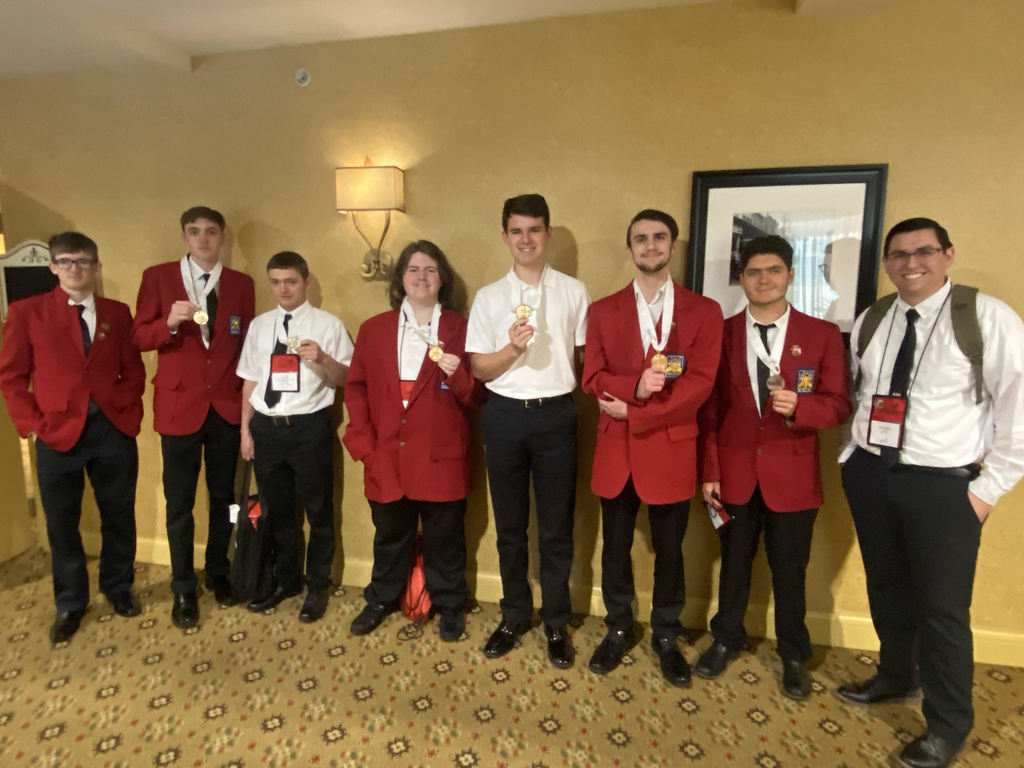 Dear Parents and Guardians: Fentanyl is quickly becoming a threat in our community and across our state and nation. Our community is experiencing a rise of overdose and exposure cases impacting young teens, as well as adults. Two of our community members have designed age-appropriate educational programming to bring awareness to these dangers in an effort to educate students and save lives. This educational presentation titled "Tough Talks" is part of our drug awareness curriculum and focuses on two primary objectives: 1. Fentanyl awareness and drug prevention 2. Drug accessibility dangers Two of our community's Emergency Medical Service (EMS) professionals, Stephan Parrott and Michael LaSala, are trained to present this program and possess the skills to speak to our area students as they raise awareness regarding the dangers of fentanyl and drug use. Stephan and Michael are first responders in our community that see first-hand fentanyl's lethal effects. They are passionate about using this age-appropriate educational presentation to inform our students and promote positive decision-making among our youth. Please review the description and details of the "Tough Talks'' presentation below: Date: April 26, 2023 Topic: Drug Awareness Details: Fentanyl has become increasingly prevalent across our community, state and nation. This presentation will focus on fentanyl, its presence in recreational drugs, and its accessibility to teenagers. At the end of the presentation, there will be time for a question and answer period with the presenter. Presenters: Stephan Parrott EMT Med Center Health, Field Supervisor Level 2 State Instructor Michael LaSala NREMT-P, Critical Care Paramedic Med Center Health, Lead Supervisor BLS Instructor