Great win tonight for Lady Cougars as they defeated Daviess County 50-48 by a last second lay-up by Hannah Saltsman
Come out tonight to Cougar gym to watch the girls play Daviess County. JV at 5:30/Varsity at 7:00. #weareGC
Practice Tuesday, Thursday, Friday. Compete Saturday at Muhlenberg East at 11:45 & 1:15. #regiontime
Reminder: Friday night girl/boy doubleheader starting at 5:30. Homecoming and Hall of Fame Induction between games. #weareGC
The registration meeting for parents on Tuesday, Jan 31st will last approximately an hour, 6-7pm
Parents of GCHS 9th, 10th, 11th graders are invited to attend a meeting about next year's class registration process on Tue. Jan. 31 from 6-9 pm at GCHS. Students are now getting ready to register.
Gcarchery.theapparelandawardsfactory.com Order by February 3.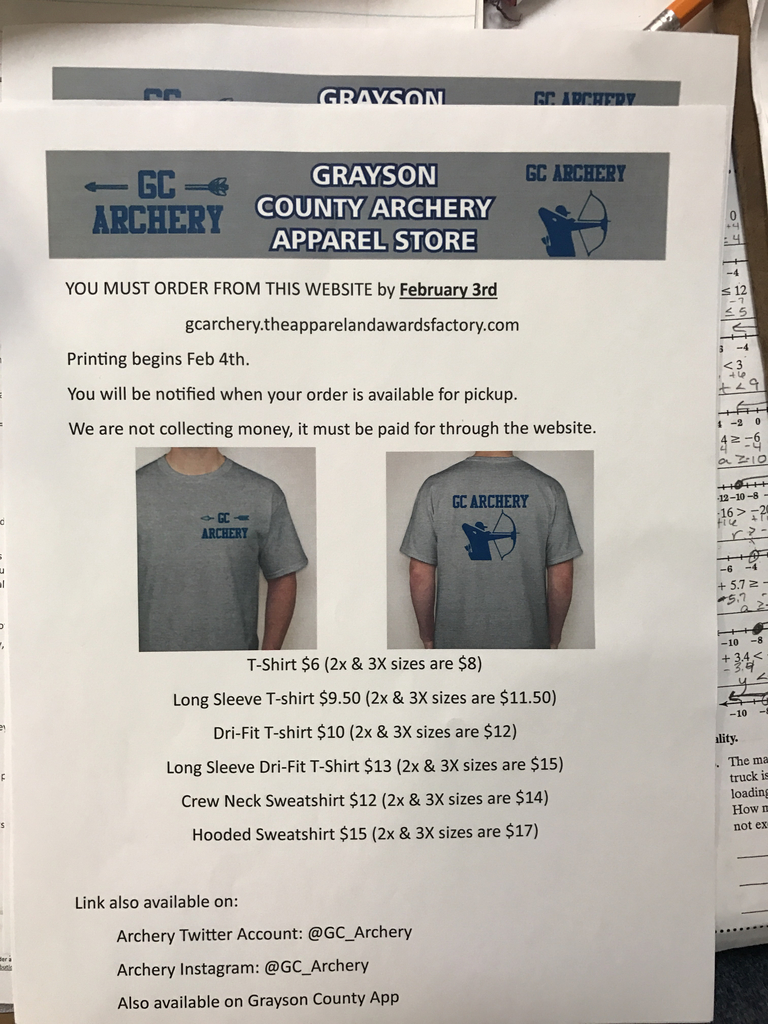 Gcarchery.theapparelandawardsfactory.com Order by February 3.
Congrats Kaylee Embry on being ranking 4th of high school girls and 5th overall in girls division at Edmonson Co. yesterday.
Archery team shoots a 3063 today. Rachel Woosley shoots a 50 one round and raises her season best to 269. Hunter Mashburn shoots a 272 getting his season best. Both archers are Archers of the week.
Senior Cap and Gown picture proofs are in. They can be picked up in room 13. To order pics, complete the form and send directly to Graham's in the postage-paid envelope on the order form.
Archery practice will be Wednesday, Thursday, and Friday this week. Bus will leave at 7:45 on Saturday for Edmonson Co tournament.
No archery practice today. Remaining schedule:1/14 @ John Hardin; 1/21 @Edmonson; 1/28 @Meade; 2/11 NASP REGION @ Muhlenberg. KHSAA REGION TBA.
Archery practice is cancelled for tomorrow Thursday, December 1, 2016. First competition will be Saturday, December 10 @ Bowling Green HS at 9:00am
The GCHS Academic Team won the the SCKAC's Quick Recall Tournament, on 11/17, beating teams from Caverna, Warren East, Edmonson Co. & Glasgow. Check the GCHS website for more details.
GCHS Y Club Delegation of Excellence at KyYouth Assembly. #2 in state for service projects. Payton Abney elected Speaker of the House. More to come, including pictures at GCHS web site.
Happy Thanksgiving to all of our students, faculty, staff and their families.
College & Career Fair draws more than 20 area businesses, colleges, armed services. Juniors & seniors get valuable information on their future.