Congratulations to GCHS FCCLA, Region 5 FCCLA S.T.A.R. event host, and to these students on earning their place at State Leadership Conference in March. A big thanks to all who volunteered and helped make it a great day for our students and for our guests.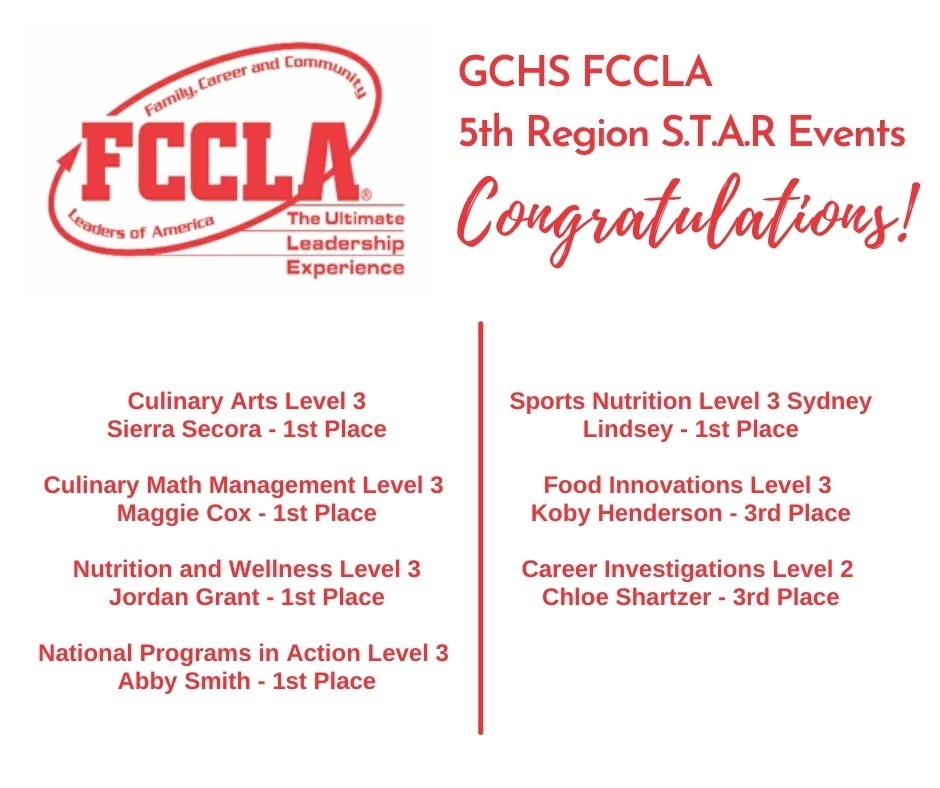 The Kenny Whitworth Invitational at Breck County ATC was a great experience for several @gchs_cougars machining students. Congrats to Layton Hawkins (3rd, manual 1st year) and Jake Rogers (2nd, CNC)!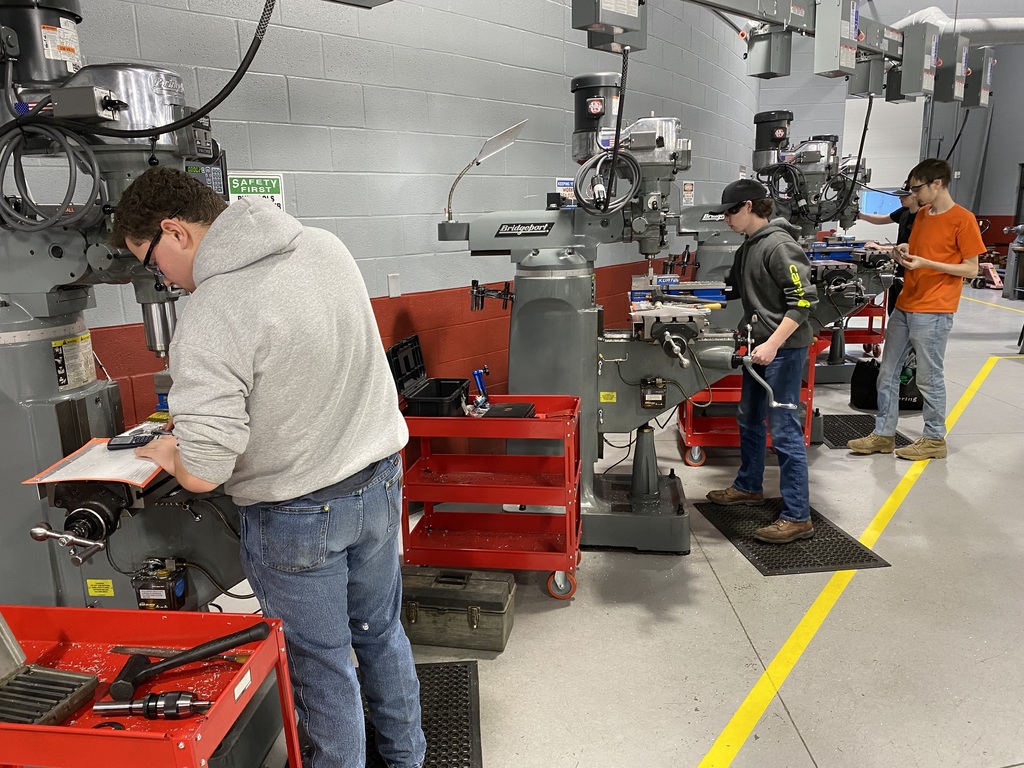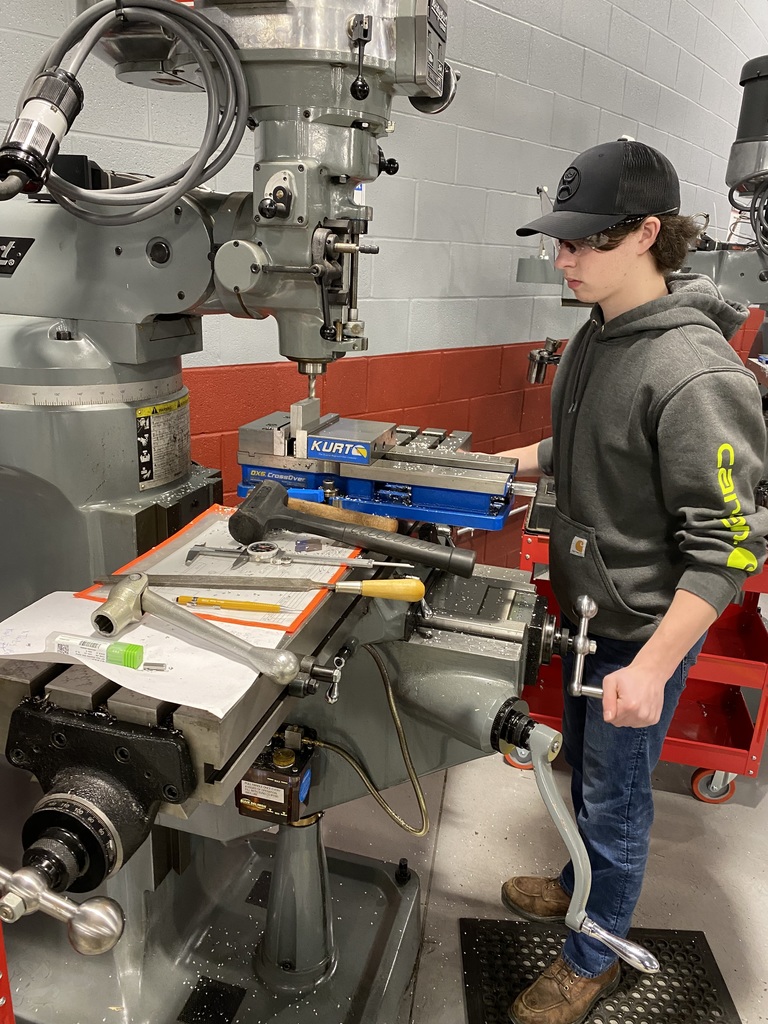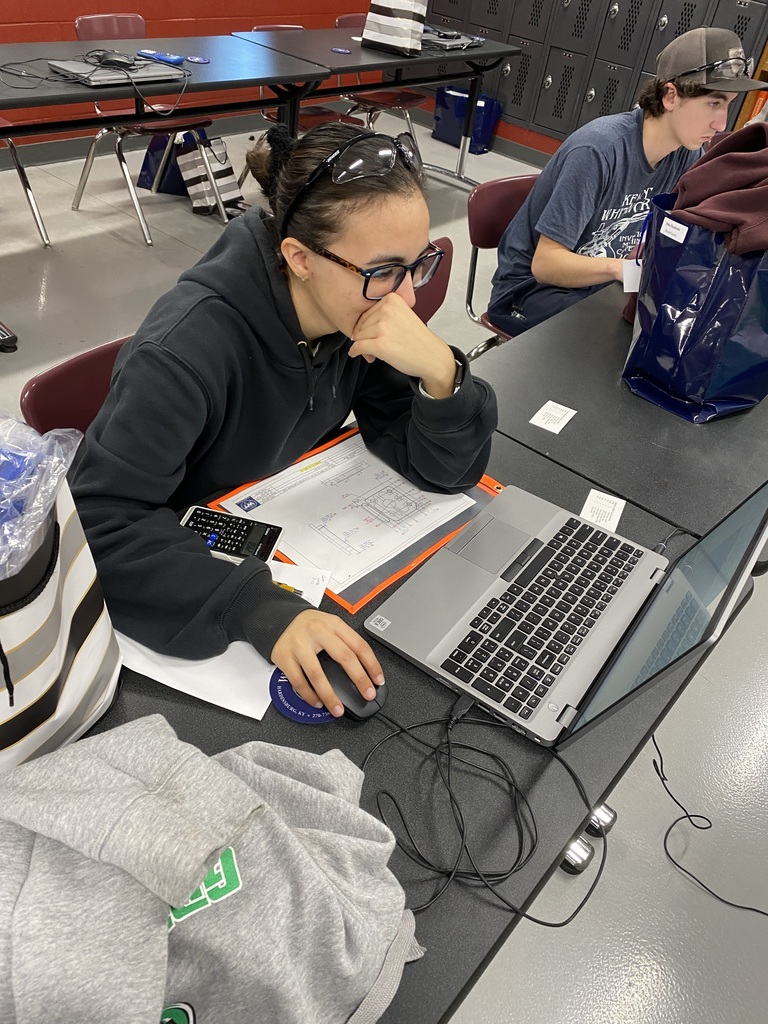 GCHS Culinary team members put on quite the spread this morning for our GC Retired Teachers Assoc. Christmas meeting. Beautiful (and tasty) job!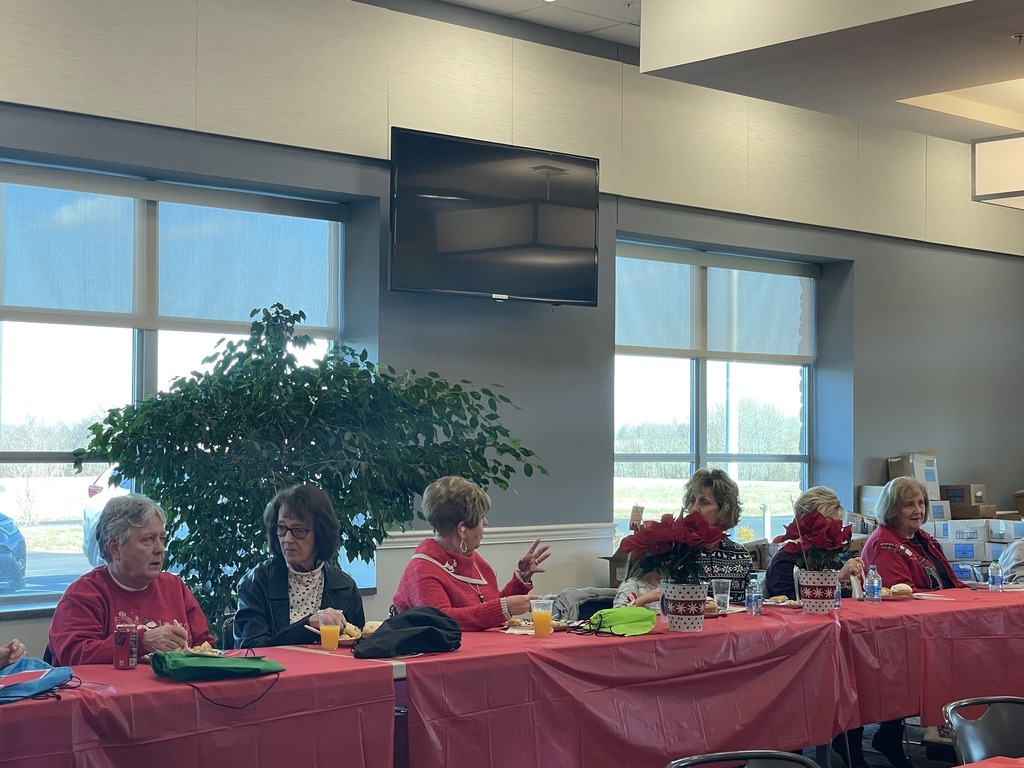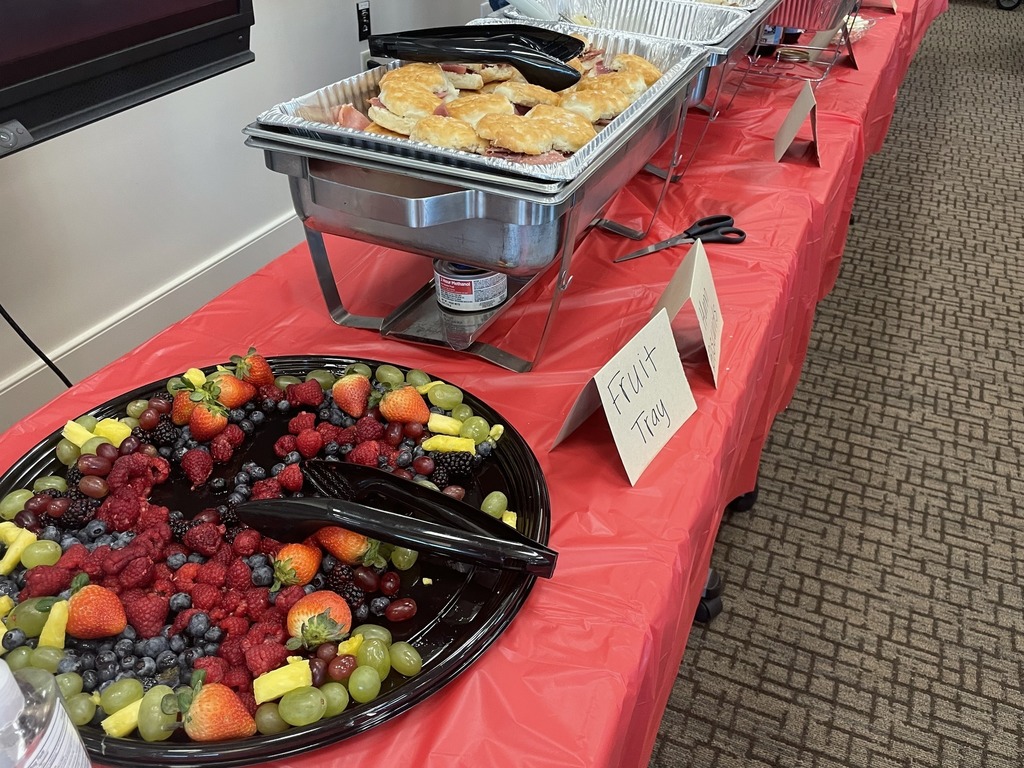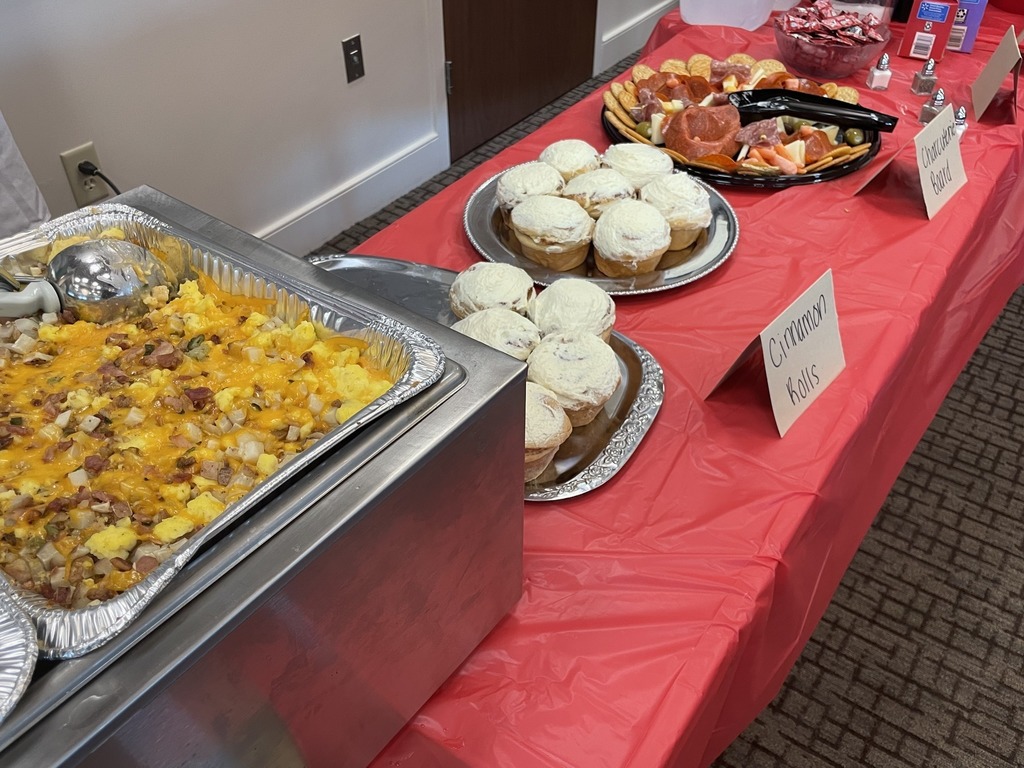 The Calendar Committee has three calendars to choose from for the 2023-24 school year recommendation. Make your selection at
http://bit.ly/3VuqY3z
by Friday, Dec. 16.

The Tech Center's Machining program presented a reverse-engineered, 3D-printed sign bridge replica to Mid-Park Highway. Opportunities will continue to grow with new engineering, robotics, and industrial maintenance offerings at the school. Story at:
http://bit.ly/3grSUps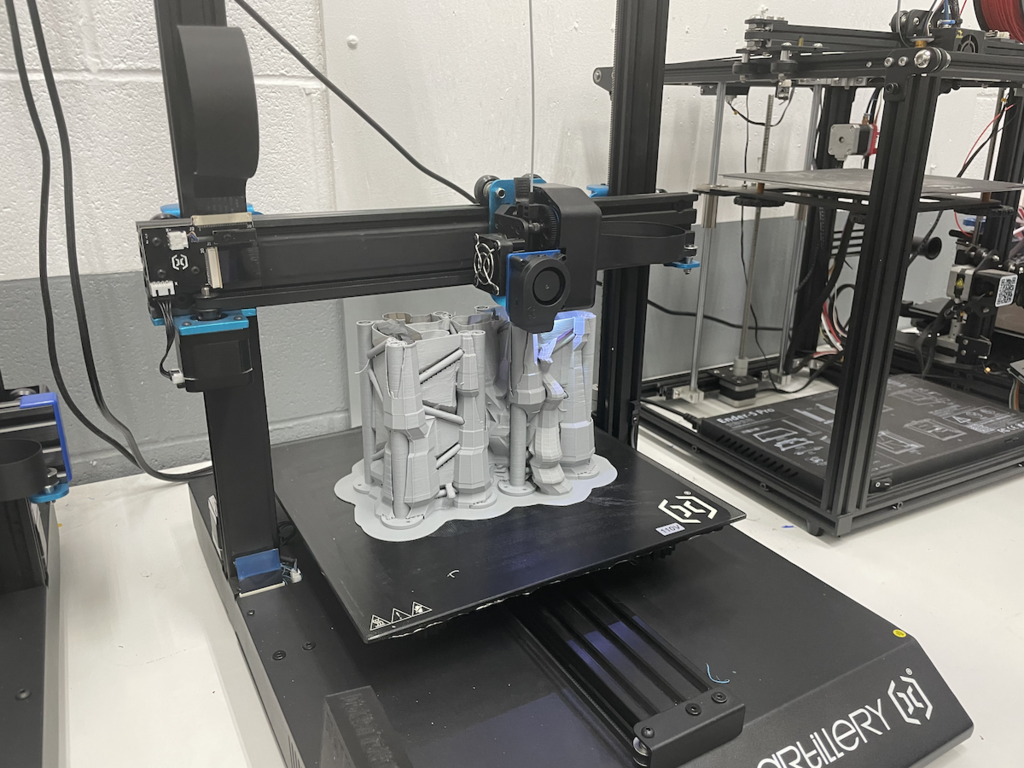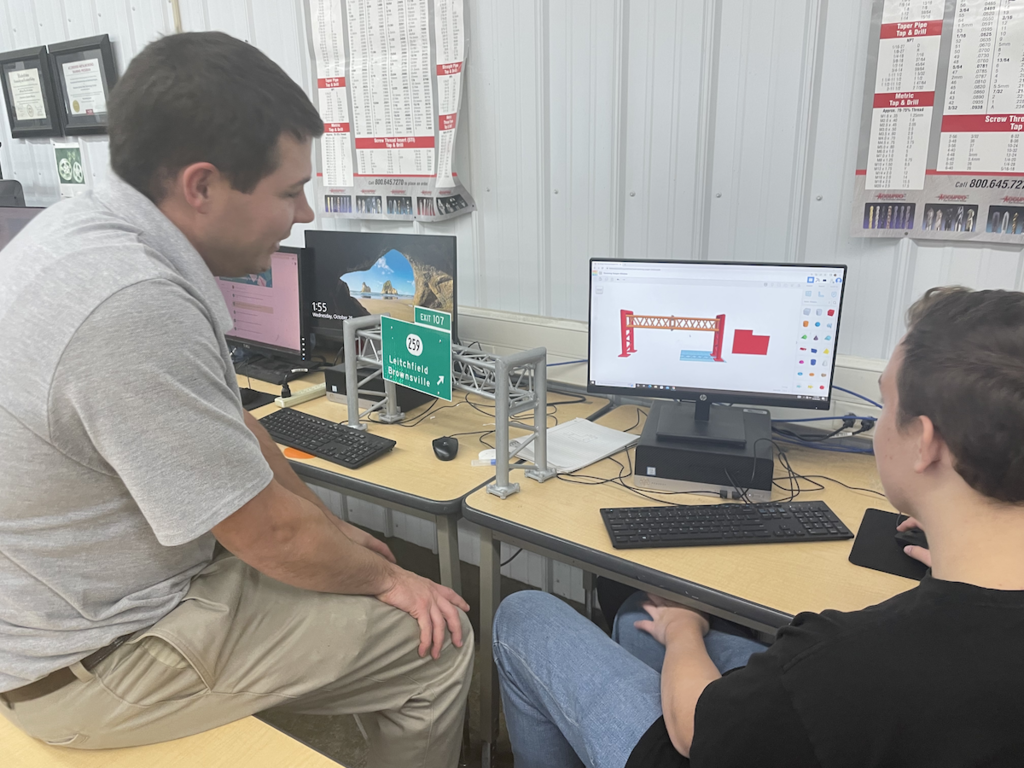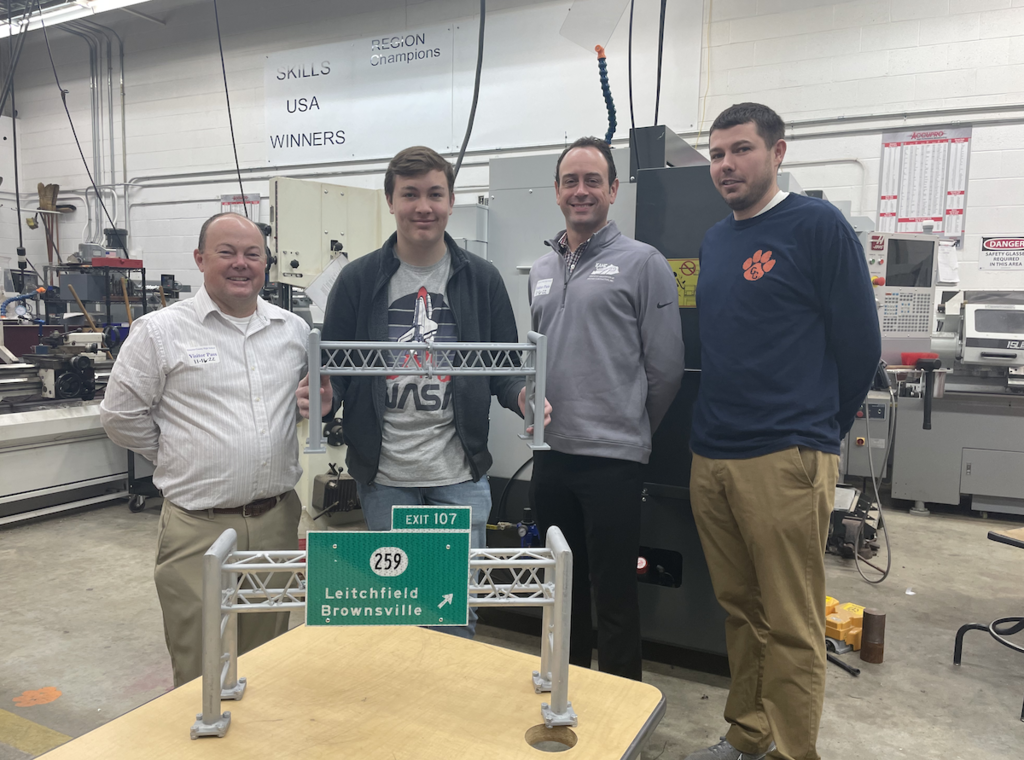 A celebration of literacy and career exploration, Unite to Read returned as district third graders learned about the many options they will discover at the Technology Center one day. Each student took home the book "Who's Hands are These?" a perfect partner for the event.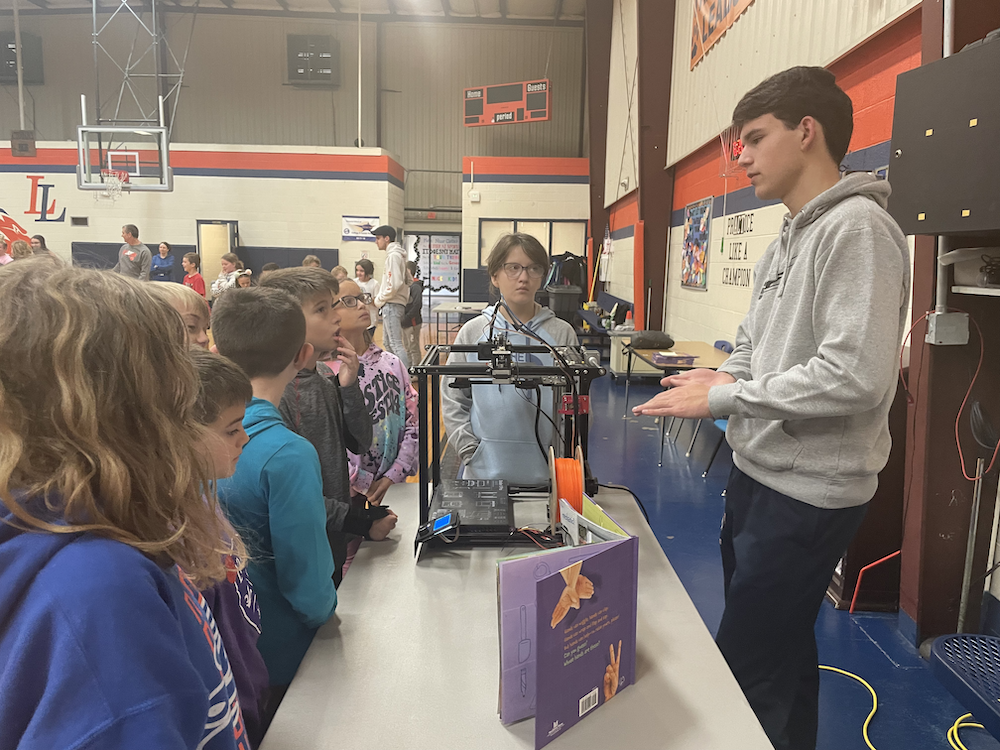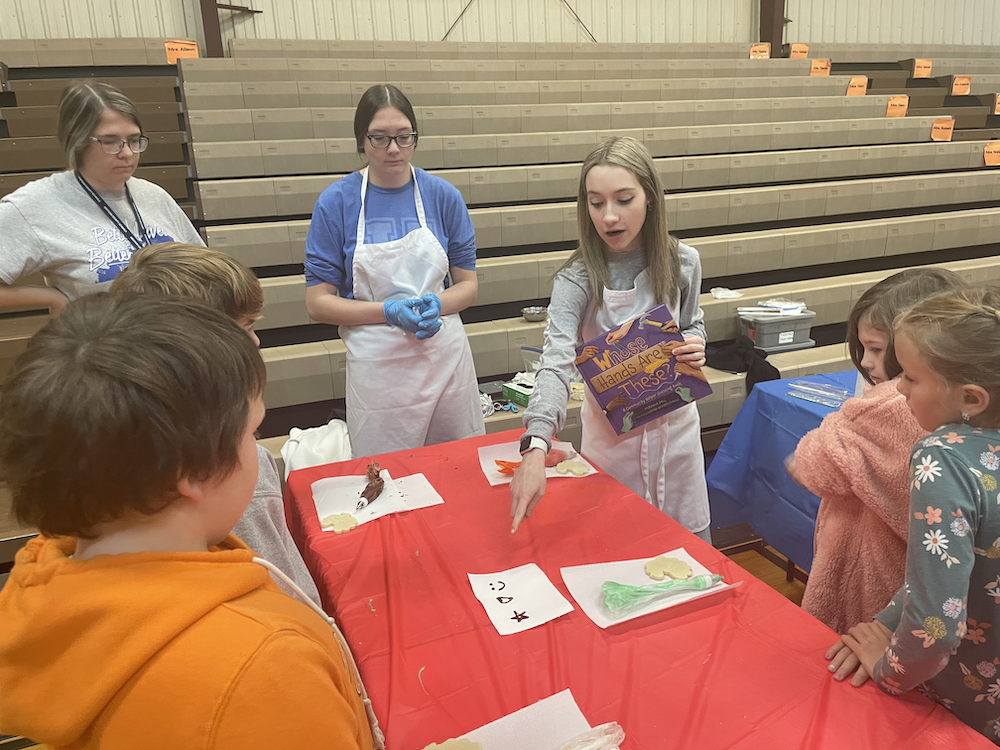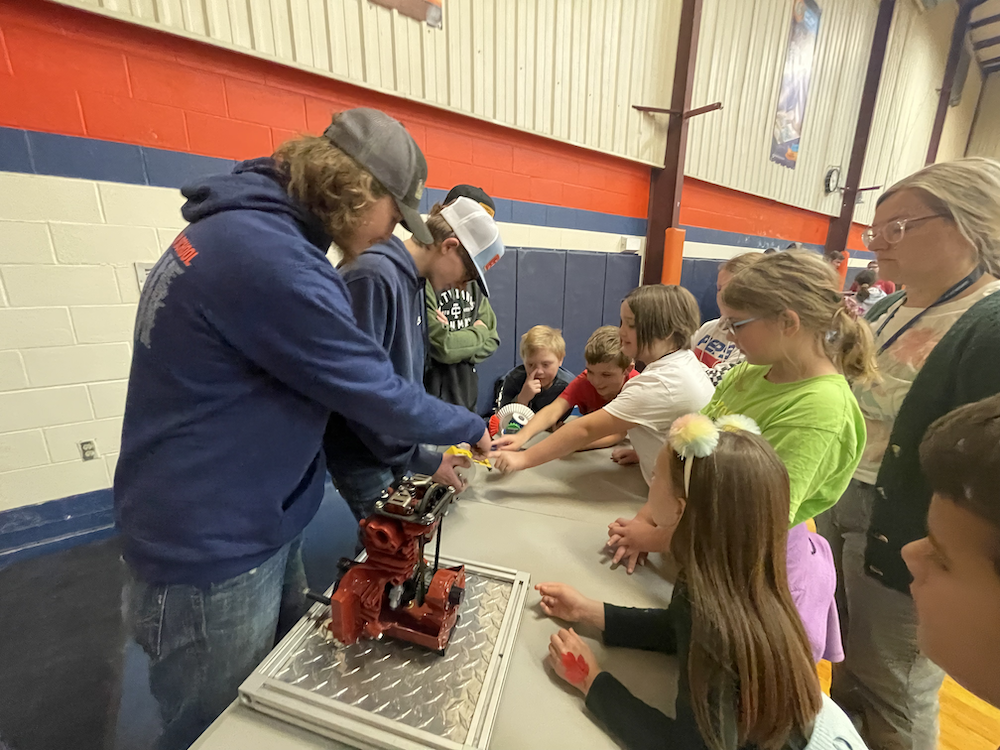 Celebrating Apprenticeship Week and the great things happening for our students and our community at the Grayson County Tech Center. Kicking things off today, we celebrate "growing our own" teachers with Signing Day for our Education Technician track.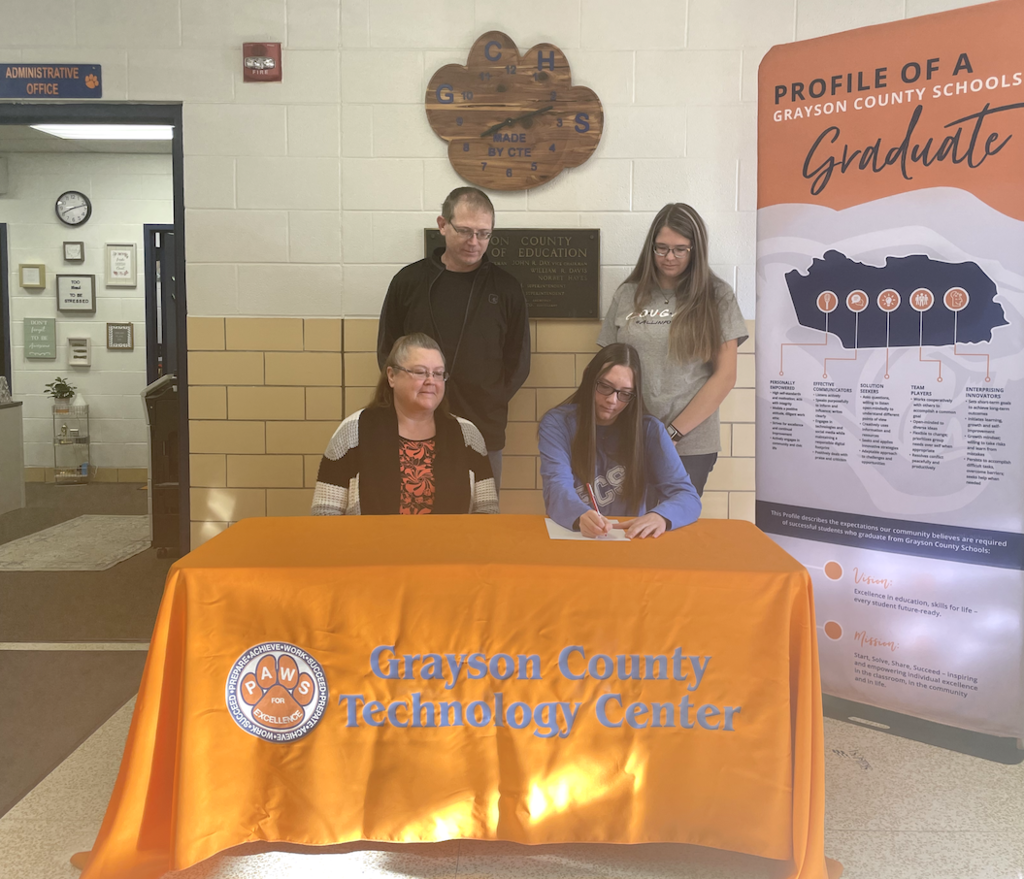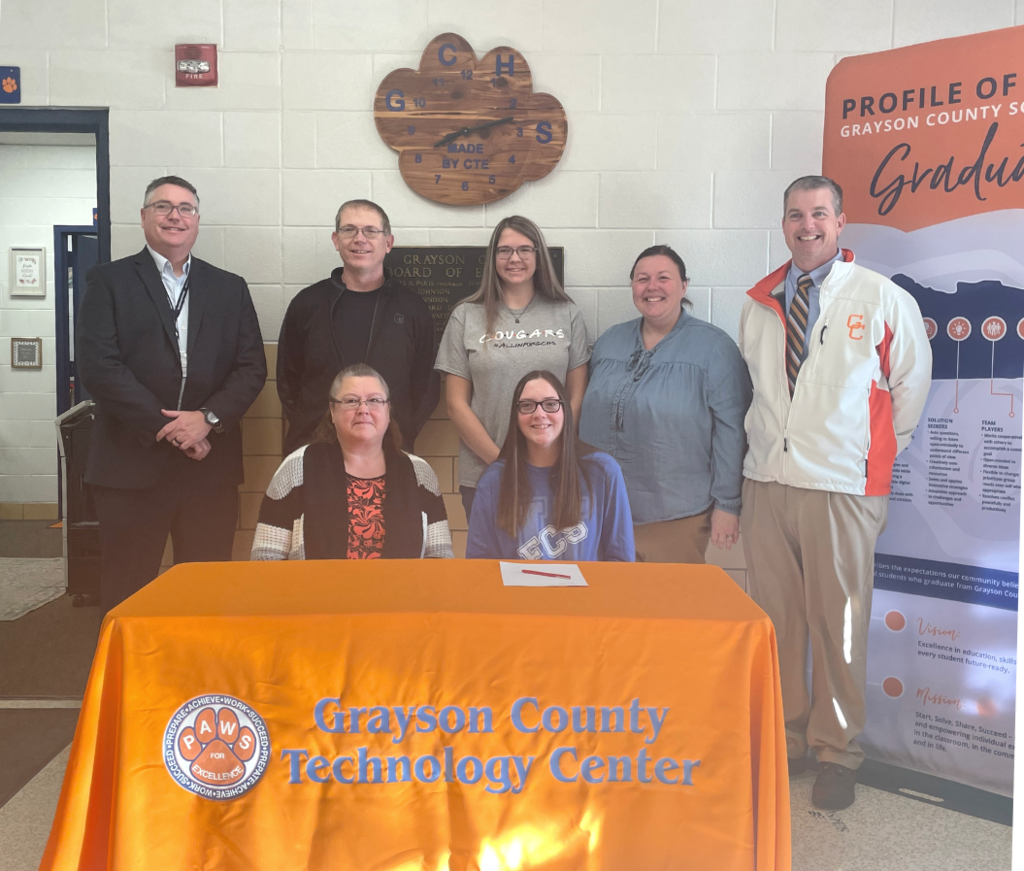 This month, 4th, 5th and 8th grade G/T students have been given the opportunity to visit the GC Technology Center and explore CTE classes in 3D Printing, Marketing, and Health Science courses through hands-on experiences.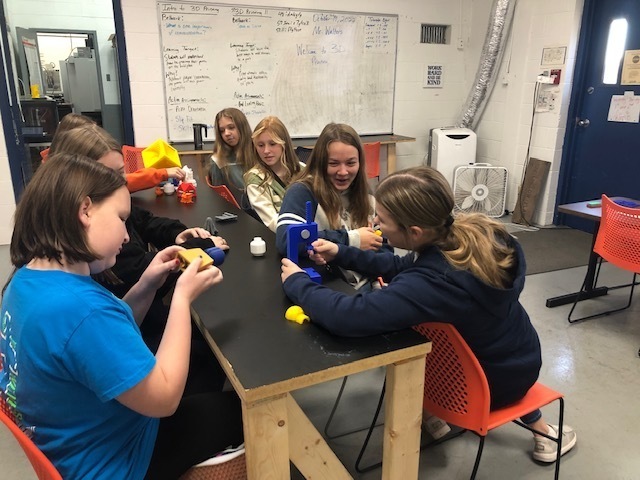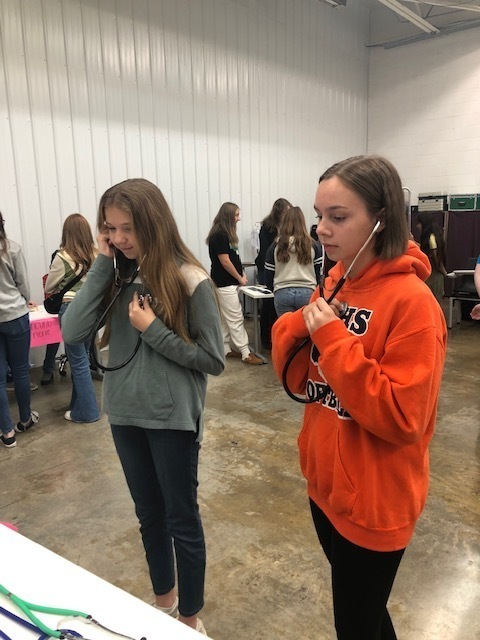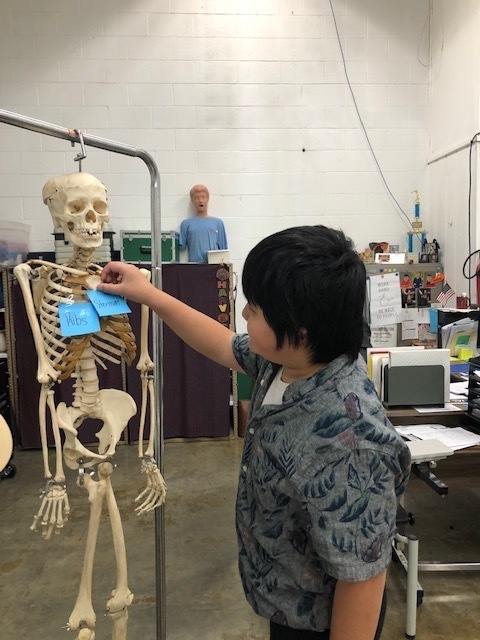 Judge-Exec Kevin Henderson was joined by students and community today to sign a proclamation for Red Ribbon Week, Oct. 24 - 28. Each day will have a theme to get students involved in "being the best they can be because they live Drug-Free!"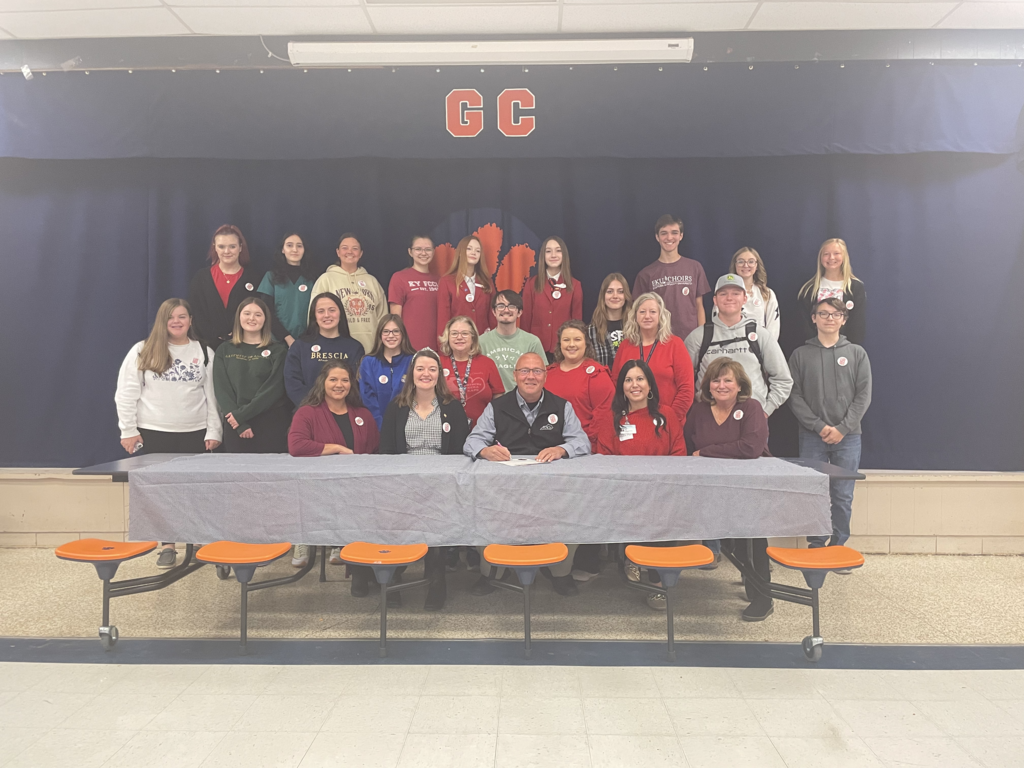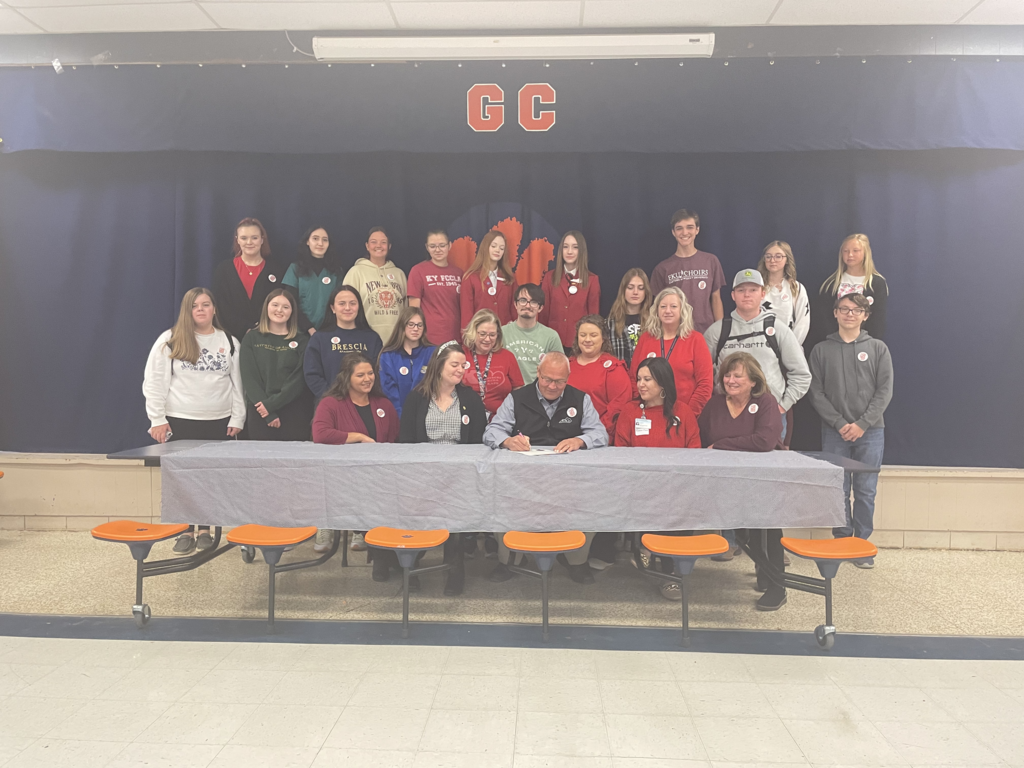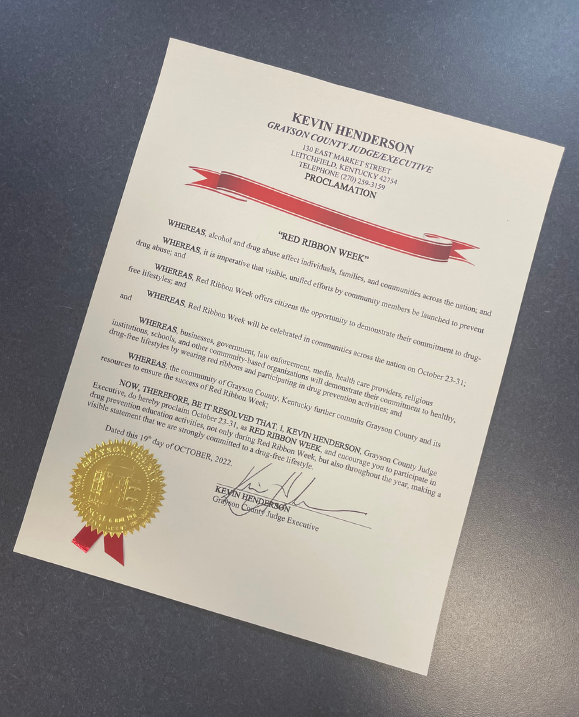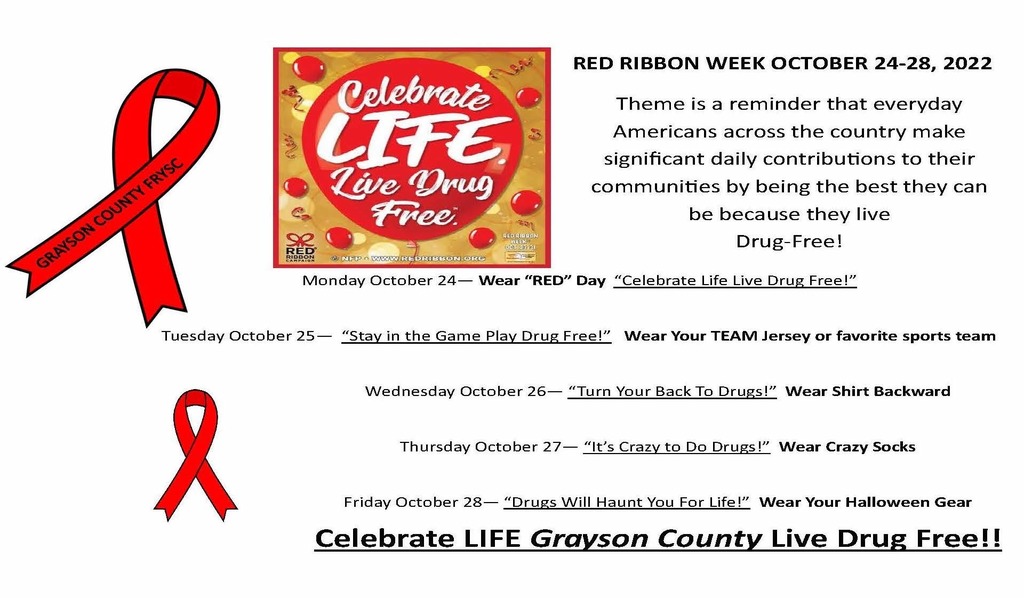 Congratulations to our EdTech team, recipients of the 2022 Stilwell Award, for keeping students and families connected to their schools during the period of March 2020 to March 2022. See all recipients:
https://bit.ly/3D6TTE4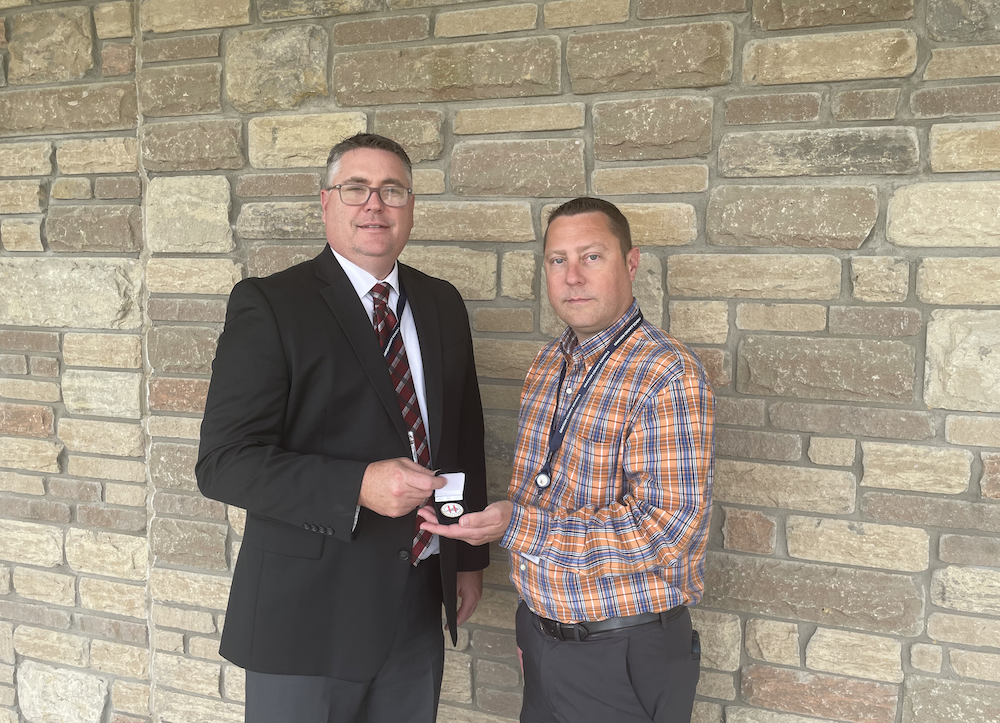 MFG Week kicked off by partnering with local industry to give CTE students an upfront perspective on local opportunities. Many thanks to Mid-Park, Plastikon, Byrd Tool, and Extreme Fabrication for the hospitality and insights!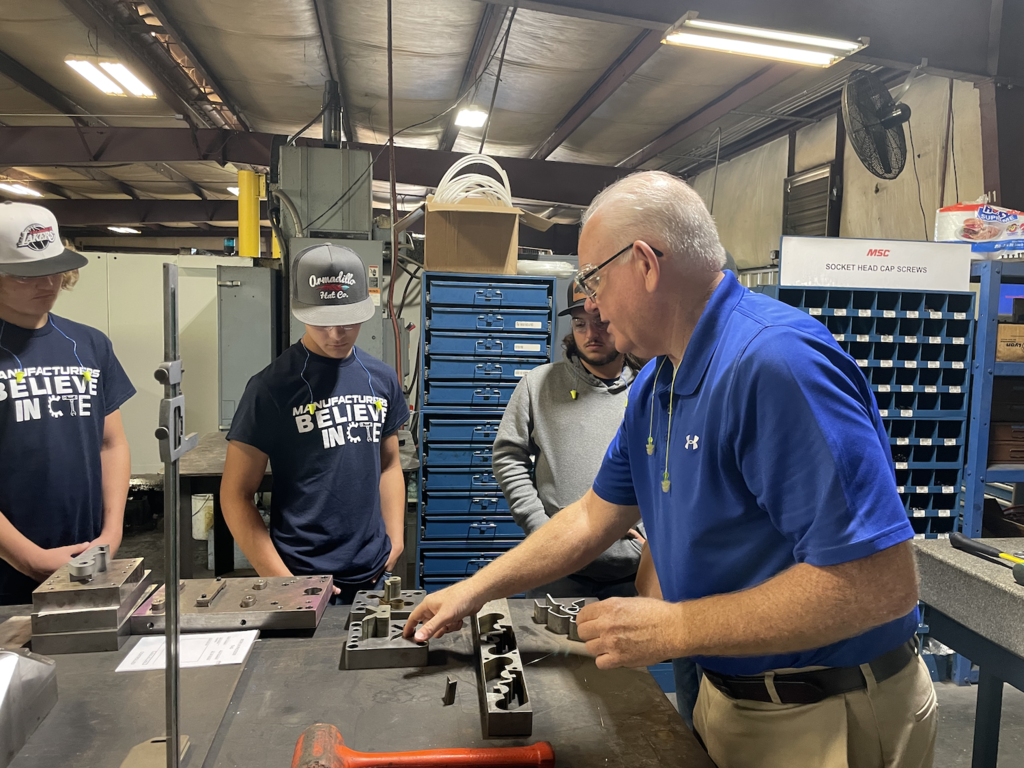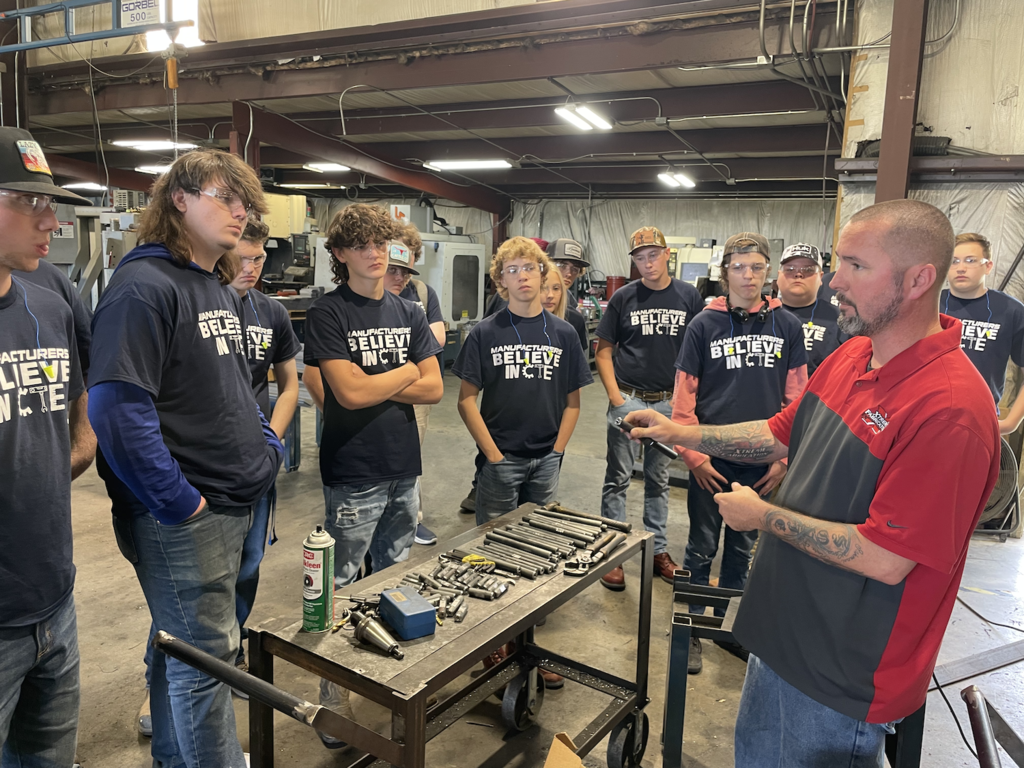 Congratulations to Matt Hayes, 2022 Chamber of Commerce Education Award winner. Full story at:
https://bit.ly/3LI5oV7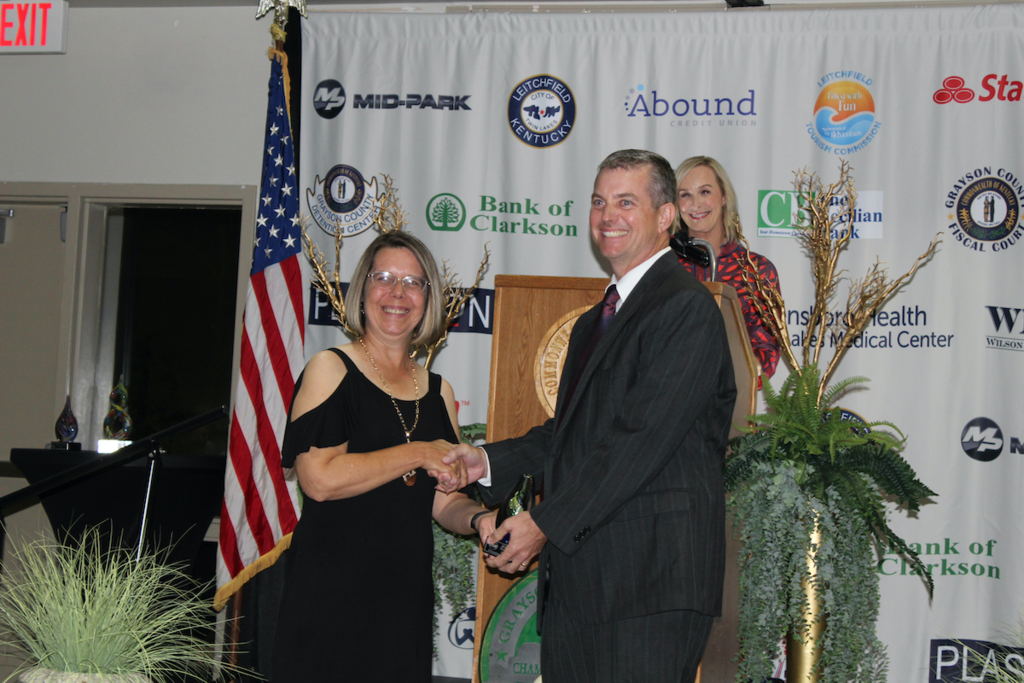 AP courses offer multiple benefits, including college credit. Congratulations to these GCHS students who have earned a score of three or better on an AP exam and are now three hours advanced on a degree. See story:
https://bit.ly/3Q9uGf7

You won't find any more fun than this on a Friday night! Catch this year's GCHS Volleyball Team as they take on the Alumni Team. Shirts on sale, concessions. Get "set" to be "served" a super evening of fun while supporting GCHS Volleyball! Friday, Aug. 12, 6 pm at GCHS.

https://bit.ly/3JJxJJB
for a 2022-23 safety update. Working together we keep our students, staff AND each other safe.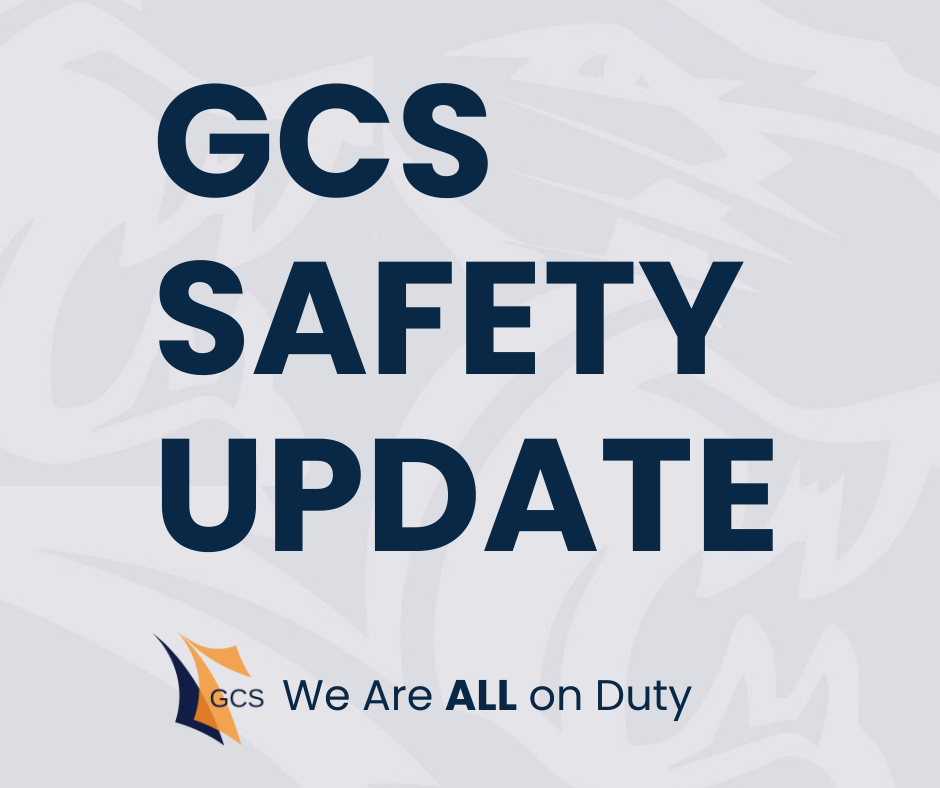 Wrapping up a full week of active shooter training in all our schools. A BIG thanks to KSP for their partnership in keeping our students & staff safe! Also check out new construction added in several schools to provide an extra buffer of safety throughout the district.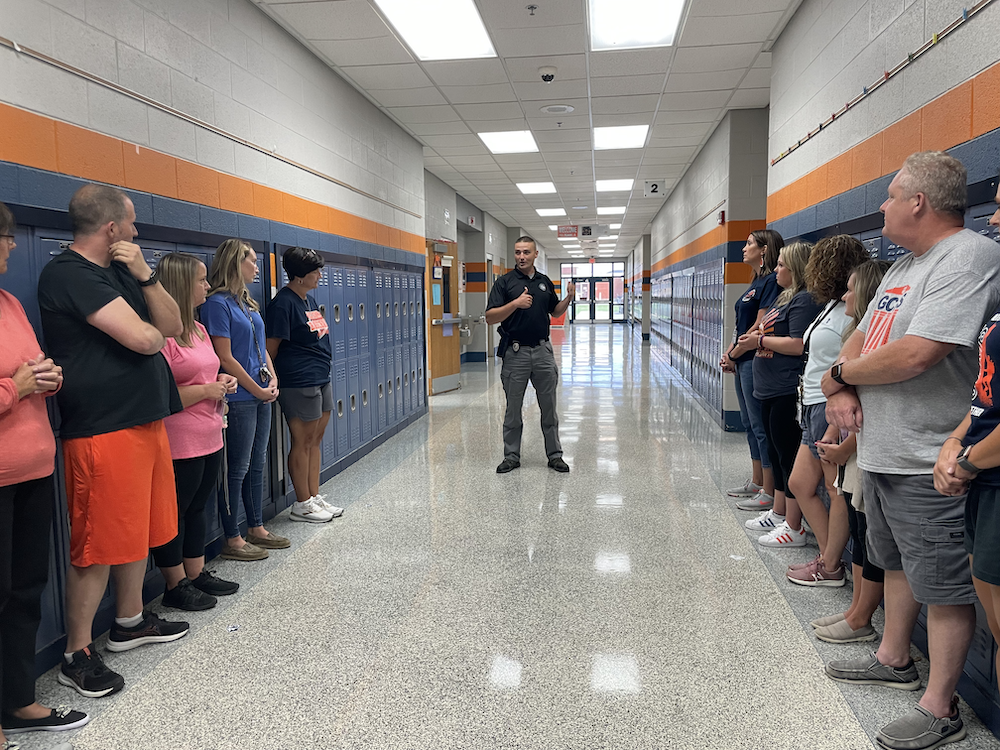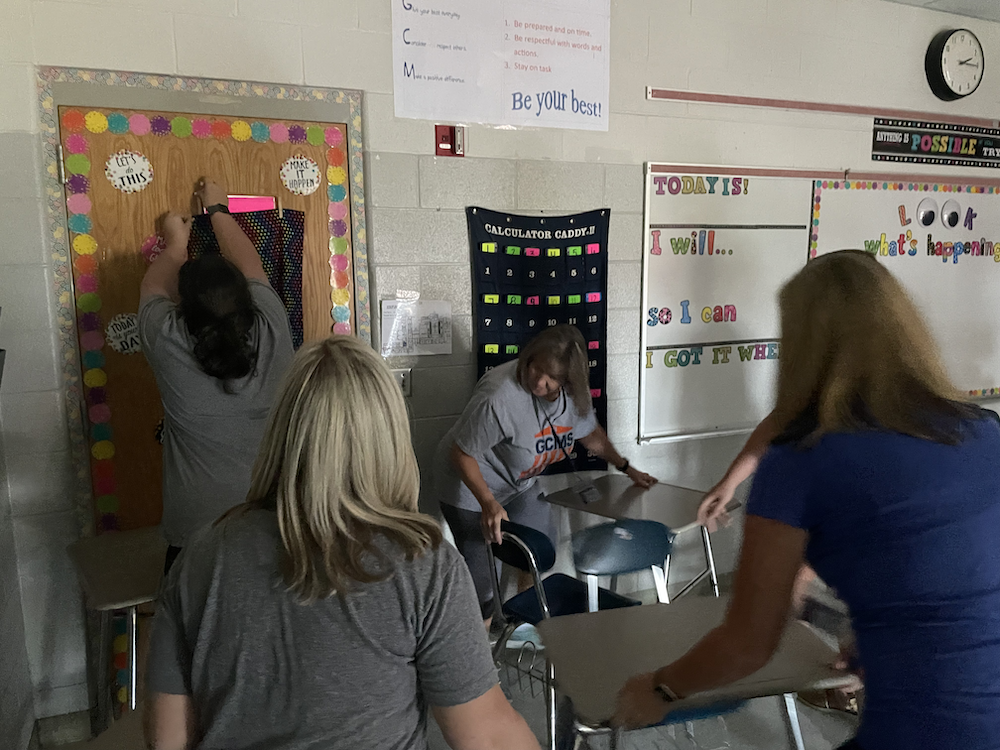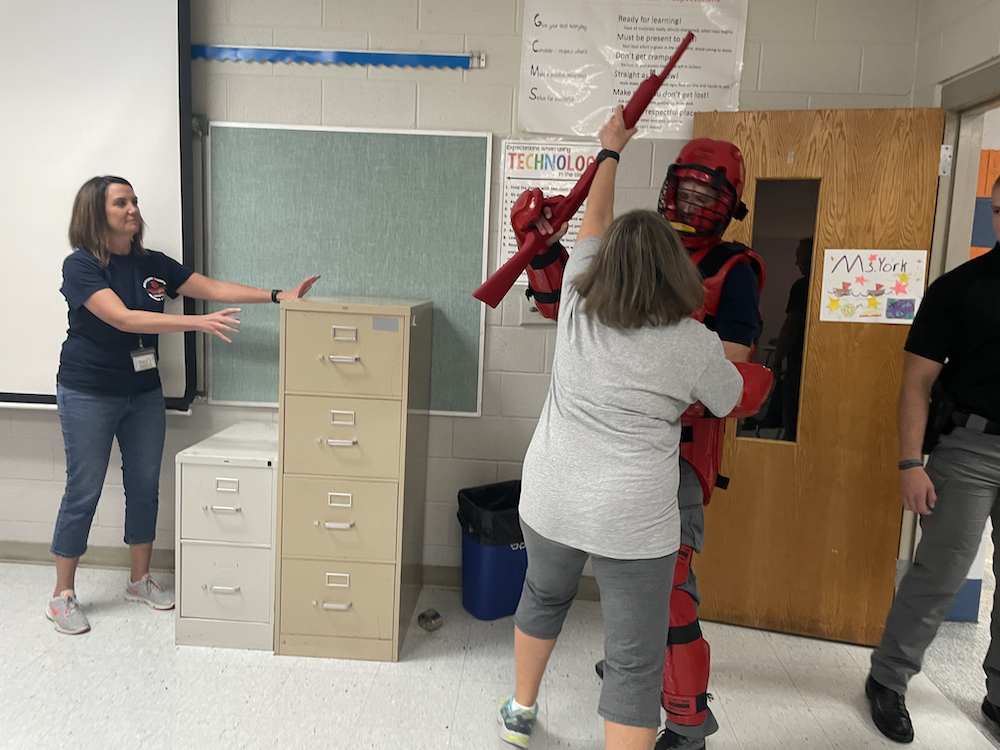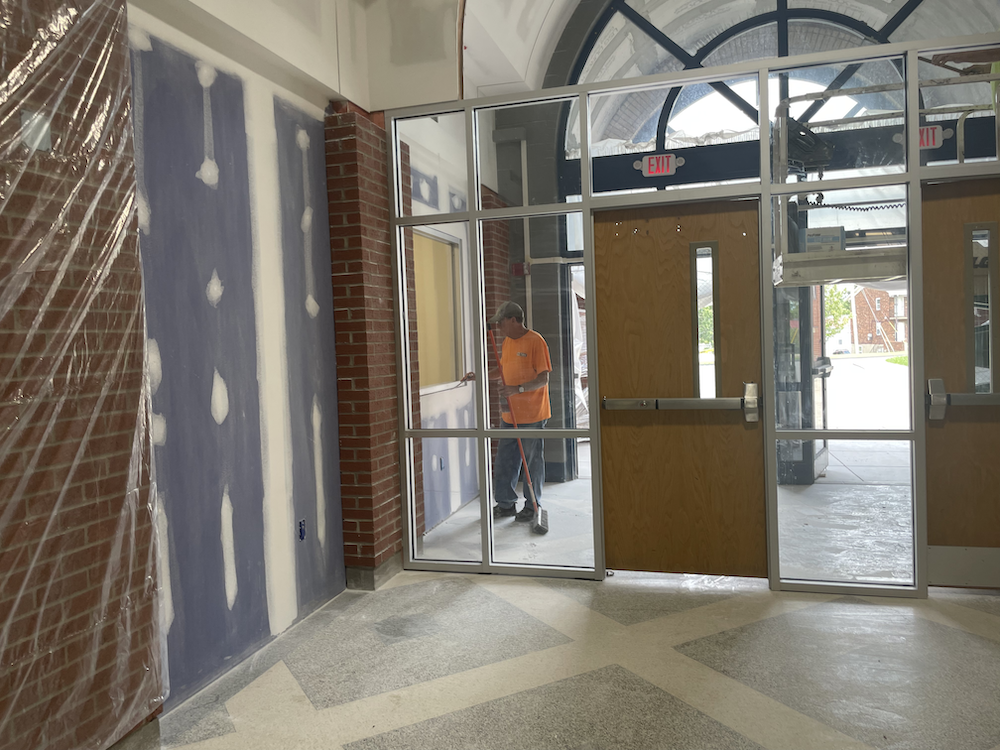 A visit to UofL Speed School of Engineering for Math/Machining/Computer programming students is just the start of increased engineering exploration and opportunities at the GC Technology Center and GCHS.

Congratulations to Transition Coordinator Brandi Lee, named 2022 Counseling & Career Development Professional Award winner by KYACTE for her leadership & advocacy of CTE programs, students & community partnerships. Story:
https://bit.ly/3OnVVSD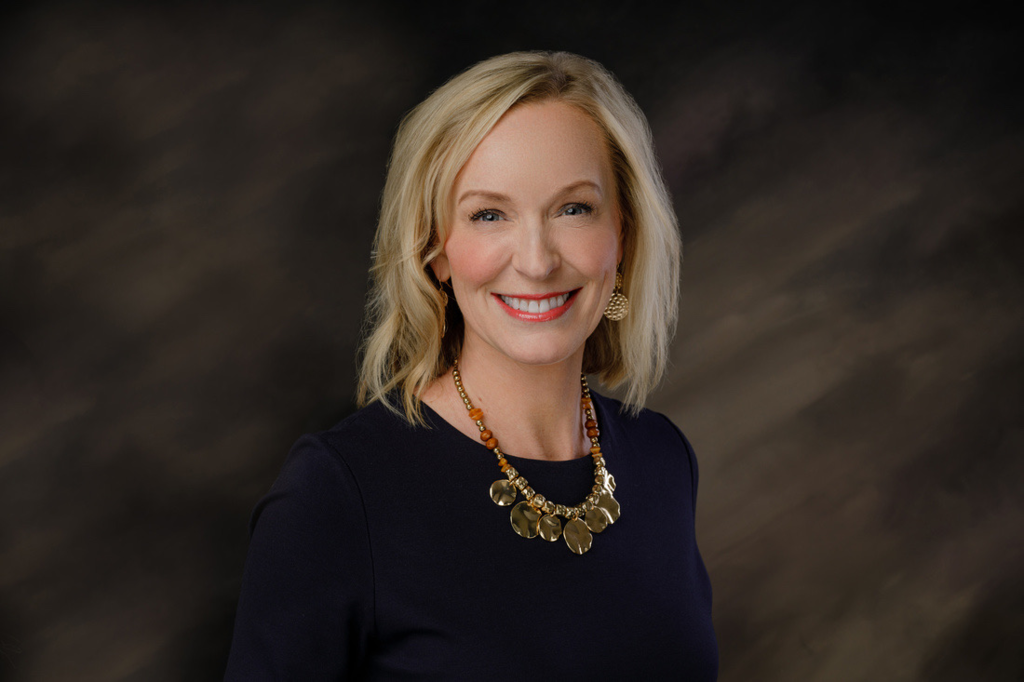 Getting a career head start at the Tech Center's CTE Camp! Agriculture, Art & Construction, Marketing, 3D Printing, Health Science and Culinary – in Spanish. Plus, leadership and teamwork skills Great 3-day intro for these young future pros!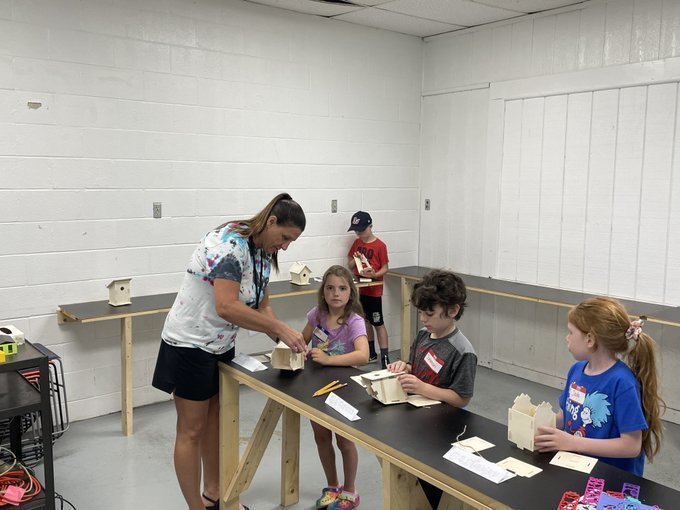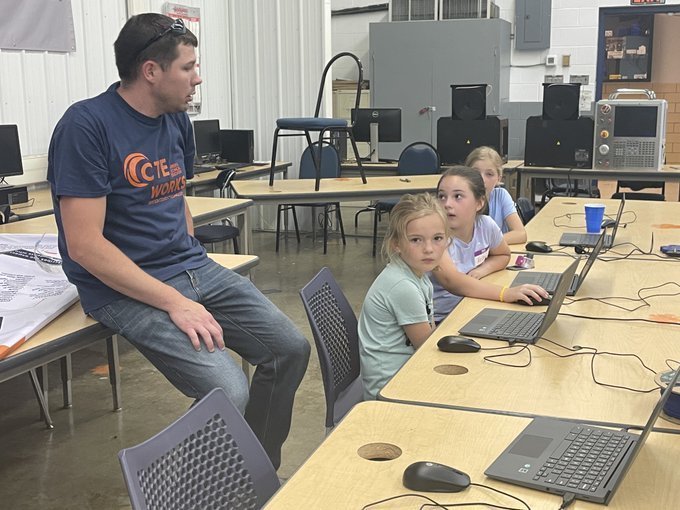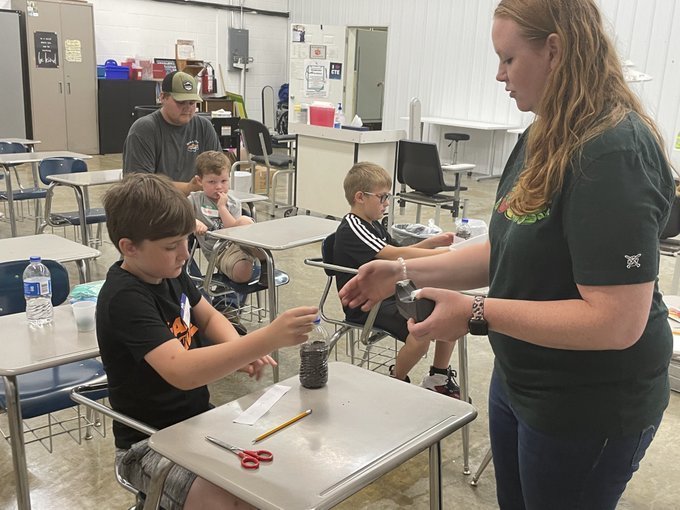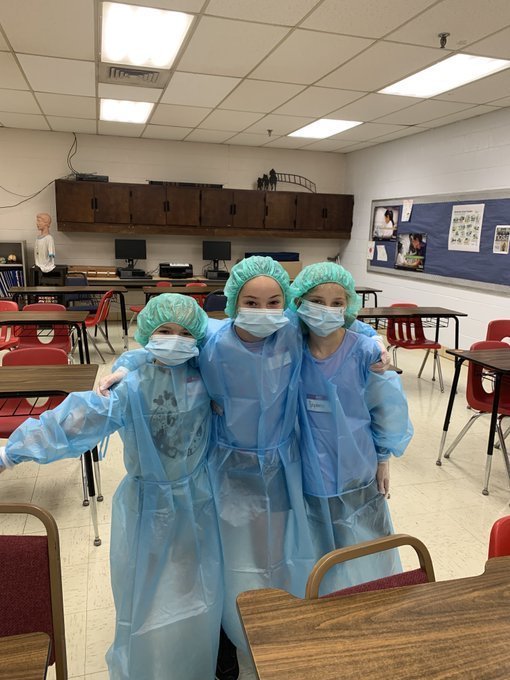 Celebrating students well on their way to career success after earning industry certifications in their field. Thanks to the Chamber's partnership on this annual event, and to our business community for mentoring and supporting our students at every turn. #WeAreGCconnected