Mekenzie Snyder and McKenzie Ballard repeat as Creative Marketing finalists at DECA Nationals with their tribute project to Grayson County's fiddlin' heritage.

Great day for Band at Solo & Ensemble! 30 distinguished events, 7 state qualifiers GCHS. Record breaking 59 distinguished events for GCMS.

The Meals on the Bus Summer Lunch Tour is coming to an area near you this summer. Watch graysoncountyschools.com for route schedule and open sites schedule. Meals will be FREE to ALL kids 18 and under. Summer Meals Kick-Off Events – Join us for food, fun, and prizes! Caneyville Community Center – Wednesday, May 31, 11 a.m. – 1 p.m. Leitchfield Fireman's Park – Friday, June 2, 10 a.m. – 2 p.m. Clarkson Fire Department (rear) – Tuesday, June 6, 11 a.m. – 1 p.m.

Machining qualifies for nationals at SkillsUSA competition. Josh Walters took 1st in CNC Milling and Peyton Hawkins placed 3rd in Precision Machining. They are shown with very proud instructor, Russell Chaney.

GCMS 7th graders get a financial head start from the pros at Fort Knox Federal Credit Union, Heidi Baldwin and Mark Ford.

The Grayson County High School FFA Greenhouse is now open during school hours, 8 am - 2:30 pm, Monday - Friday until May 19, with beautiful hanging plants, flowers and delicious vegetables. The greenhouse is a working learning lab for students and all proceeds from sales go directly back into the horticulture education program.

Congratulations to GCMS BETA, awarded by Norton Children's Hospital as the highest donating state chapter to the Neonatal Intensive Care Unit.

The GCHS Y-Club joined 2,500 students statewide for WeDay, a movement that celebrates student involvement in service projects. Participants heard about a variety of ventures including Muhammad Ali's mission, which was presented by his daughter. GCHS was in the spotlight with an impact story about its Guatemala orphanage donation to Cougar alum Kristina Newton, who is serving there as a missionary. Students also participated in a compassion walk.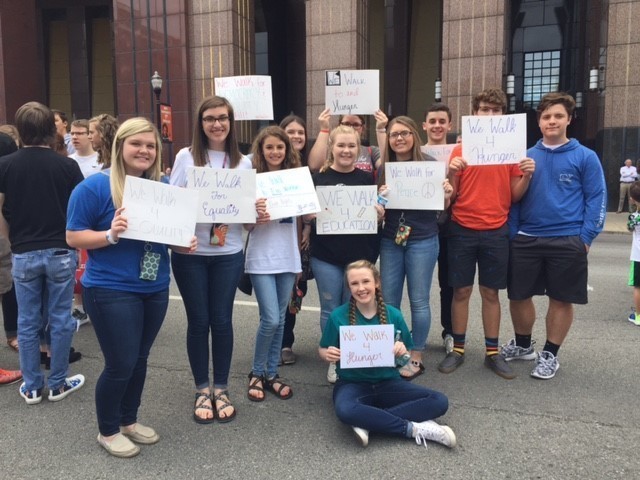 Due to the weather outlook, tonight's Caneyville Elementary presentation of Guys & Dolls has been rescheduled for Monday, April 10, 7 pm.

Grayson County Middle School will once again host Camp Invention, a hands-on adventure for students entering grades K-6, the week of June 26 – 30. A limited number of scholarship openings are available for the discounted rate of only $30. Registration is by phone only this year. Call 1-800-968-4332. See image for details or visit graysoncountyschools.com Quick Links.

Congratulations to GCHS Senior Dayton Blair, selected as a Harlan Scholar at the University of Louisville, guaranteed admission into UofL Law School upon graduation. Story
https://goo.gl/oCufIc

Your 2017 GRVC Volleyball Champs - GCMS 7th grade and 8th grade teams. It was a sweep!

Congratulations to GCHS HOSA on a successful State Leadership Conference, and to the students who both qualified for Nationals and placed in the Top 5 of their event.

Straight distinguished ratings at KMEA district competition for the GCHS band tonight (3/22) and all three middle school bands (6th, 7th, and 8th) yesterday! Incredible effort, incredible results.

Guys and Dolls, Jr. spring musical at Caneyville Elementary March 30, 7 pm. $5 admission. Portion of proceeds benefit Caneyville Purple Flash Community Center Restoration Project.

Early Enrollment Discount for the 2018 Austria/Germany Spring Break trip expires April 15, 2017. Visit
https://goo.gl/vq4Ypp
for itinerary and how to take advantage of this once-in-a-lifetime opportunity.

Taking on heart disease (and each other) in the annual Battleball Challenge! GCMS has been the middle school funding champion for the past three years and hopes to keep the streak going as they learn about teamwork, fitness and giving back, all in support of the vital work of the American Heart Association.

March is Music in our Schools Month. Each week this month, we'll be focusing on one of our music programs - band, orchestra, chorus, drumline and colorgaurd - at graysoncountyschools.com. First up . . . band. (And don't forget, you can hear them in concert next Monday, 3/13, 6:30 pm at GCHS.)

Remaining public tickets to Lady Cougars game will be on sale at GCHS tomorrow, Weds. 3/10 from 8 am – 12 noon. Support the team and be part of history!

‪Thursday's districtwide Area Band Concert has been rescheduled for Mon, 3/13, 6:30 pm at GCHS. ‬